An LGBTQX Pixar Character Could Happen — If The 'Coco' Filmmakers Get Their Way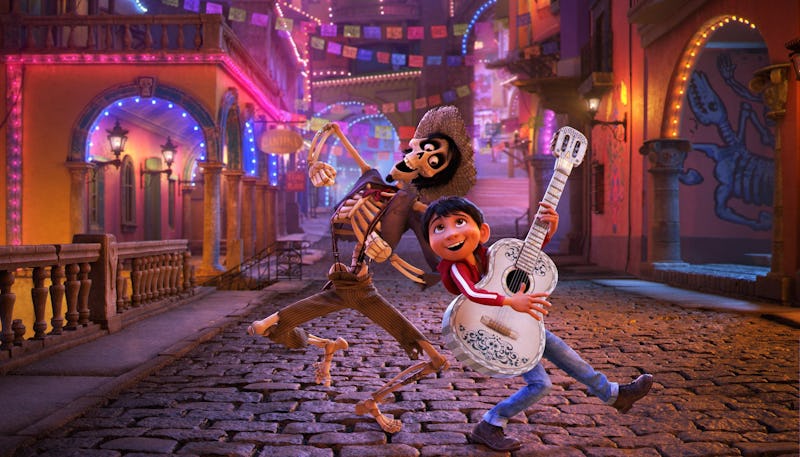 Disney/Pixar
At the 90th annual Academy Awards, Coco, the Pixar-animated film about a boy who, despite his parents wishes, wants to be a musician, took home the award for Best Animated Feature. And the filmmakers behind the feel-good hit had a lot to say backstage about the film's diversity. While Coco was able to showcase a Mexican family on the big screen, producer Darla K. Anderson and director Lee Unkrich want to show more diversity in their films. Specifically, the filmmakers want to feature an LGBTQX protagonist in a Pixar movie.
"That's a dream," Darla K. Anderson told reporters backstage of including LGBTQX characters in Pixar films moving forward. "Coco is a great example of diversity and the success of that. All of us would be very excited to have characters like that represented in a protagonist role, and we are all talking about that right now."
Anderson thanked their LGBTQX significant other in her acceptance speech on stage at the 90th annual award show, saying: "Coco is proof that art can change and connect the world and this can only be done when we have a place for everyone and anyone who feels like an other to be heard. This is dedicated with enormous love to my gigantic, interwoven family and most especially, my wife, my rock, Kori Rae."
And Adrian Molina, the film's co-director and writer, also thanked his LBGTQX partner in his acceptance speech. He said: "Love and thanks to my family, my Latino community, to my husband Ryan. Each for expanding my sense of what it means to be proud of who you are and where you're from. We hope the same thing for everyone who connected with this film."
As of now, Pixar has not overtly featured any characters from the LGBTQX community in their films, but this could all change if Anderson and the other filmmakers behind Coco are given another stab at making a movie for the famed animation studio.
Last year, Disney's Beauty and the Beast live action remake suggested that Le Fou, the bumbling side-kick of bad guy Gaston, is gay. And last week, fans of the animated film Frozen were given a ray of hope that Elsa, one of the two female protagonists in the film, could potentially have a girlfriend in the Frozen sequel. Responding to a trending Twitter hashtag, #GiveElsaAGirlfriend, the co-director of the film, Jennifer Lee said, "I love everything people are saying [and] people are thinking about with our film ― that it's creating dialogue... That Elsa is this wonderful character that speaks to so many people."
It would be extremely exciting to see Elsa given a female love interest in a sequel, just as it would be thrilling to see a Pixar film with an LGBTQX lead. And in 2018, these representations in family-oriented films seem long overdue. The LGBTQX community is being represented in live action films across the world, so it only seems natural that people who identify in this community are shown in animated forms as well — and specifically, films that speak to people of all ages.
Coco brought in more than $500 million at the global box office, and given the huge numbers that the film, which features almost an entirely Latino cast (both animated on screen and in the real voices behind the film), garnered, the studio would be poised to expand their definition of diversity in successful ways. Only time will tell if Elsa is presented with a girlfriend and if Pixar gifts audiences with an LGBTQX lead, but one thing is clear: If there was ever a time to see all types of people represented on screen, it's undeniably now.