This New YA Book Is 'The Craft' Meets 'Veronica Mars' — With a Latina Protagonist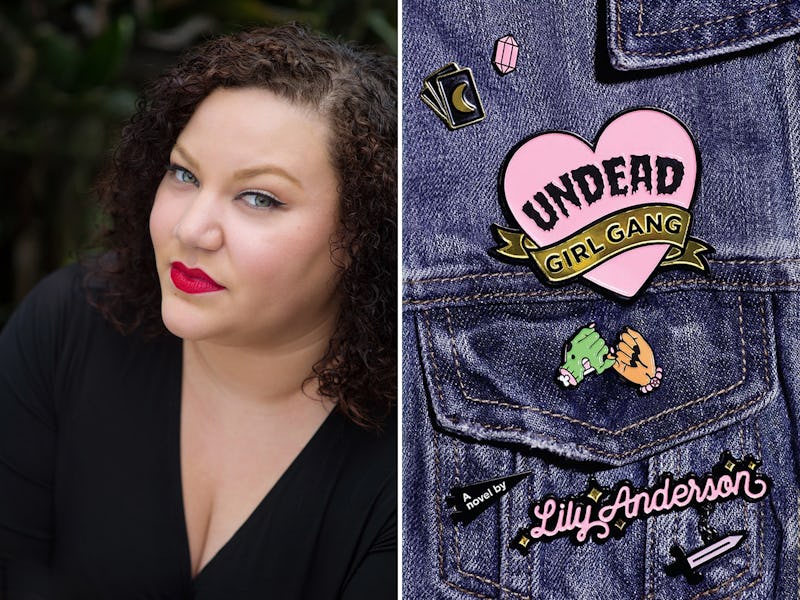 Photo of Lily Anderson, courtesy of author
Lily Anderson is known for her quirky YA takes on pop culture. In 2016's The Only Thing Worse Than Me Is You, in which she tackled comic book culture, and in this year's Now Now, Not Ever, inspired by Oscar Wilde's play The Importance of Being Earnest, Anderson created compelling characters and entertaining storylines by drawing inspiration from fandoms new and old. And her upcoming 2018 release, Undead Girl Gang, promises to do the same. The book is being described as Veronica Mars meets The Craft, and Bustle's got the cover reveal below!
Undead Girl Gang follows Mila Flores and her best friend Riley, who have always been inseparable. There's not much excitement in their small town of Cross Creek, so Mila and Riley make their own fun, devoting most of their time to Riley's favorite activity: amateur witchcraft. So when Riley and two Fairmont Academy mean girls die under suspicious circumstances, Mila refuses to believe everyone's explanation that her BFF was involved in a suicide pact. Instead, armed with a tube of lip gloss and an ancient grimoire, Mila does the unthinkable to uncover the truth: she brings the girls back to life.
Unfortunately, Riley, June, and Dayton have no recollection of their murders, but they do have unfinished business to attend to. Now, with only seven days until the spell wears off and the girls return to their graves, Mila must wrangle the distracted group of undead teens and work fast to discover their murderer... before the killer strikes again.
It sounds like the best mix of '90s girl power culture, compelling magic and creepy circumstances — all rolled together for the best kind of murder mystery. So it only makes sense that the book needs a cover to match! Luckily, I've got a sneak peek...
Undead Girl Gang by Lily Anderson, $18, Amazon
Because nothing screams '90s more than a good distressed denim jacket and a pocket poked through with handfuls of enamel pins, right? But the sinister underbelly of the book is revealed, too, with a couple of severed hands, a dagger and a tarot card deck. It's a mix that makes me think Undead Girl Gang is going to be equal parts page-turning and spook-enducing, with the perfect splash of girl power. And what more could you ask for from a supernatural YA after all?
The only bad news is that you'll have to wait until May 8, 2018 for Undead Girl Gang to conjure itself onto shelves. But now you'll have enough time to get the girls together for a jaunt to the bookstore... black lace dresses and oversized denim jackets optional.