Lindsay Lohan Defended Harvey Weinstein & No One Is Here For It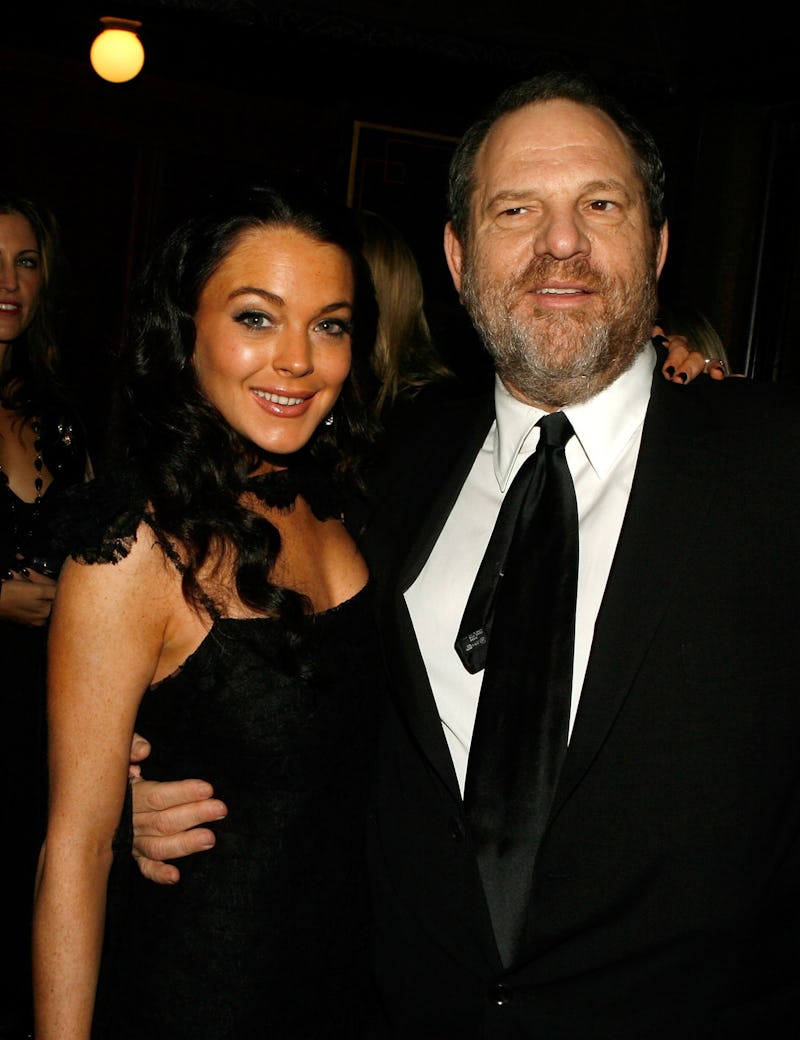 Kevin Winter/Getty Images Entertainment/Getty Images
In the wake of The New York Times and The New Yorker exposés detailing sexual assault accusations against Harvey Weinstein, countless celebrities have spoken out and condemned the famed movie producer and his alleged actions. But among the many statements of condemnation is one that defends him, and it comes from an unlikely source. On her Instagram Story, Lindsay Lohan defended Weinstein, and in response, Twitter users had some words for her.
In response to the allegations, Weinstein released a statement of apology to The New York Times for his past behavior, but did not confirm or deny any of the allegations in that statement. In addition, his lawyer released a statement saying that the NYT story was "saturated with false and defamatory statements." In response to the New Yorker story, his spokesperson shared a statement with the publication that reads in part, "Any allegations of non-consensual sex are unequivocally denied by Mr. Weinstein. Mr. Weinstein has further confirmed that there were never any acts of retaliation against any women for refusing his advances."
As for Lohan, in the first video, released on her Instagram story on Wednesday morning before it was deleted, she says, "Hi, this is Lindsay Lohan, I'm in Dubai. I'm home. I feel very bad for Harvey Weinstein right now. I don't think it's right what's going on."
She continues to defend Weinstein, taking it a step further by calling out Weinstein's wife: "I think Georgina needs to take a stand and be there for her husband." On Tuesday night, Georgina Chapman announced she was leaving her husband.
Lohan has worked with Weinstein on projects such as Bobby and Scary Movie 5, and she attempted to rationalize her defense by citing her experiences with those movies. "He's never harmed me or done anything wrong to me," Lohan says. "We've done several movies together. And so I think everyone needs to stop. I think it's wrong."
Bustle has reached out to Lohan's rep for comment on her statements. The videos were quickly deleted after they were posted but the damage was already done. Saved copies of the Instagram stories began to circulate and people on Twitter did not hold back when criticizing Lohan.
They Questioned Her Reasoning
People were left very confused by Lohan's flawed logic that she used to defend Weinstein.
They Brought Up Her Newly Formed Accent
On top of the confusing reasoning behind the video comments, people are also perplexed by her newly developed accent.
They Just Wanted Her To Stop
This person kept it simple.
They Made Connections To Donna Karan
Comments from fashion designer Donna Karan in an interview with the Daily Mail on Sunday sparked backlash after she spoke about the allegations of sexual assault against Weinstein. Karan said, "To see it here in our own country is very difficult, but I also think how do we display ourselves? How do we present ourselves as women," Karan said. "What are we asking? Are we asking for it by presenting all the sensuality and all the sexuality?"
Following the backlash, Karan issued an apology, and in a statement obtained by CNN Karan said, "I made a statement that unfortunately is not representative of how I feel or what I believe. I have spent my life championing women. My life has been dedicated to dressing and addressing the needs of women, empowering them and promoting equal rights."
Some Were Concerned About Lohan
Lohan's comments received overwhelmingly negative responses, but some people took to Twitter to voice their concern for Lohan, citing some deeper reasons.
Among them was Rose McGowan, who according to The New York Times, reached a settlement with Weinstein back in 1997 for $100,000 following an alleged incident in a hotel room during the Sundance Film Festival. In a legal document obtained by The New York Times, the settlement was "not to be construed as an admission" by Weinstein and was used to "avoid litigation and buy peace." McGowan has been a very active voice on Twitter following the recently published stories about Weinstein, and she tweeted that the world should not be so critical of Lohan for her statements.
There's no denying that Lohan's comments supporting Weinstein are troubling, but as shown by comments like the ones from McGowan, the reasons why they're troubling are not only rooted in anger, but also in concern and sympathy for the former child star.
If you or someone you know has been sexually assaulted, call the National Sexual Assault Telephone Hotline at 800-656-HOPE (4673) or visit online.rainn.org.