This Video Of Linkin Park Fans Singing Chester Bennington's "In The End" Verses Will Give You Chills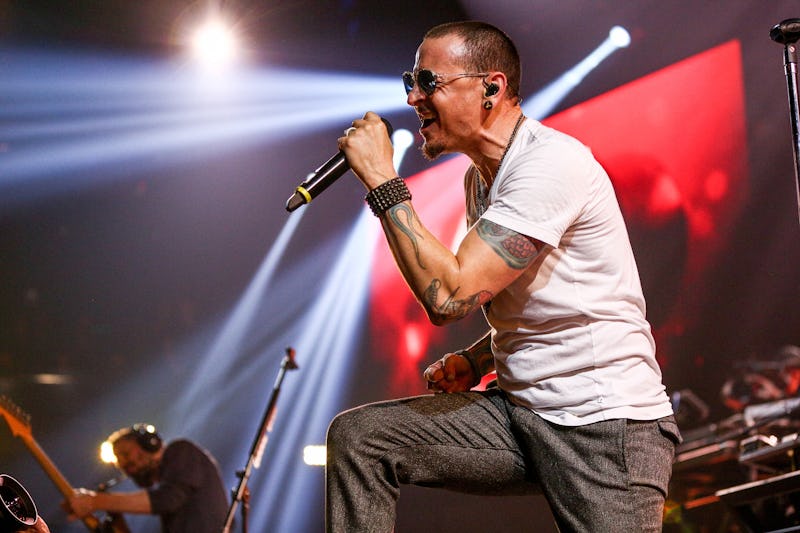 Rich Fury/Getty Images Entertainment/Getty Images
It was an emotional evening at the Hollywood Bowl amphitheater in Hollywood, California on Friday when Linkin Park fans sang Chester Bennington's lyrics during the band's performances of hit songs "Numb" and "In the End," according to Variety. The concert raised money for Music for Relief's One More Light Fund, which supports disaster relief in Bennington's name. The two numbers were an especially perfect tribute to the band's lead singer, in a night full of touching performances, that proved just how deeply Bennington is missed.
The guest list featured Blink-182 (who had been scheduled to go on tour with Linkin Park before Bennington passed) and Alanis Morissette, as well as members of No Doubt, System of a Down, Avenged Sevenfold, Sum-41, Bush, and Yellowcard, who all performed during the charity concert. According to Variety, Metallica, Paul McCartney, Guns N' Roses' Duff McKagan, and Depeche Mode singer Dave Gahan sent video messages tributing Bennington.
At the start of the three-hour concert, Linkin Park co-founder Mike Shinoda greeted the crowd. "I don't have the words," he said to fans studding the sold out venue, "I don't think any of us do." Oven 17,000 attendees packed the amphitheater, many of whom flew in from other states or countries to see the star-studded event, Rolling Stone reported.
As The Daily Dot noted, it was the first time Linkin Park had reunited since Bennington's passing. During the band's performance of "In The End" the stage was set up with an empty mic stand illuminated in honor or Bennington. It was the final song of the evening, and after the fan tribute — which reportedly caused Shinoda to briefly break down — Bennington's widow Talinda Bennington read a speech to the crowd. "He would have loved this," she said, "and would have loved everyone lifting each other up."
Bennington was just 41 when he passed away on July 20 from an apparent suicide. He is survived by six children, as well as his wife. Linkin Park's Shinoda confirmed Bennington's death on Twitter shortly after reports first emerged, writing, "Shocked and heartbroken, but it's true."
On July 24, Linkin Park posted a statement about Bennington's passing to their website. "You touched so many lives," the note said, "maybe even more than you realized. In the past few days, we've seen an outpouring of love and support, both public and private, from around the world." Immediately following the news of Bennington's death, there was an outpouring of tributes from fans mourning his passing online.
"Your absence leaves a void that can never be filled," the band's letter read. "We're trying to remind ourselves that the demons who took you away from us were always part of the deal. After all, it was the way you sang about those demons that made everyone fall in love with you in the first place." As TMZ reported, Bennington struggled with drug and alcohol abuse for years. During his career, Bennington was open about his addictions and mental health with fans, as his struggles inspired his music.
In an interview with Rolling Stone in 2002, Bennington addressed the topic saying, "It was like, 'There's a lot of songs about depression, fear and paranoia. Are you just making it up?' And I said no." His unfiltered honesty was part of the reason why fans could relate to Bennington and his personal struggles.
"You fearlessly put [your demons] on display," Linkin Park's tribute to Bennington read, "and in doing so, brought us together and taught us to be more human." In watching the videos of Linkin Park fans honoring Bennington by singing his lyrics, it's undeniable that he touched the lives of many.
You can check out the full video of the concert event below.
Although Bennington passed, his memories will clearly live on in the hearts and minds of friends, family, and fans of the singer.