Lisa Bloom, Known For Representing Sexual Assault Survivors, Has Resigned As Harvey Weinstein's Legal Adviser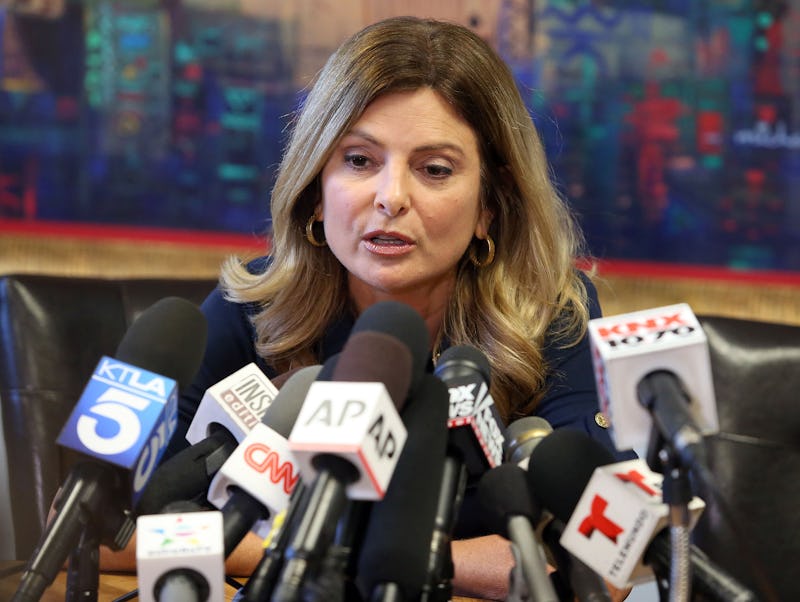 Frederick M. Brown/Getty Images News/Getty Images
As allegations of sexual harassment and inappropriate behavior continue to mount against Harvey Weinstein, a lawyer working with the film producer has resigned. Attorney Lisa Bloom announced Saturday she'd resigned as Weinstein's advisor. Bloom's announcement comes two days after a bombshell report from the New York Times alleged Weinstein had managed to keep allegations of sexual harassment from multiple women quiet for nearly three decades. At the time
"I have resigned as an advisor to Harvey Weinstein," Bloom said in a tweet published Saturday. "My understanding is that Mr. Weinstein and his board are moving toward an agreement."
It was unclear exactly what had spurred Bloom to resign after defending Weinstein so heavily in the press following the Times' report. She also did not elaborate on what agreement Weinstein and the board of his company were working toward.
Bloom's resignation came as a surprise for many Saturday since the attorney had said in a statement released only a day earlier that she would "continue to work with [Weinstein] personally for as long as it takes." Bloom, who calls herself "a women's rights advocate" and has built her career defending women, has faced significant pushback for her decision to work with Weinstein. Even Bloom's mother, high-profile civil rights attorney Gloria Allred, has publicly criticized Bloom for associating with Weinstein.
"Had I been asked by Mr. Weinstein to represent him, I would have declined, because I do not represent individuals accused of sex harassment," Variety reported Allred said in a statement released Friday. "I only represent those who allege that they are victims of sexual harassment. While I would not represent Mr. Weinstein, I would consider representing anyone who accused Mr. Weinstein of sexual harassment, even if it meant that my daughter was the opposing counsel."
Bloom did not immediately return Bustle's request for a comment.
In a report released Thursday, the New York Times alleged Weinstein had made numerous inappropriate sexual advances on women in the workplace over the span of nearly three decades and had reached confidential settlements with at least eight women. The Times report includes disturbing accounts from two women and notes that "dozens of Mr. Weinstein's former and current employees, from assistants to top executives, said they knew of inappropriate conduct while they worked for him."
Shortly after the Times' report dropped Bloom said Weinstein "denies many of the accusations as patently false" in a statement provided to Bustle. She went on to characterize Weinstein as being both "an old dinosaur learning new ways" and "refreshingly candid and receptive to [her] message." In that same statement Bloom revealed Weinstein had asked her to complete "a comprehensive review of his company's policies and practices regarding women in the workplace." Bloom said she would "make recommendations to ensure that gender equality and zero tolerance for workplace misconduct aren't just goals, but a reality" at the Weinstein Company.
On Friday, however, a third the Weinstein Company's all-male board resigned and the company announced Weinstein would be placed on indefinite leave pending an independent law firm's investigation into the allegations of sexual harassment raised against him. And on Saturday things became even more chaotic for Weinstein when another woman came forward with allegations the film producer had once forced her to watch him masturbate roughly a decade ago. In an interview with journalist Yashar Ali for the Huffington Post, former cable news anchor Lauren Sivan alleged Weinstein masturbated and ejaculated into a potted plant in front of her after she'd rebuffed his advances.
Shortly after Bloom announced her resignation New York Times reporter Jodi Kantor claimed Lanny Davis, who was also reportedly advising Weinstein as a legal crisis manager, had also resigned.
If you or someone you know has been sexually assaulted, call the National Sexual Assault Telephone Hotline at 800-656-HOPE (4673) or visit online.rainn.org.