Lorde Drops Big Hints About Her New Album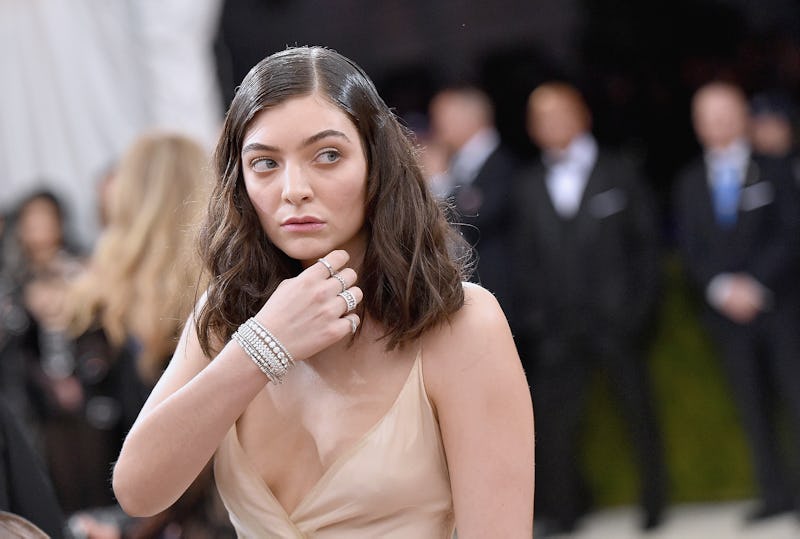 Mike Coppola/Getty Images Entertainment/Getty Images
Like many other artists and celebrities in recent days, Lorde has gotten political on Twitter, posting a string of tweets over the weekend referencing President Donald Trump's actions on immigration. However, it looks like her activism won't be limited to social media, as Lorde's political tweets hint that her new album will follow some of the same themes she's been exploring on Twitter.
On Saturday, the 20-year-old musician tweeted her praise for R&B artist Kehlani's new album, describing the necessity of pop music in troubled times. "After a horrifying, anxiety-inducing week of news, music like this allows much needed catharsis," Lorde wrote. "i truly believe in the necessity of cathartic pop records in times like these - i love the big sprawling projects too, but there's something about the falls & lifts of meticulous pop, moments designed for u to feel what u need to, that's more important than ever. you're probably guessing what kind of record i've made based on these tweets."
Ans then, on Sunday, seemingly in response to Trump's controversial travel ban on predominantly Muslim countries, Lorde tweeted out a series of warnings to the new administration. "Every kid in the world can discuss names/specifics of this administration in the way that young people once broke down boy bands/tv shows" she wrote. "when i was 15 i didn't know how to call a representative or protest efficiently, but every kid does now, whichever side they're on. these old men in power have a storm coming, the likes of which they cannot comprehend."
Taken together, it seems likely that Lorde's upcoming album will be political, but not overly specific in its themes. Her reference to what she knew at 15 carries special weight in light of the fact that she was around that age when she wrote her debut album, and while Pure Heroine was not apolitical, her assertion that she and her young audience know more now hints that her second album might be wiser and more serious.
However, Lorde's reference to "sprawling projects" and Kehlani's debut suggests that she's not about to drop something with a narrative or explicit political purpose, like Solange's A Seat At The Table. Kehlani's SweetSexySavage is an album of sleek pop songs exploring many different emotions, some in relation to romance, but focusing on the singer's own personal experience of life and relationships. A lot of the songs deal with finding strength and independence from the darkness in Kehlani's life.
From these tweets, I would guess that Lorde's upcoming album will also be about finding light in darkness, both on a personal and political scale, but without obvious references to news headlines. The official release date of the record hasn't been revealed yet, but most expect it to drop in spring 2017. Despite the hints, though, exactly what kind of album we'll get from Lorde remains a mystery, but my hopes are high that there will be a couple good protest songs in the mix.