This New 'Stranger Things' Character Is Hilariously Savage & Twitter Is Obsessed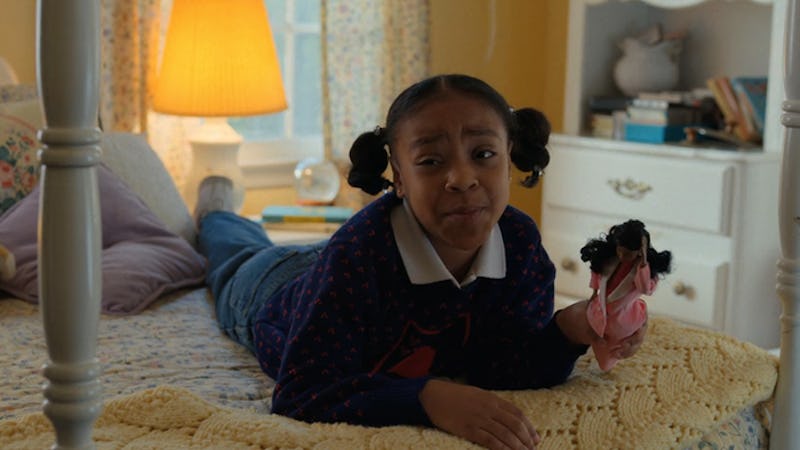 Netflix
Alright, it is time for Barb-enthusiasts to step aside because there is a new fan favorite in town. Light spoilers ahead! Stranger Things 2 has gifted fans with Lucas' little sister Erica, played by Priah Ferguson, and wow, did she make an impact. Take a look at Stranger Things Twitter and it seems as though Erica has captured the entire planet's heart. Sure, she only appears in four episodes this season, but she definitely makes her somewhat limited screen time count. Erica suffers no fools and she's definitely not intimidated by her old brother. So every time this younger sibling opened her mouth, the internet fell in love with Erica a little more.
Not only does Erica have style (check out the variety in hair looks), but she doesn't have a even the semblance of a filter and it is glorious. She is constantly letting Lucas and his friends, who are older than her, know that she is completely in charge and annoyed with just about everything they are into. How cool is it to see a young girl be so sure of herself and simultaneously so savage? The best part is that she does it with the same venomous skill that another instant fan favorite, Lady Lyanna Mormont, slayed fans with on Game of Thrones.
Here are some of the best Twitter reactions to Erica's ruthless wit. Because Barb is definitely dead, guys. A new Hawkins meme queen must reign.
The Lyanna Connection
A few people immediately felt that Lyanna and Erica were long lost sisters who absolutely deserve a spinoff show together, where they rule the world with sharp tongues and strength.
She Came In Like A Wrecking Ball
Many vocal fans agree that Erica is one of the best parts of Stranger Things Season 2. Take her trolling of Lucas' Halloween costume or her trolling of Lucas' party's Walkie-Talkie code or her trolling of... well, everything that Lucas dose, basically.
She's The MVP
Stranger Things have never been lacking for great characters. And Season 2 added some memorable ones, with step-siblings Billy and Max, Joyce's new boyfriend Bob, and the ambiguous Dr. Owens joining the crew. But out of that packed field, the Erica fandom believes she reigns supreme.
She's Been Named POTUS
It only makes sense that Erica be named the new leader of the free world. Nothing but respect for my president.
She Helped Her Whole Family Level Up
Just by association, the Sinclair family has become a fan favorite, just by having Erica as part of it. Between brave and kind Lucas and self-possessed Erica, those parents did something extremely right.
People Called Her A Star
Fetch her some sparkling water and a put her feet up, because Erica made a huge mark this year and must be recognized as the leading lady she is.
She Already Has A Catchphrase
Look, Erica isn't interested in Lucas, Will, Mike, and Dustin's game. Sure, her denial led to some real problems with Dart, but wasn't it worth it to get "Code Shut Your Mouth"? The fact that her relatively short amount of screen time has already led to a catchphrase and a subsequent hashtag should tell everyone how iconic Lucas' little sister really is.
Fans are already looking forward to Season 3 of Stranger Things, and if these tweets mean anything, they won't accept one that doesn't beef up Erica's character considerably. The only thing that could make this little sibling better is if fans were given more of her to cherish. Hopefully she becomes an even bigger part of the series as it continues to both charm and scare the crap out of Netflix's audience.