Why Lucious Doesn't Want His Memories Back On 'Empire'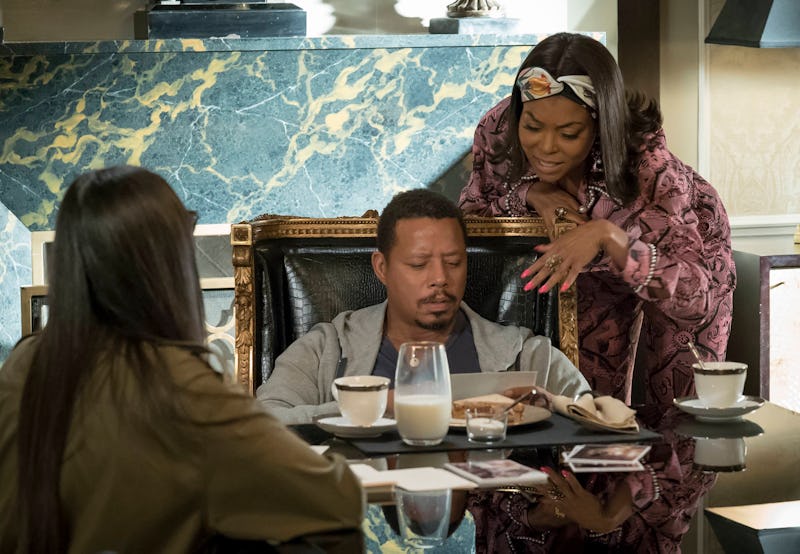 Chuck Hodes/FOX
Fresh off a four-month hiatus, Empire has returned to Fox with Season 4 and the greatest shake-up the Lyon family's had to date: Due to an explosion orchestrated by Andre at the end of Season 3, the Lyon family patriarch underwent a leg amputation and suffered a traumatic brain injury that left him with extreme amnesia. But in the Oct. 4 episode of Empire, Lucious starts to regain his memories. Up until then, the only thing Lucious could remember except bits and pieces of his childhood, is unfortunately his new nurse Claudia.
Since 2015, fans have watched Lucious strut down the halls of Empire Entertainment like he's some sort of king, with his bold suits and bad attitude. And while it might have been entertaining at times, his whole being has always been a bit much. In the early seasons of the show he attempted to maintain control of his record label by murdering old friends like Bunkie, belittling his son for having a mental illness, making wildly homophobic comments about his other son, telling everyone about how his mother was dead when she wasn't, and the shameful list goes on. But my, my, my how the tables have turned with his recent accident.
In "Full Circle" Lucious finds himself lost in the sauce unaware of everything that's transpired in his life since he became a hip-hop legend. Cookie desperately wants Lucious to regain his memory, constantly ordering Claudia (Demi Moore) to "fix her man." The problem is Claudia might not be what Lucious needs to get fixed. In fact, the key to his recovery might just be Lucious finally facing his treacherous past.
Lucious' mother Leah is convinced that he has the devil in him and attempts to drown him while he takes a bath. "You're a monster," she yells. While under the water, Lucious has his first breakthrough. Memories of being drowned by his mother years ago flash through his head, right as Claudia runs in to rescue him from Leah's grip. Leah continues to curse Lucious' existence as she stumbles out of the luxury bathroom. A confused Lucious watches wondering what he did to deserve all this. The simple answer: a whole lot of BS and now it's time to pay the piper.
Later, Claudia decides to take Lucious for a stroll down memory lane, as Cookie, growing impatient, moves in to supervise Lucious' recovery. After Lucious shows an interest in visiting a restaurant back in his hometown, he and Claudia make a trip. After a few pleasantries, the owner Clem recognizes Lucious and sets off the next memory tingle mentioning a friend Lucious used to come to the restaurant with named Eddie. In true Lucious fashion he lies to Claudia about needing to use the bathroom and sneaks out of the restaurant to track down Eddie played by guest star Forest Whitaker, who's currently giving a toast at his daughter's wedding.
Lucious crashes the reception and Eddie, who's happy to see him, starts telling the other guests stories about Lucious back in the day. Lucious is all smiles until the story reveals how he brutally beat a guy once, stuffed him in the trunk of a car and proceeded to drive around with the guy still back there. Horrified, Lucious jumps up from the table as the memories from that particular night flash through his head. This whole amnesia storyline has raised the question: is Lucious faking memory loss? And it's at this moment that we're made clear that he's not.
One can only imagine how much Claudia is getting paid to "fix" Lucious, when really all someone has to do is tell him stories of how many people he's hurt, killed, etc. for his memory to return. While it seems like an easy fix, the new, but not improved Lucious, won't let it happen. The episode ends with him crying on Claudia's chest, begging her not to leave him alone with those people (i.e. his ex-wife and kids) and talking about how he doesn't want to be that kind of person again.
Too bad for him that the Lyons don't change their spots. Or fur. Or, whatever. The fate of Empire and the family rests in the hands of his recovery and Lucious' wrongdoings sit at the evil epicenter of it all. Cookie has made it clear that she's not letting Lucious wither away to become basic ol' Dwight, so which bad memory will be one that sets Lucious into motion? Fans will just have to wait and see.