Lupita Nyong'o Petitioned Her High School's Makeup Ban Because She's Always Been A Badass Feminist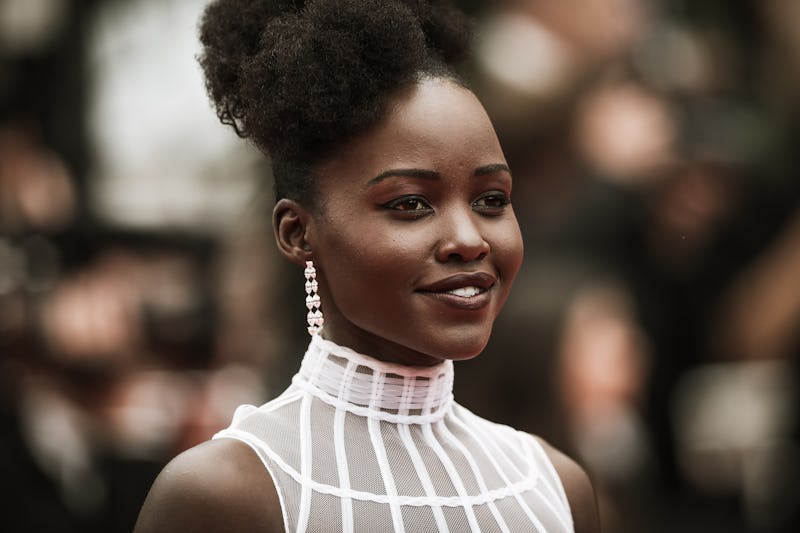 Vittorio Zunino Celotto/Getty Images Entertainment/Getty Images
You've heard it a million times: "Wow, that's a lot of shadow for the AM," "who knows what she looks like under that foundation;" "I just want a girl who doesn't cake it on." Even though it's 2018, makeup still gets a lot of backlash, but one actress has been battling that since an early age. Lupita Nyong'o petitioned her high school's makeup ban, proving she has been standing up for people since day one.
The Lancôme spokeswoman went to St. Mary's School in Nairobi, Kenya, but it wasn't your typical co-ed high school. It was actually an all-boys institution that had girls in the last two classes, meaning there were only a handful of girls in a student body of hundreds. At one point there was an archaic dress code rule that banned anyone from wearing makeup, and it infuriated Nyong'o so much that she decided to start a petition to stop it. She saw it as a tool for controlling and othering the small female group, and she wasn't about to take that lying down.
"I said to myself, 'Look, if a woman wants to wear makeup to school to feel confident in an environment where she's a minority, why not?' It doesn't actually change whether or not she's able to take in the information being given to her in the classroom," Nyong'o shared with InStyle.
She had no interest in wearing makeup herself, but she thought it was unfair that others were barred from it, and she wanted to change the rules for them.
"I think makeup has become an accessory. It's something that I enjoy," she explained. "It's not the thing I rely on to feel beautiful, and I hope that a lot of women feel the same. Makeup is something that can accessorize, just as much as a hat or a pair of earrings. It adds to the reflection of your own beauty." By barring students from putting on makeup, the school was painting cosmetics in a negative light, and trying to control the girls in a way the boys weren't subject to.
Nyong'o has long been a champion of women's empowerment and inclusive beauty standards, where one of her most notable moments was when she spoke about the importance of representation when she collected her first Oscar for her role on 12 Years a Slave.
"When I look down at this golden statue, may it remind me and every little child that no matter where you're from, your dreams are valid," she said at the end of the speech, making her the sixth black woman ever to win Best Supporting Actress at the Academy Awards.
Then in 2014's Essence's Black Women In Hollywood Luncheon, Nyong'o used her acceptance speech for Best Breakthrough Performance to share a letter she received from a girl after she won her Academy Award. The letter read, "I think you're really lucky to be this Black but yet this successful in Hollywood overnight. I was just about to buy Dencia's Whitenicious cream to lighten my skin when you appeared on the world map and saved me."
She then made history when she became the first black ambassador for Lancôme that same year, appearing in campaigns with her natural hair and beautiful dark complexion.
Then in 2017, Nyong'o went on Instagram to call out the British magazine Grazia's offensive retouching of her hair on its cover, where they removed her natural hair that was brushed back into a ponytail. In her caption she wrote, "Despite having grown up thinking light skin and straight, silky hair were the standards of beauty, I now know that my dark skin and kinky, coily hair are beautiful too."
Whether she was circulating a petition in high school to allow girls to put on lipstick, or using her platform to elevate the image of dark complexions and natural hair, Nyong'o has women's backs on expressing beauty the way they want to, and not how society tells them to.