Lupita Nyong'o Styled Her Own Hair For A Major Magazine Cover & The Reason Why Is So Important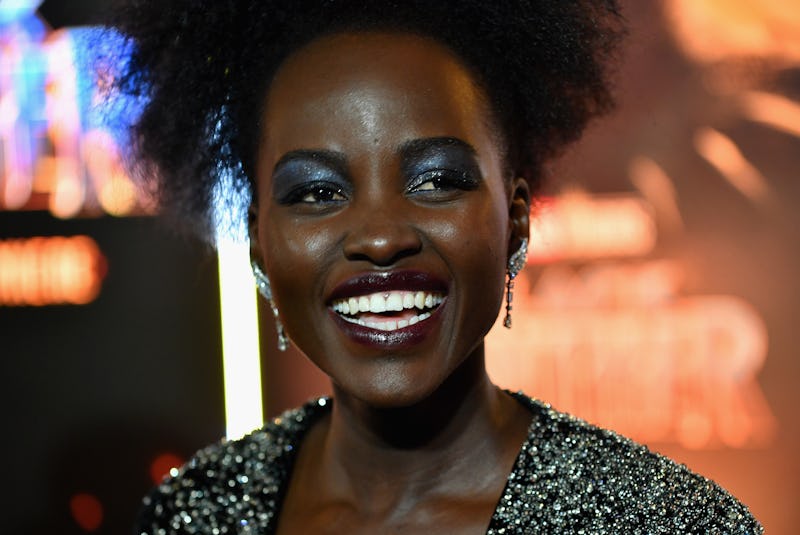 Gareth Cattermole/Getty Images Entertainment/Getty Images
Last fall, Oscar-winning actor Lupita Nyong'o issued a powerful edict about her natural curls after Grazia magazine inexplicably Photoshopped them out of a cover image of the star. She spoke with immense pride about her hair's texture and its relationship to her cultural background. Now, Nyong'o is getting to define how her hair looks for a major fashion shoot, and the change is essential. For Allure's "Culture of Hair" issue, Nyong'o created the hairstyles and concepts for look. She partnered with stylist Vernon François and the duo designed braids, voluminous curls, and much more.
Nyong'o is proud of her hair "as is" and embraces every aspect of it, including descriptions. She wants women of color with the same texture to know that curly, natural strands are fabulous and deserve to be shown off. It was her way of correcting Grazia's massive and egregious mistake.
She told Allure, "I like the term 'kinky.' Some people don't like that term, but when I think about my hair, I think of it as African kinky hair."
The Black Panther actor and the stylist were give free reign to do her hair as they wished during they cover shoot. Nyong'o took the power back — defining her look while celebrating her heritage. The results are as magnificent as it gets.
The cover image is a close up of the gorgeous star's face framed by beaded braids with bangs. "We wanted to make them traditional, forward-thinking, and honest, which is exactly what we did," François said.
Wow. Nyong'o's glowing, dewy skin, metallic pink lips, and deep, expressive stare are stunning. All of those elements are highlighted by her braids. The stylist furthered, "Lupita and I have wanted to create a braid look like this for some time, and having the chance to do it for Allure was a dream come true."
Their execution of this look is excellence — bar none.
Nyong'o also opened up about her hair history for the "Culture of Hair" issue, which drops via newsstands on Feb. 20. She revealed that she once shaved her head in what was initially an act of teenage rebellion. But it ended up being incredibly freeing.
She told Allure, "I went into the hair salon, and I said, 'Let's cut it off.' It was almost a dare to myself: Can I live without hair? He shaved it right off. It was so scary but so liberating because I went completely bald."
Nyong'o and François had one critical mission in mind when they approached the hair looks for this shoot. It had less to do with fashion and more to do with advancing a message of self-love. Rather than fight or deny your hair's texture, embrace its versatility and innate awesomeness.
"Lupita and I wanted to show that coil-y or kinky hair has many strengths and can be worn in lots of different ways, celebrating its beauty and versatility," he said. "Loving your true texture is important."
François shared another powerful detail about his coif collabs with Nyong'o. Nothing is left to chance. They are actively working to change the conversation — and to prevent an offensive Photoshop blunder like the one committed by Grazia from ever happening again.
"It's always a collaborative, creative process when Lupita and I work together," François said. "We bounce ideas around and get excited about the possibilities and about resetting expectations for hair."
The Twitterverse was completely in love with Nyong'o natural strands and stance.
It's not just a magazine cover — it's a powerful statement of her background and loving herself. That's a message that bears repeating.
What's not to love, right?
Nyong'o taking back her hair from a society and industry that hasn't been so friendly to her locks is powerful to see. Let's hope there is more of where this came from.