The Lyrics To Lin-Manuel Miranda's New Song Capture Puerto Rico's Resilience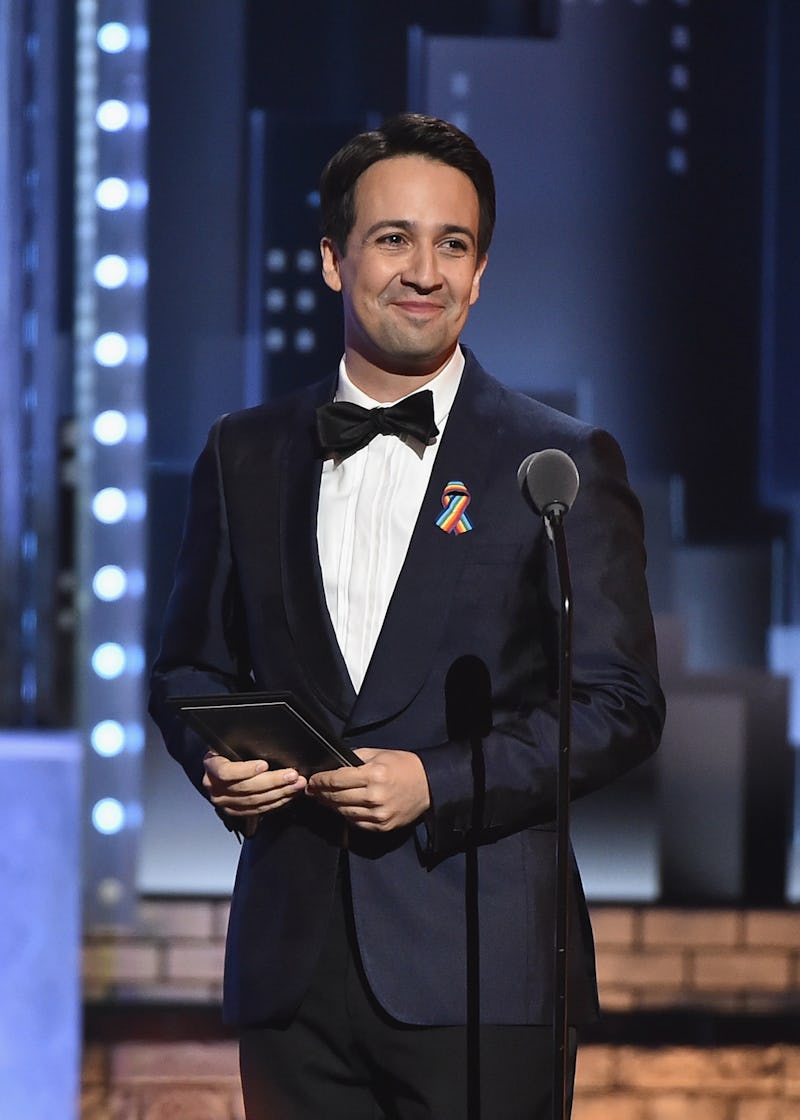 Theo Wargo/Getty Images Entertainment/Getty Images
As the island of Puerto Rico continues to suffer from the devastation left behind byHurricane Maria, a new song can provide hope, strength, unity, and support to those affected by the tragedy. With just one listen, it's easy to discern that the lyrics of Lin-Manuel Miranda's "Almost Like Praying" reflect the resilient spirit of Puerto Rico.
In an effort to provide relief to the island, Miranda enlisted the help of notable entertainers such as Rita Moreno, Gloria Estefan, Jennifer Lopez, Marc Anthony, John Leguizamo, Luis Fonsi, Fat Joe, Gina Rodriguez, and Camila Cabello (just to name a few) as a means to exemplify the pride and essence of Puerto Rico. According to an Atlantic Records press release, all proceeds from the song will be donated to The Hispanic Federation's Unidos Disaster Relief Fund.
In terms of content, the upbeat tune offers a unique rhyming sequence which lists all 78 of Puerto Rico's municipalities. The song, which was written by Miranda, notably adapts its title and hook from the Leonard Bernstein and Stephen Sondheim's "Maria" — a classic composition from the original Broadway musical, West Side Story which also happens to be a personal favorite of Miranda's, according to the press release.
With "Maria" at its backdrop, "Almost Like Praying" proves to be deep-rooted in terms of its origin. Not only is Maria, unforgettably, the name designated to the Category 4 disaster that ravaged the island, but the inference also borrows from the fact that the tale of West Side Story was one that incorporated a largely Puerto Rican cast.
The lyrics of "Almost Like Praying" immediately kick off with lines from the West Side Story tune with Hamilton creator Miranda belting out,
"Say it loud and there's music playing
Say it soft and it's almost like praying
It's almost like praying
It's almost like praying
It's almost like praying
It's almost like"
The song moves on as a bevy of notable artist join in to recite the names of all 78 of the territory's towns. "Despacito" crooner Luis Fonsi dives right in with:
"Cabo Rojo, Corozal, Naguabo, Guaynabo"
Marc Anthony continues, "San Lorenzo y San Germán, San Sebastián, mi viejo San Juan," and Camila Cabello and Anthony Ramos sing: "Isabela, Maricao, Fajardo, Dorado."
Next up, Ednita Nazario and Gilberto Santa Rosa add, "Hormigueros, Humacao, Luquillo, Hatillo." Ruben Blades and Juan Luis Guerra sing, "Vega Alta, Vega Baja, Toa Alta, Toa Baja, Mayagüez." Joell Ortiz, John Leguizamo, and Miranda all chime in with: "Yes!"
The melody continues as Blades and Guerra demand that the song carries on as they sing out — "Otra vez!" Ortiz, Leguizamo, and Miranda agree in unison: "Yes!"
Blades and Guerra then get back on the track by continuing to list the names of the municipalities:
"Aguadilla, Quebradillas, Guayanilla, Juana Díaz y Cayey, hey"
Miranda then revisits the hook, singing, "It's almost like praying." Soon after, Blades and J. Lo spread love for the land, harmonizing:
"Puerto Rico, Puerto Rico"
Then Lopez belts out, "Arecibo, Guánica, Culebra, Las Piedras," which is followed up by Rosa: "Orocovis, Guayama." Rosa then joins Rita Moreno to sing, "Gurabo, Maunabo." Blades, Dessa, and Ana Villafañe add:
"Aguas Buenas, Salinas, Río Grande, Sabana Grande"
Tommy Torres hops in with, "Yabucoa, Florida," while Lopez and Gloria Estefan sing, "Peñuelas, Santa Isabel." Pedro Capó and Torres sing,
"Naranjito, Barranquitas, Carolina, Aibonito, Bayamón"
Alex Lacamoire, Ortiz, and Miranda keep the party going with a simple: "Hey!" Capó and Torres sing, "Rincón," before Lacamoire, Ortiz, and Lin-Miranda throw in another, "Hey!"
Capó and Torres recite,
"Barceloneta, Las Marías, Comerío, Moca, Ponce, Manatí, Así"
Then, Miranda returns with the hook:
"It's almost like praying"
Cabello belts, "Puerto Rico, Puerto Rico," and Fonsi sends a shoutout to the people of Puerto Rico, too: "Boricua, Boricua, Puerto Rico." Fat Joe adds,
"Yo, Utuado, Aguada, Adjuntas y Caguas"
PJ Sin Suela joins with, "Canóvanas, Cataño, Juncos y Lajas." Then, rapper Dessa added in a few words or adoration:
"Jayuya, Villalba, Arroyo, te amo"
Paying homage to the third largest underground cave system in the world, Dessa and Fat Joe shout out both the Camuy caves and the thermal springs of Coamo:
"La cueva de Camuy, los baños de Coamo"
Then, Gina Rodriguez enters the declaration of love:
"Trujillo Alto, Ceiba, Ciales
La isla de Vieques, El grito de Lares"
Ortiz adds, "Yauco," while Rodriguez mentions, "Cidra." Right after, Ortiz chimes in with "Añasco" and Rodriguez follows up with "Patillas." Together, the pair sings,
"Morovis, Loíza, lo hiciste"
Then, Anthony and Fonsi add a simple, "Puerto Rico," and Dessa does too. Guerra hops in with, "Puerto Rico, Puerto Rico." Nazario sings,
"Lai lo le lo le, le lo le lo lai"
Ortiz, Anthony, and Fonzi all give the island shoutouts by singing, "Puerto Rico," and Rosa notes the facts that Puerto Rico is 100 miles long by 35 miles wide while speaking of the unity they share. He sings,
"Puerto Rico, Borinquen, cien por treinta y cinco la isla completa
Sí somos Boricua, ha, ahora que se sepa"
Anthony and Fonsi add another, "Puerto Rico," and so does Estefan. Moreno's "Así es" is followed by Estefan and Blades singing the island's name yet again. Fat Joe adds, "Puerto Rico! Ho! Ho!"
Blades throws in another round of:
"Puerto Rico, Puerto Rico, Puerto Rico, Puerto Rico"
Nazario gives a shoutout to Puerto Rico's beauty while professing her love for the island.
"Tierra linda mía, yo te quiero"
Anthony and Fonsi sing Puerto Rico's name once more, as Miranda describes the soul of PR, adding,
"And there's music, and there's music, and there's music playing"
From there, there's a medley of Cabello, Anthony, and Lopez singing Puerto Rico's name. Ramos adds, "Viva." The song wraps as the Hamilton creator returns to the hook:
"Say it soft and it's almost like praying"
Recorded in several studios around New York City, Los Angeles, Miami, and Puerto Rico, Miranda reportedly traveled to each location to work one-on-one with collaborators of his "love letter" to Puerto Rico, according to Variety. The collective dedication put into the production of the song is a remarkable effort that's easily transmitted through the symbolic lyrics
As celebs jump in to lend a helping hand amidst the destruction left behind in Hurricane Maria's aftermath, "Almost Like Praying" does more than its part in adding a positive spin on such a tragic event.