You Can Get $20 Boots & Half-Price Designer Bags At Macy's On Black Friday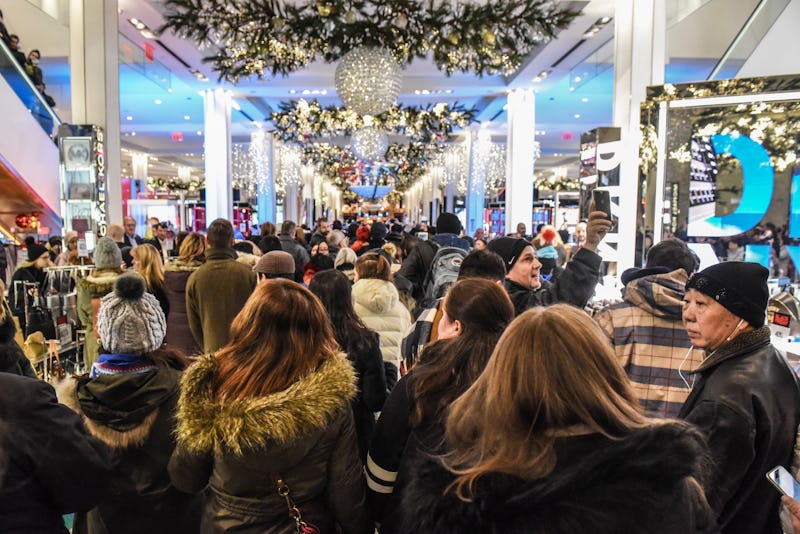 Stephanie Keith/Getty Images News/Getty Images
Just when you thought Black Friday and Cyber Monday deals couldn't get any better, they get A LOT better. Macy's 2018 Black Friday and Cyber Monday sales span several departments — from the famous retailer's extensive clothing aisles to its expansive shoe section to its accessories offerings.
There are several levels to Macy's holiday shopping hours, along with plenty of "events" and deals.
The retailer's Black Friday Sale kicks off two days early. It begins online on Wednesday, Nov. 21 at 3 p.m. local time. Once you've finishing prepping for your holiday eats, you can settle in with some digital retail therapy.
Macy's is also open on Thanksgiving Day, which is Thursday, Nov. 22. Locations are slated to open on 5 p.m. and run through 2 a.m. local time. Once you've noshed on a delish and filling Turkey Day meal, you can cruise over to Macy's to get a head start on holiday shopping.
On actual Black Friday, Nov. 23, Macy's opens at 6 a.m. local time. However, please be aware that Macy's Black Friday hours vary by store.Therefore, you should check with your local Macy's to confirm its hours. You can do so via the "Store Locator" tool on the Macy's site or by placing a call ahead of the holiday to find out more intel.
Now that you know when you can shop, let's talk about what you can shop. These deep discounts and sweet sales are sure to satisfy so many people on your shopping list.
Generally, the brand is offering 30 to 50 percent off women's styles, 30 percent off dresses, designer coats for $99.99, boots as low as $19.99, sweaters for $19.99 and under, and much, much more.
Knowing some of the deals that Macy's will offer as part of Black Friday and Cyber Monday is a huge help so you can strategically budget and shop.
Below are some of the upcoming sales, as well as the preview Black Friday deals which are live now.
1. Tall Boots
2. Booties
3. Structured Bags
4. Double Breasted Peacoats
5. Leather Jackets
6. Strappy Platforms
7. I.N.C. International Concepts Riverton Small Crossbody
8. Puffers
9. Heeled Booties
This is just the tip of the Macy's Black Friday and Cyber Monday iceberg. There are hundreds upon hundreds of steals and deals. This advance look will assist you with the planning and the shopping process. Godspeed and get it done.