Macy's Black Friday Hours Start Really, REALLY Early So Get Ready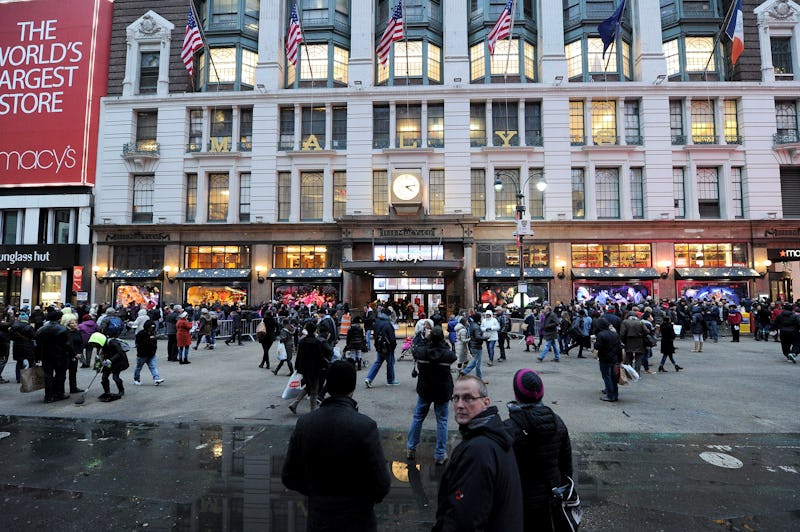 Andrew Toth/Getty Images Entertainment/Getty Images
Holiday shopping and Black Friday sales know no boundaries. A good sale never sleeps nor does it take a day off. Macy's 2018 Black Friday hours offer you lots and lots of time to shop its various departments, extensive clothing aisles, and vast beauty counters. The holiday shopping hours are that expanded.
The retailer's Black Friday shopping extravaganza kicks off two days early. It begins online on Wednesday, Nov. 21 at 3 p.m. local time. You can spend your Thanksgiving Eve baking some yummy goodies or preparing the fixings of your holiday meal. Then, you have the option to close out your night with a mug of steaming hot cider and by engaging in some retail therapy via Macy's.
As for Black Friday hours? Well, those actually start on Thanksgiving Day, which is Thursday, Nov. 22, at 5 p.m. and run through 2 a.m. local time. Once you've noshed on turkey — or tofurkey — as well as stuffing, green bean casserole, and pumpkin and/or apple pie, you can head over to your fave Macy's store to shop 'til you drop. Thanksgiving is basically Black Friday Eve!
On actual Black Friday, Nov. 23, Macy's opens at 6 a.m. local time. However, please be aware that Macy's Black Friday hours vary by store.
Therefore, you should be sure and check with your local Macy's to confirm its hours. You can do so via the "Store Locator" tool on the Macy's site or by blowing in a call ahead of the holiday. Or you can stop by your Macy's outpost when nearby and ask a manager or associate.
This graphic, which is a screen shot from the Macy's site, reveals all the details of the store's Black Friday 2018 plans. The details also refer to some of the Doorbuster sales that will have shoppers and customers whipping out their wallets and pulling out their credit cards.
In addition to extended shopping hours, there are loads of deals, discounts, savings, and steals on the horizon. Designer coats will be marked down to $99.99. Select women's clothing styles will be 30 to 50 percent off.
Women's boots will be marked down to $19.99. Less than $20 for boots that usually run from $50 to $80? That's almost too good to be true. Those who happen to inhabit your shopping list should consider themselves very, very lucky.
Macy's won't simply be hosting an amazing, giant float-filled parade in Manhattan on Thanksgiving Day. The retail behemoth will be open for business and will shepherd shoppers into its network of stores across the country. If you are ISO a huge head start on holiday shopping, you are getting it courtesy of Macy's. You may even get it all done in one day.
If you have a tightly focused shopping list full of fashion plates or style conscious and beauty product-loving people, Macy's will serve as your one-stop shopping hub. You can get a lot of purchasing done and enjoy some whopping discounts.
The sooner your shop, the better your savings, as well. If you view holiday shopping like an Olympic sport, you can earn a gold medal by shopping at Macy's on Thanksgiving Day and on Black Friday.
Did you know that you can find Macy's coupons at the Bustle Coupons page? Bustle Coupons is a service provided by Groupon in collaboration with BDG Media, Inc. Each time you use a coupon or promo code from Bustle Coupons to make a purchase, Groupon and BDG Media, Inc. earn a small commission. This article was created independently from Bustle's sales department.