Maisie Williams' Post About Sophie Turner's Engagement Will Make You Love Their Friendship Even More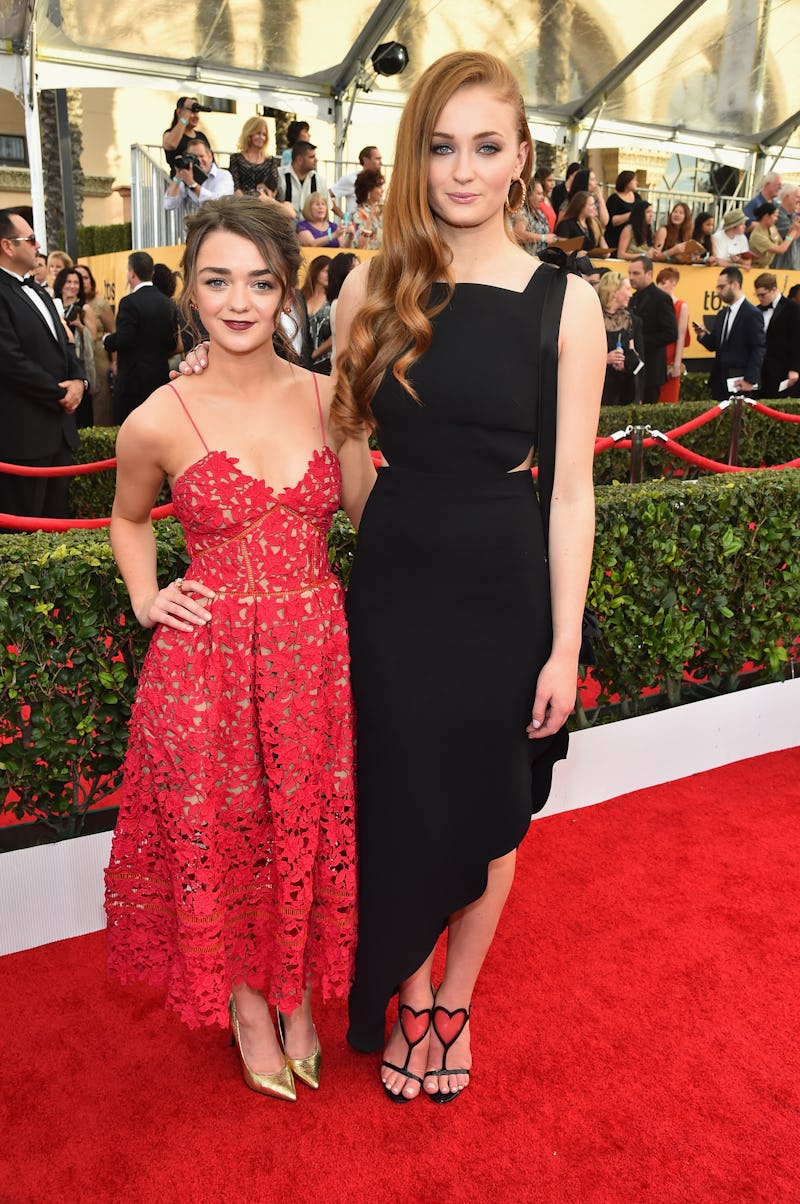 Alberto E. Rodriguez/Getty Images Entertainment/Getty Images
When your BFF gets engaged, it's almost as exciting as if it were happening to you, and that's definitely true for these celeb buddies. On Monday morning, Maisie Williams congratulated Sophie Turner on her engagement to Joe Jonas with a celebratory Instagram post, and it's exactly as sweet as you would expect from Turner's close pal and Game of Thrones costar. And according to what she wrote in her caption, it sounds like Williams is planning to be a big part of Tuner's upcoming wedding.
On Sunday, Jonas and Turner announced their engagement by sharing the same photo on both of their Instagram accounts, showing off Turner's gorgeous pear-shaped diamond ring. A low-key announcement seemed exactly right for the couple, who have kept their relationship mostly private since they started dating last November. They were together for more than a month before they started publicly sharing photos of each other on social media, after all.
And now, Williams is sharing the same engagement photo all over again — and let's be honest, with a ring this beautiful, it should be plastered all over the internet — to wish her friend the best in this new, exciting chapter of her life.
In her caption, Williams include the couple names for both herself and Turner (#mophie) and Turner and Jones (#jophie). And no matter how you feel about their engagement, #HolyMoly seems like the right hashtag to attach to this photo. It's definitely exciting news, and a lot of fans have been freaking out about losing yet another former Jonas Brother to marriage, leaving only Nick Jonas single. But that's not the point. The point is that there's a very good chance that Williams is going to be a bridesmaid in Turner's wedding, and it's going to be yet another opportunity for them to be adorable BFFs together.
Since Game Of Thrones premiered in 2011, Williams and Turner have been inseparable. Last September, the pair got matching tattoos with the date they found out they were cast in the series — July 8, 2009. They share an incredible bond, so it makes sense that Williams would totally be freaking out about Turner's engagement right now.
And of course, if you follow them on Instagram you know that they spend plenty of time together, on set and off, sharing plenty of selfies like these with their followers.
Oh, and in case you missed it, they had the cutest moment at the 2017 Golden Globes when Turner kneeled down to adjust Williams' dress while she was taking photos on the red carpet. At Turner's future wedding to Jonas, there's a good chance this might happen again, especially if Williams is in the wedding party. Fixing dresses is kind of a bridesmaid duty, you know.
Actually, what are the chances they'll stage the original photo all over again, with Williams fixing Turner's wedding dress this time? It would be the sweetest way to honor how supportive they've always been of each other.
It was precious how Williams called this just one of the moments they'll experience in their lives together in her caption on the post she made about Turner's engagement. As long as they stay this close, there's no doubt there are plenty more congratulatory social media posts in their future. Hope Jonas is OK with Turner's BFF being along for the ride, because it doesn't sound like they're about to let anything get between their friendship.
Obviously, the wedding photos that include Williams are going to be crazy cute. There surely is plenty of BFF adorableness on the way in the coming months, because the possibilities are endless. Bachelorette parties, bridal showers, rehearsal dinner toasts... the list goes on and on.
For more on dating and relationships, check out Bustle's Save The Date, below: