You Can Now Listen To Margaret Atwood's 'Alias Grace' Audiobook Before It Hits Netflix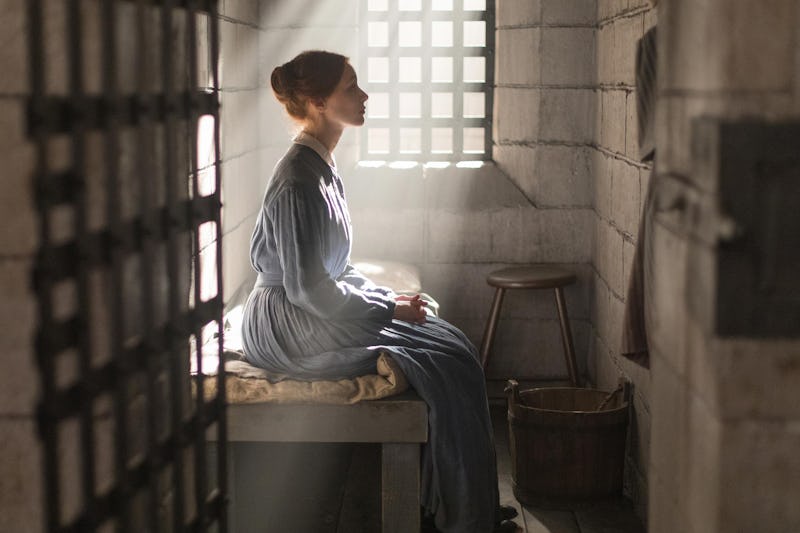 Sabrina Lantos/Netflix
2017 has been a huge year for Margaret Atwood, already beloved and decorated author of such famous novels as The Robber Bride and The Handmaid's Tale. But with the hugely popular release of the Hulu series based on the latter, which has become a veritable phenomenon, and her recent lifetime achievement award, Atwood is only bigger and more influential with each passing day. And now, the new audiobook to her 1996 novel Alias Grace is being exclusively released by Audible, just a few days ahead of the premiere of the new Netflix miniseries based on the book. Here's a treat: Bustle's got an exclusive first listen of the audiobook, narrated by the star of the miniseries, Sarah Gadon. Excited? You're not the only one.
"It's thrilling to me that, over twenty years after I first wrote it, Alias Grace is coming alive in new and fascinating ways," Margaret Atwood tells Bustle. "Sarah Gadon, whose performance as Grace Marks in the television series is a tour de force, is the reader—and who better? The novel itself is a suite of voices, so to have it read out loud is especially appropriate. Draw near. Listen. Someone is whispering in your ear—but who?"
Interestingly, Alias Grace is actually based on the high-profile murder case of Grace Marks. It's 1843, and Grace has been convicted for her involvement in the vicious murders of her employer and his housekeeper and mistress. Some believe Grace is innocent; others think her evil or insane. Now serving a life sentence, Grace claims to have no memory of the murders. Dr. Simon Jordan, an up-and-coming expert in the burgeoning field of mental illness, is engaged by a group of reformers and spiritualists who seek a pardon for Grace.
He listens to her story while bringing her closer and closer to the day she cannot remember. What will he find in attempting to unlock her memories? Is Grace a female fiend? A bloodthirsty femme fatale? Or is she the victim of circumstances? Grace Marks is one of the most notorious women of the 19th century, and Margaret Atwood brings her back to life in her audiobook.
The audiobook, which is hitting Audible on Nov. 2, is perfect for fans of the show who are desperate to spend more time with this story. And Bustle is thrilled to share an exclusive clip from the audiobook below.
With The Handmaid's Tale being one of the top-selling audiobooks of 2017, we're almost positive that Alias Grace will be following quickly in its footsteps. If you're looking for an eerie, interesting, consuming audiobook to carry you through the final stretch of the fall season...well, look no further.
Pre-order the audiobook, available on Nov. 2, at Audible.com.