Margaret Atwood's First Novel Is Coming To TV & It's Similar To 'Handmaid's Tale' In Many Ways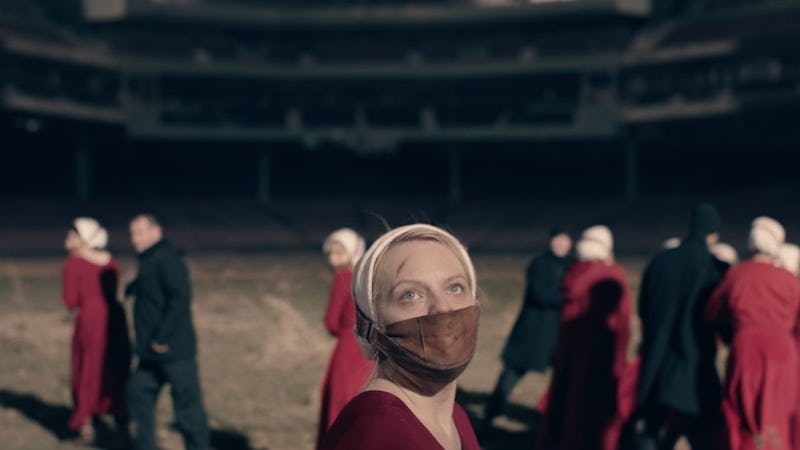 Take Five/Hulu
If you're already lamenting the end of The Handmaid's Tale Season 3 on Hulu, I have some fantastic news: Margaret Atwood's debut novel is coming to TV from the producers of Hell on Wheels and The Rookie. Entertainment One (eOne) has acquired the television rights to the 1969 novel, in a deal that includes worldwide distribution rights, according to Variety.
Published 16 years before The Handmaid's Tale, The Edible Woman centers on Marian McAlpin, a single and successful market researcher, whose life begins to unravel after she receives a marriage proposal from her boyfriend, Peter. As she slowly loses her ability to eat, Marian finds herself torn between her own independence and the prospect of becoming Peter's wife. Through Marian and her friends — Clara, a mother and housewife, and Ainsley, her roommate, who wants to have a baby without a man — Atwood's first novel explores the restrictions that traditional gender roles placed on women and their lives. Although the plot and setting are vastly different from those of The Handmaid's Tale, the books deal with many of the same themes.
Entertainment One's Edible Woman isn't the only Margaret Atwood adaptation in the works. The third season of Hulu's The Handmaid's Tale premiered on June 5, and Renée Nault's graphic novel adaptation of the novel came to stores in March. A miniseries based on the Canadian author's 1996 novel, Alias Grace, aired in 2017, and early in 2018, Paramount Television and Anonymous Content acquired the rights to Atwood's MaddAddam Trilogy. No further announcements have been made regarding the MaddAddam project, however.
In addition to the other Margaret Atwood-derived projects currently in development, The Edible Woman joins a host of other book-based adaptations making their way from page to screen. With HBO's Game of Thrones now ended, a laundry list of fantasy projects — including The Lord of the Rings, His Dark Materials, Shadow and Bone, and the Kingkiller Chronicle — stand waiting to fill the viewing void for fans. The late summer and fall of 2019 will see Maria Semple's Where'd You Go, Bernadette?, Stephen King's It, and Donna Tartt's The Goldfinch, among other adaptations, coming to the screen.
No further information about Entertainment One's Edible Woman adaptation is available at the time of this writing. If the other Margaret Atwood projects in development are any indication, however, her fans have much to look forward to as the new adaptation goes into development.
Margaret Atwood's newest book, The Testaments, is the long-awaited sequel to The Handmaid's Tale. The Testaments is out on Sep. 10, and is available for pre-order now.