Mary-Kate & Ashley Olsen Didn't Leave Any Details Out For Their Met Gala Looks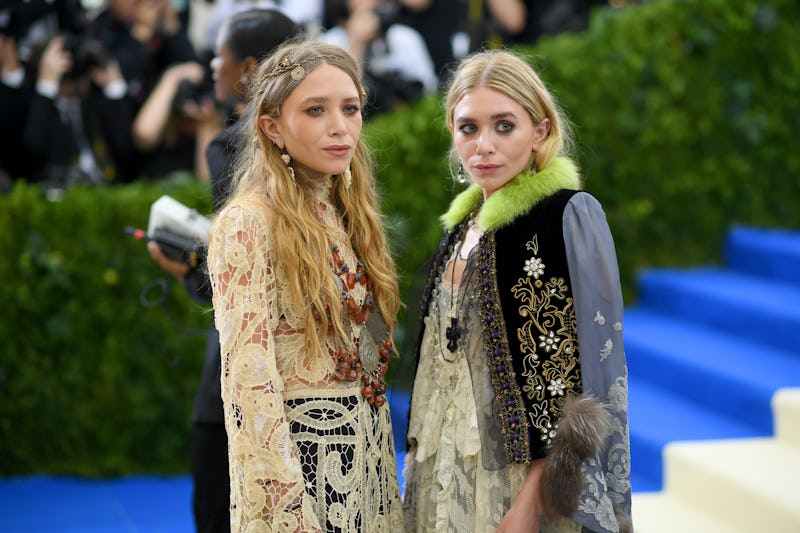 Dimitrios Kambouris/Getty Images Entertainment/Getty Images
If you're a true fashion lover or a child of the '90s, then you are certainly interested in knowing what Mary-Kate and Ashley Olsen's 2017 Met Gala outfits look like. Why? Well, for one, their ensembles are always on point. After all, they run two very successful and widely celebrated fashion brands — The Row and Elizabeth & James. And two, because they are fashion icons — the Olsen twins have come a very long way from their hokey matching outfits, but boy, did we all want to dress like them back then, too. Not much has changed, it seems! I'm living for their ornately detailed, boho-inspired ensembles, which clearly pay homage to Commes des Garcons designer Rei Kawakubo, but with a personal twist.
You could argue that Mary-Kate and Ashley Olsen were boho fashion trendsetters back in the '00s when the style had barely come on to the scene. Years later, there are so many brands that exclusively embrace the flowy, ethereal fashion (Free People, anyone?), and yet no one rocks it better than Mary-Kate and Ashley themselves. While they no longer wear matching outfits, I do love that Mary-Kate and Ashley still step out together, and are sure that their ensembles are complementary to one another.
The embroidery, the fur, and the beads juxtaposed against their woven dresses teach a lesson in mixing prints and fabrics.
I think Rei Kawakubo would be more than pleased with the bold looks Mary-Kate and Ashley have taken this evening.
I am also here for their beauty game — Mary-Kate's burnt orange-y red eyeshadow underneath her eyes and Ashley's bold highlight are so on trend for spring and summer 2017.