Mary Kate & Ashley Olsen's Matching Red Carpet Outfits Will Give You Serious 'It Takes Two' Vibes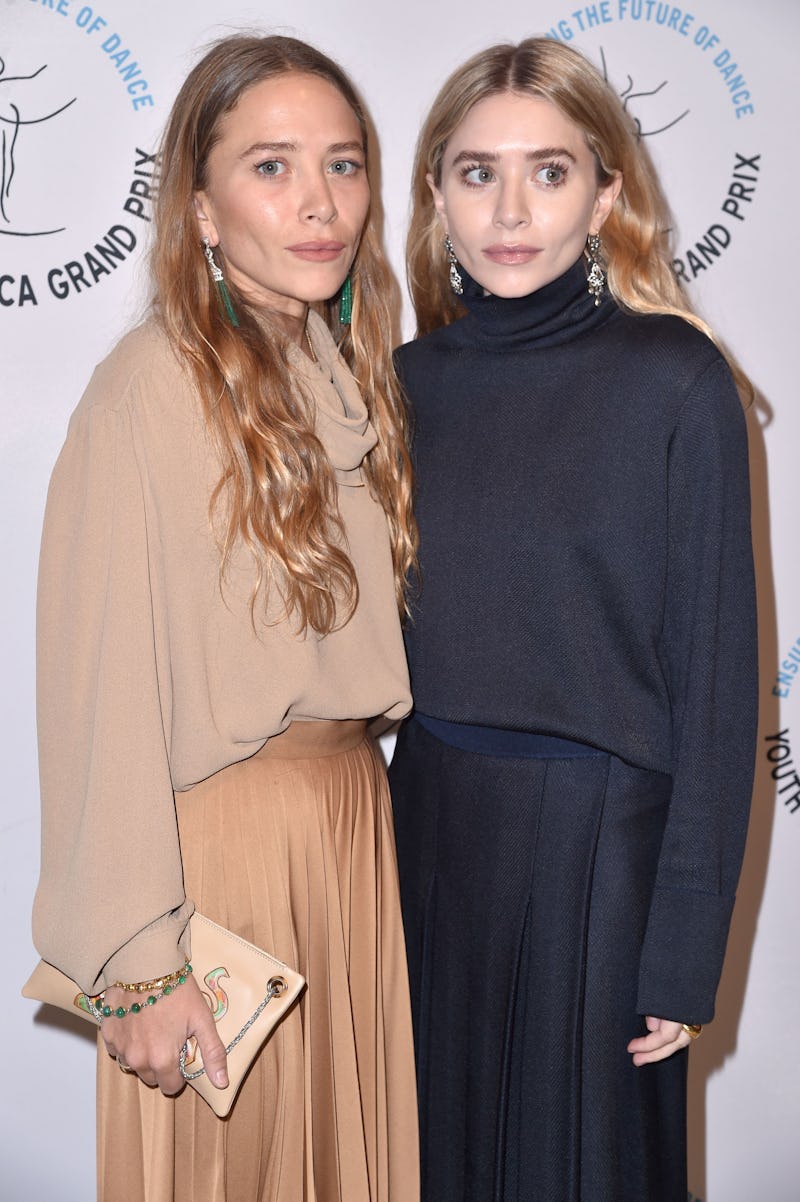 Stephen Lovekin/WWD/REX/Shutterstock
Nothing defined life in the 90s and early 2000s for millennials like Mary Kate & Ashley Olsen movies. From Winning London to It Takes Two, the famous twins defined many millennial childhoods. They're not quite done twinning, though. Mary Kate & Ashley's matching red carpet outfits are proof that no matter how old you get, you'll always want to see the world's most famous set of twins together and killing it in coordinating ensembles. After all, who can resist a bit of nostalgia?
On Thursday, the Olsens made a rare appearance on a red carpet for the Youth America Grand Prix Gala. The New York City event featured young ballet performers dancing alongside seasoned pros according to The New Yorker. Apparently, the even is so good that Olsens made a red carpet exception and appeared together. Whether intentional or not, when they did appear, they inspired childhood nostalgia in fans everywhere.
As successful brand owners of The Row, the sisters both kept their aesthetics super on brand with neutral hues and relaxed silhouettes, but their coordinated outfits were basically straight out of one of their original movies, just much, much more fashionable and modern.
While their sweaters are not exact replicas of one another, they are certainly coordinating. Mary Kate chose a camel colored version of the sweater with a neckline that resembled more of a cowl style than a true turtleneck. Meanwhile, sister Ashley chose to wear a solid black sweater with a loose turtleneck design and large sleeves.
While this could all be coincidence, it's the skirts that pretty much give the two away as planning to coordinate. Their chic, neutral bottoms appear to be made with similar (though not identical) pleating around the entirety of the design. Both also feature a defined waistband and reach the floor. While Mary Kate's seems to pool a bit whereas Ashley's does not, the maxi length effect was clearly the intention for both ensembles.
As for accessories, Mary Kate played more with color than her sister adding jade hues in both her bracelet and earrings. Ashley, however, kept things neutral again. Both sisters, however, did wear drop style earrings.
While this coordinating moment may give you flash backs to their It Takes Two days, the pair's sartorial choices have changed dramatically since their teenage years playing Riley and Chloe on television show So Little Time. Now, the sisters appear to always favor neutrals and dark hues on red carpet. Relaxed fits and monochromatic colors have basically become their calling card. Given their place as CFDA award winning designers, the simple designs could be an intentional choice to allow their design work to take center stage, not themselves. Given their acting fame before their rise to fashion fame, this would make total sense.
While the sisters have worn more boho styles to events like the Met Gala, those appear to be more in line with the themes of the event rather than related to their personal style choices. It appears that when black or neutrals can be worn for an occasion, it's their go-to.
Whether you like the twins' adult style of not, it's hard to deny that seeing the pair together is exciting. While they've continued their careers together via fashion, getting a glimpse of them as a team is still rare, but it's enough for any devoted Mary Kate and Ashley movie fan to give at least a hint of a smile. While they've certainly evolved since their It Takes Two days, these twins will more than likely always be some of millennials' favorites.