Read Mayim Bialik's Unsatisfying Statement About Her Op-Ed's Backlash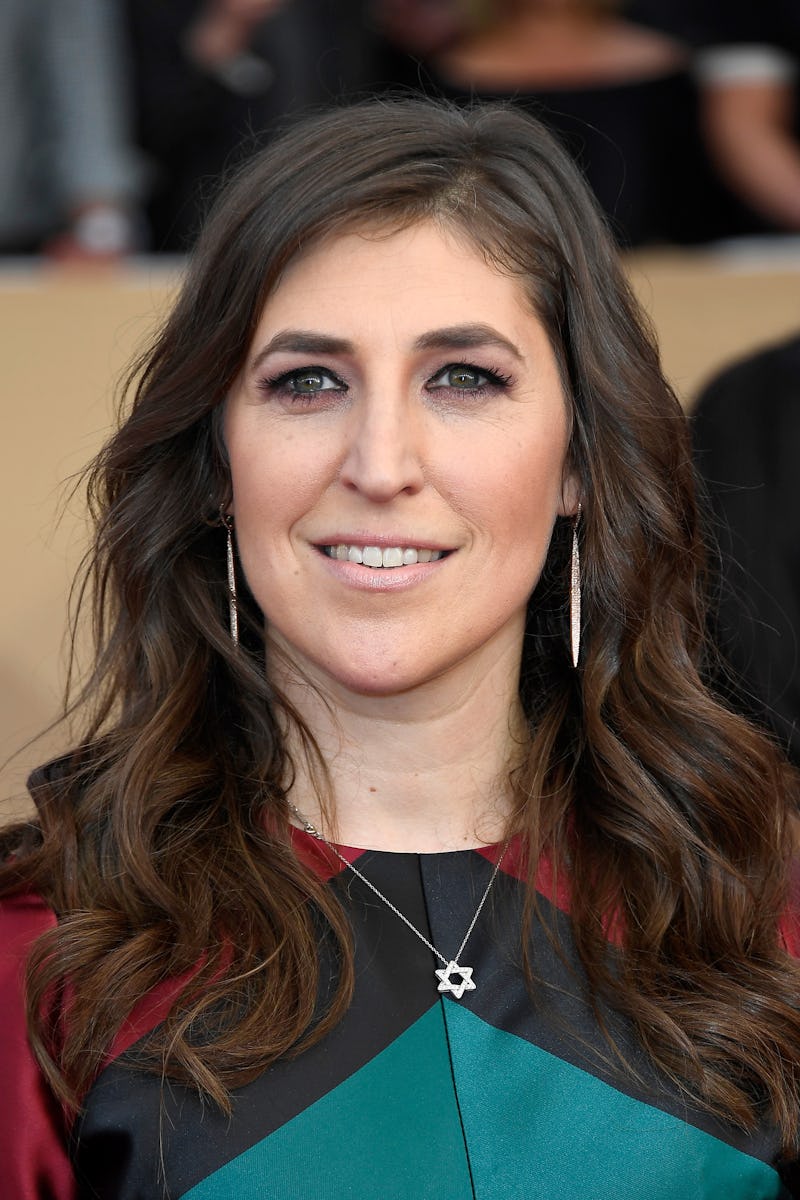 Frazer Harrison/Getty Images Entertainment/Getty Images
On Friday, Oct. 13, Mayim Bialik shared her take on sexual harassment in Hollywood in a controversial op-ed for the New York Times. The op-ed sparked debate with many pointing out that actor's words on the topic could be interpreted as victim-blaming, and Bialik's response to the backlash to her NYT op-ed is unsatisfying. The piece, titled "Being A Feminist In Harvey Weinstein's World," may have intended to comment on the objectification of women in the industry, but Bialik's thoughts take a hurtful turn.
The last paragraph of Bialik's NYT op-ed reads: "And if — like me — you're not a perfect 10, know that there are people out there who will find you stunning, irresistible and worthy of attention, respect and love. The best part is you don't have to go to a hotel room or a casting couch to find them." The last sentence, a reference to Weinsten's alleged pattern of harassing and assaulting young actresses in meetings held in his hotel room, makes a less than subtle implication that these women entered this scenario to further their careers and they didn't "have to". It's well-reported that the women Weinstein allegedly harassed were coerced or brought to these meetings under false pretenses, and Bialik's wording has been interpreted as victim-blaming.
Bialik issued a statement on Twitter on Saturday, Oct. 14 in response to the criticism and argued that her words were taken out of context:
The statement reads:
"I'm being told my N.Y. Times piece resonated with so many and I am beyond grateful for all of the feedback. I also see a bunch of people have taken my words out of the context of the Hollywood machine and twisted them to imply that God forbid I would blame a woman for her assault based on her clothing or behavior," Bialik wrote on Twitter and Facebook late on Saturday. "Anyone who knows me and my feminism knows that's absurd and not at all what this piece was about. It's so sad how vicious people are being when I basically live to make things better for women. I am doing a Facebook live with the N.Y. Times Monday morning. Let's discuss it then."
The Big Bang Theory star is planning to do a Facebook live with the New York Times on Monday to discuss the op-ed further. It might be an opportunity for the star to explain her viewpoint about how her own choices have shaped her time in the industry. She describes refusing makeup and manicures during her years as a child star, and muses about how conservative choices carried on to her adult life. "I still make choices every day as a 41-year-old actress that I think of as self-protecting and wise," Bialik wrote in her NYT piece. "I have decided that my sexual self is best reserved for private situations with those I am most intimate with. I dress modestly. I don't act flirtatiously with men as a policy." She recognizes that these decisions might feel "oppressive" to young feminists, but urges them not to be "naive" about Hollywood.
Bialik continued in the op-ed:
"As a proud feminist with little desire to diet, get plastic surgery or hire a personal trainer, I have almost no personal experience with men asking me to meetings in their hotel rooms. Those of us in Hollywood who don't represent an impossible standard of beauty have the 'luxury' of being overlooked and, in many cases, ignored by men in power."
The thesis of the op-ed ultimately seems to be that women who dress modestly, behave a certain way, and don't fit a traditional mold of beauty will not be subject to harassment. It's an argument that puts women squarely at fault for the predatory behavior of men in Hollywood. Given the scope of the Harvey Weinstein allegations and the prevalence of harassment in the male-dominated industry, the choice to center the conversation around women and their behavior and dress is unfortunate.
These passages inspired considerable backlash on Twitter. The fact that Bialik was speaking within the context of Hollywood doesn't quite matter, as the criticism is still valid. Many women pushed back against the sentiment that being a "nontraditional" looking woman protects anyone from harassment, in the industry or otherwise.
Actress and activist Patricia Arquette didn't agree with the notion that conservative dress stops harassment.
Feminist writer Jessica Valenti weighed in as well.
Roxane Gay also offered poignant critique on Twitter.
It doesn't matter much if Bialik was speaking only within the context of Hollywood. These attitudes are prevalent in many industries, and they are dangerous. The belief that only certain women are harassed or assaulted contributes to a culture that doesn't believe survivors, and ignores statistics that suggest otherwise.
The issue with Bialik's explanation is her op-ed, even within the context of the "Hollywood machine," makes some awful insinuations. It's important that she stated that she would never blame women for assault, but that simply isn't reflected in the piece. If Bialik wants to properly address the backlash, she needs to take note of the specific passages under fire. It might be inadvertent, but the op-ed suggests in somewhat explicit terms that dressing or acting a certain way will put female actors in compromising positions.
If Bialik truly wants to clarify that her piece isn't blaming women, she needs to reposition her criticism. Her piece implies that women working in Hollywood need to abide by certain rules to succeed and be treated well, but it doesn't argue that the men with power in the industry need more accountability. It's important to recognize that even within the context of Hollywood, "nontraditional" appearance or conservative attire will never guarantee a woman won't be harassed or assaulted. This may be her experience, but it is not universal.
Bialik's planned Facebook Live talk on Monday will be a chance to take a closer look at the article and understand why readers responded in a critical way. The piece may have been well-intentioned, but it's Bialik's responsibility to further address the more contentious points.
If you or someone you know has been sexually assaulted, call the National Sexual Assault Telephone Hotline at 800-656-HOPE (4673) or visit online.rainn.org.