Trump's SCOTUS Pick Got Grilled Hard On His Boss Who Was Accused Of Sexual Harassment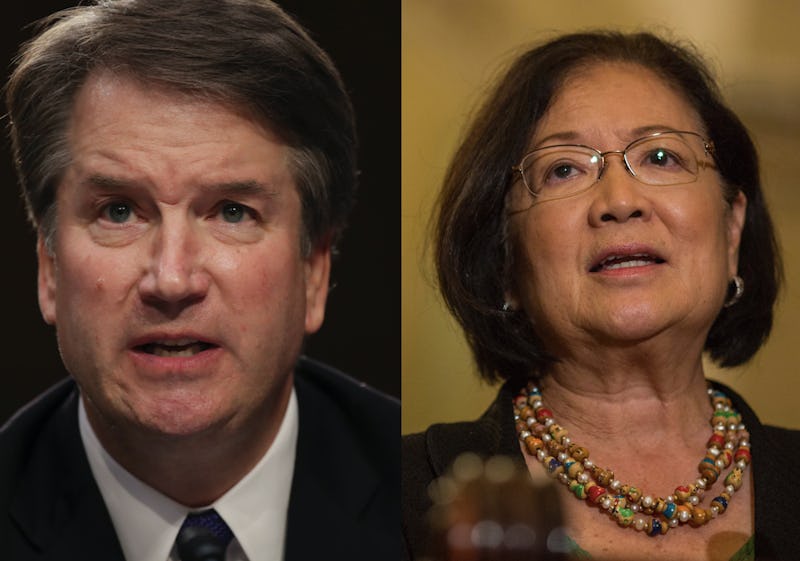 Zach Gibson; Drew Angerer/Getty Images News/Getty Images
Supreme Court confirmation hearings continued on Wednesday, and one highlight included Sen. Mazie Hirono asking Brett Kavanaugh about Judge Alex Kozinksi, who retired last year after allegations of sexual assault. Kavanaugh has worked closely with Kozinski over the years, and there has been speculation about whether or not Kavanaugh knew about the allegations before they were reported by The Washington Post.
Kozinski denied the allegations in a statement at the time, writing, per the Post:
I have been a judge for 35 years and during that time have had over 500 employees in my chambers. I treat all of my employees as family and work very closely with most of them. I would never intentionally do anything to offend anyone and it is regrettable that a handful have been offended by something I may have said or done.
Indeed, when pressed about the allegations against Kozinski, Kavanaugh said that he knew nothing. Kavanaugh clerked for Kozinski in the early 1990s, The Cut reported, and they worked closely together until very recently, to interview law students who sought to clerk for the late Justice Anthony Kennedy. They appeared on panels together, according to The Cut, and maintained an overlapping professional relationship over the years.
Sen. Hirono asked Kavanaugh several times whether he was privy to allegations surrounding Kozinski's misconduct and assault allegations.
"You have testified that you basically saw no evidence of this kind of behavior at all," she said, before detailing Kavanaugh's relationship with Kozinski. "If a judge was aware that another judge was engaging in sexual harassment or assault, would the judge have a duty to report it?"
Kavanaugh responded that he would go through the proper channels if he was made aware of sexual harassment or assault allegations.
"Had I heard those allegations, senator, I would have done three things immediately," he said. He proceeded to list three separate judicial authorities he would turn to. "If for any reason I was not satisfied with that, I would have called Chief Justice Roberts directly," he said.
While fielding Hirono's questions about Kozinski, Kavanaugh also said that he had "no reason not to believe" the women who accused Kozinski of sexual harassment and assault, per footage of the hearing.
Notably, Hirono's questions about sexual misconduct were not limited to the allegations against Kozinski. As Hirono always does, she began her questioning by asking Kavanaugh two questions about his own past. She asked whether or not, since he has become a legal adult, Kavanaugh had ever committed any acts of sexual misconduct, including sexual harassment and unwanted sexual advances. She also asked him whether he had ever faced discipline or entered into a settlement related to that kind of sexual misconduct. Kavanaugh said no to both questions.
Though these weren't the only topics that Hirono grilled Kavanaugh about, they were the first topics she broached, and she couched many of her questions in terms of the #MeToo movement.
"I started asking these questions about sexual harassment because it's so hard to hold lifetime appointees to the federal bench accountable," she said, "and because I did not want the #MeToo movement to be swept under the rug."