Meghan Markle & Kate Middleton Totally Twinned These Burgundy Outfits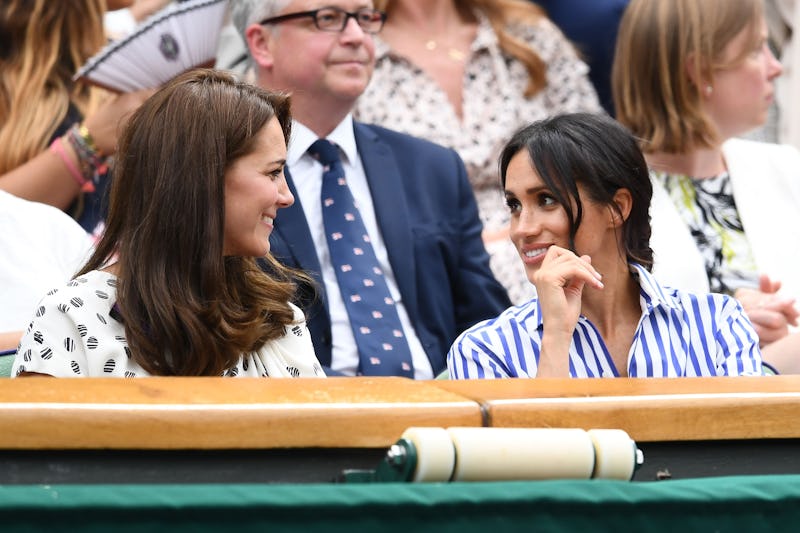 Clive Mason/Getty Images Entertainment/Getty Images
Meghan Markle and Kate Middleton may not have done an event together today, but it didn't stop them from totally twinning for the holiday season. Markle and Middleton's burgundy outfits were perfect for the upcoming holidays, and who can help but love when these two duchesses decide to give fans a twinning moment (whether it was intentional or not).
Royal correspondent for The Sun, Emily Andrews caught the "double duchesses" and pointed out the similarities in their ensembles on Twitter. While they may not have worn exact replicas of one another's outfits (because let's be honest, that would be weird), there were some serious commonalities between the two as they both headed out to attend royal events.
The most obvious way the pair are twinning is their color choices. While not perfectly exact shades of burgundy, the duchesses are definitely both rocking the shade, and they're doing it well — as usual. While Markle chose a Club Monaco dress and jacket (offers sizes 00-12), Middleton opted for a skirted suit with just a little bit of flip at the edge of the skirt and a shorter, matching blazer. Both looks, though, different are perfect for their individual styles while giving fans a royal "double duchess" moment.
Jack Taylor/Getty Images Entertainment/Getty Images
WPA Pool/Getty Images Entertainment/Getty Images
Andrews pointed out, however, that the pair's color choice is far from the only similarity. Both royal women chose to wear their hair back in ponytails and paired their looks with black tights and black heels.
While Markle's look featured more of a boot than a pump, the color choice still helps this pair twin perfectly.
The duchesses' burgundy outfits aren't just your new holiday outfit inspiration, though. They're proof that the pairs' styles really aren't so different after all. Of course, they've worn similar conservative dresses to official royal events, but they've both got some other twinning moments that show some staples are staples for a reason.
One of their most commonly shared items is a pairing they share with pretty much everyone else: skinny jeans and blazers. Both Middleton and Markle often rock a great pair of skinnies paired with a classic blazer. When they do rock these looks, they almost always result in an online shopping frenzy.
Recently, Middleton wore a pair of ultra-affordable Zara jeans (offers sizes 2-12) that retail for just $40. See, duchesses are just like us, right? Of course, who could forget when Markle wore her BFF Serena Williams' blazer (offers sizes XS-XL) while on a royal tour in Australia.
Then, of course, there's their matching shoe choices. Both duchesses have lately been pairing their skinnies with black boots. While Markle wore a pair of affordable J. Crew booties while in Australia, according to website What Kate Wore, Middleton opted for a pricy pair of $375 Russel and Bromley boots.
While Markle and Middleton's burgundy outfits may have been a total coincidence, it's still fun to see two royal style stars embracing a deeper, festive hue just in time for the upcoming holidays. Plus, who doesn't love a little style inspo?