Meghan Markle Switched Up Her Hair For The Evening Reception & It Looks Totally Different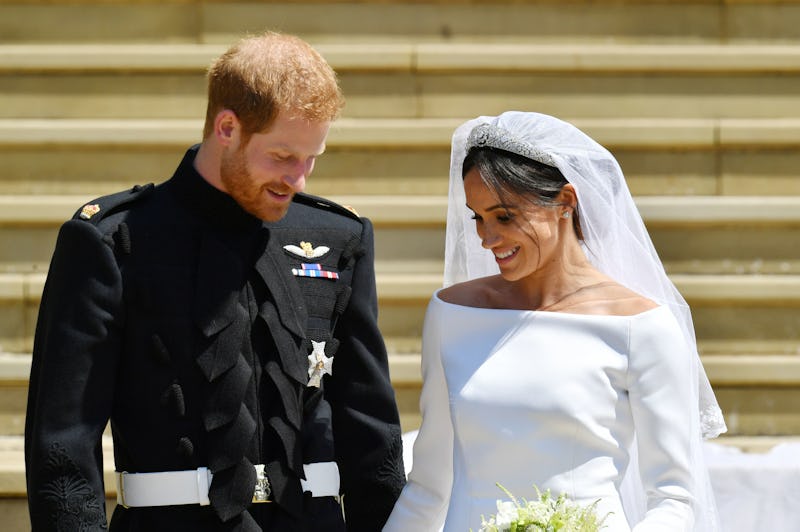 WPA Pool/Getty Images Entertainment/Getty Images
Meghan Markle just stepped out of Windsor Castle debuting her second wedding dress for the evening reception. The entire look, from head to toe, was nothing short of breathtaking. But let's back up and talk about that head, shall we? Meghan Markle totally changed her hair from her wedding ceremony to the evening reception, as one does when they become a Duchess of Sussex. It was completely different from the low, messy bun that Serge Normant styled underneath her tiara and veil for the ceremony. This time, London hair stylist George Northwood was responsible for Markle's bridal coif and if you have been following the royal bride over the past year then you have probably seen this look on her before.
Everybody knows that Meghan Markle loves herself a messy bun — she has even broken royal protocol with it. According to People, the rules say that royals must always have their hair sleek at all times. While her now signature 'do seems fairly "sleek" by modern fashion standards, the wispy bangs that fall around her face and the piecey bits that pop out of her effortlessly swept-up bun could be argued as messy to many. That has not stopped Markle from donning her hair in this care-free manner, not once, but twice on her big wedding day.
With the help of George Northwood, Markle transformed her low, messy bun into a higher, tousled chignon, a look we have definitely seen her wear before. Northwood kept Markle's hair parted in the middle (which she seems quite partial to) as well as her famous face-framing tendrils, only this time they were a bit more curled.
The chignon perfectly matched Markle's bespoke Stella McCartney dress, which featured a higher halter neckline, a very different cut from the boatneck of her Givenchy wedding gown. It made sense that Northwood and Markle decided to show off the halter with the higher updo, as opposed to hiding it by wearing her hair down or keeping it the way she had it for the ceremony.
According to his Instagram, George Northwood works with a number of celebrities, including Alexa Chung, Lily James, Alicia Vikander, and Rosie Huntington-Whiteley. It is unclear whether he has done Meghan Markle's hair before, but if this is their first time working together, we can confidently say that they have a promising future together. Northwood absolutely nailed it. He was able to take one of Markle's favorite looks and elevate it a bit more for the occasion.
Instead of just throwing her long locks into her usual messy bun, he wrapped it up in a tighter chignon and added a little bit more volume. The tendrils around her face are wavier than she usually wears it too — another sweet and elegant twist.
The entire look screams Hollywood glamour, perhaps paying homage to the fact that she is an American actress-turned-Duchess. Her more relaxed updo could also reflect that that, unlike her sister-in-law, Catherine, Duchess of Cambridge, Markle is a fairly normal, California-born girl that wasn't raised in a family that had ties to the British aristocracy. And maybe that is the best part about Meghan Markle — no matter how much her life has changed since being engaged (and now married) to Prince Harry, she will always stay true to herself, never straying too far from her classic and simple sense of style. Let's hope this continues to be true throughout her reign as Duchess of Sussex.