Meghan McCain Defends Joe Biden Against Allegations That He Touched Women Inappropriately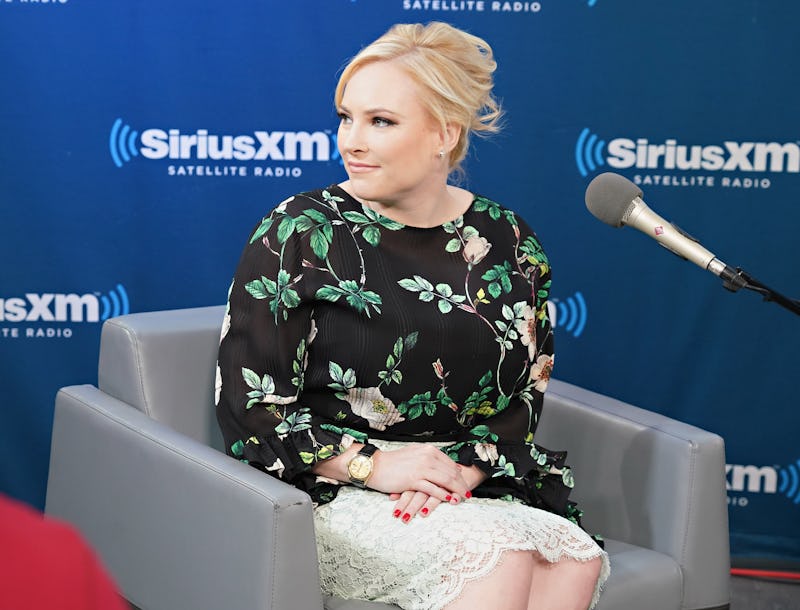 Cindy Ord/Getty Images Entertainment/Getty Images
As allegations swirl about the former vice president's behavior, a prominent Republican and day-time talk show host has come out in support. Meghan McCain defended Joe Biden against allegations that he has touched women inappropriately. She said she wishes there were "more empathy from our politicians and not less." Biden said in a statement Sunday that he doesn't believe he ever acted inappropriately.
"Joe Biden is one of the truly decent and compassionate men in all of American politics," McCain tweeted on Monday. The View co-host and Biden spent time together during and after Sen. John McCain's battle with brain cancer; Biden's eldest son passed away following a similar struggle.
"He has helped me through my fathers diagnosis, treatment and ultimate passing more than anyone of my fathers friends combined. I wish there was more empathy from our politicians not less," she continued.
McCain's defense for Biden came after a second woman accused the former VP of touching her in a way that made her feel uncomfortable. Amy Lappos, a former aide to a Democratic member of the House, told The Hartford Courant on Monday that Biden grabbed her face and rubbed noses at a fundraiser in 2009. She said it wasn't sexual in nature but crossed "a line of respect" and made her feel uncomfortable.
Lappos said she decided to speak out after Lucy Flores, a former member of the Nevada assembly, accused Biden of making her feel uncomfortable by kissing her on the back of the head. It was Flores' allegation that Biden responded to on Sunday.
"Not once — never — did I believe I acted inappropriately," he said in a statement. "If it is suggested I did so, I will listen respectfully. But it was never my intention."
He added that he supports women being able to speak out. "I may not recall these moments the same way, and I may be surprised at what I hear," Biden wrote. "But we have arrived at an important time when women feel they can and should relate their experiences, and men should pay attention. And I will."
Biden hasn't directly responded to Lappos' allegation, but his spokesperson referred CNN to his previous statement. Biden's aides reportedly expect there may be more people out there who have not felt comfortable with hugs or other affectionate moments over his 50 years in public service, The New York Times reported.
Some who have been photographed with Biden have spoken out to say that they did not feel uncomfortable. Stephanie Carter, the wife of former Defense Secretary Ash Carter, even wrote a Medium article about a photo taken of her that has been scrutinized. She said she needed to reclaim her story.
"The Joe Biden in my picture is a close friend helping someone get through a big day, for which I will always be grateful," Carter wrote.
According to The Times, Biden's aides are suspicious of the timing of the allegations, given that he is likely to announce a bid for president sometime this month. However, Lappos told The Times in a statement that she spoke out after seeing how Flores was treated in the media.
She said she would rather Biden not run for the White House. "Uninvited affection is not okay," she said. "Objectifying women is not okay."