This School Librarian Refused Melania Trump's Book Donations For An Important Reason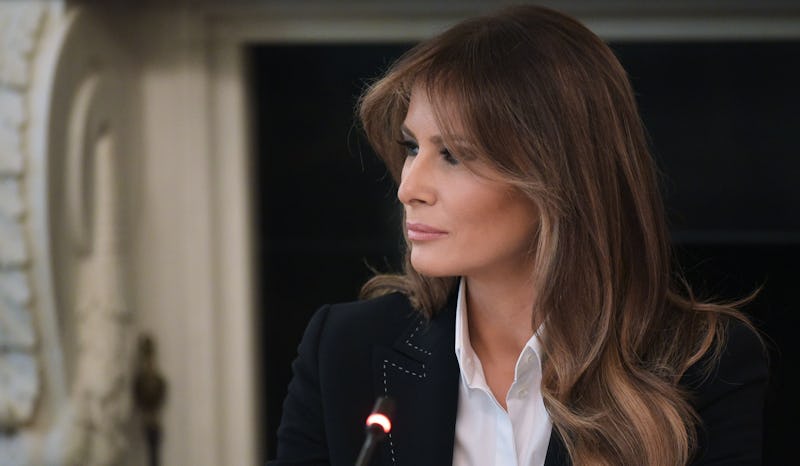 MANDEL NGAN/AFP/Getty Images
File this story in your "not all heroes wear capes" folder: a school librarian at Cambridgeport Elementary School in Cambridge, Massachusetts turned down a box of 10 Dr. Seuss books donated to her school by First Lady Melania Trump because she believed the books could have been better used at a less privileged institution.
The books, alongside a signed letter from the First Lady, were sent to one school per state as part of a National Read a Book Day initiative. The schools were identified by the U.S. Department of Education as having achieved high standards of excellence.
In a letter titled "Dear Mrs. Trump" posted to Horn Book, librarian Liz Phipps Soeiro suggested that the First Lady's donation would better benefit a different school. In her letter, she writes that yearly per-pupil funding in Cambridge is well over $20,000, that her school and library are award-winning, and her district has plenty of resources, which "contributes directly to 'excellence.'"
"Meanwhile, school libraries around the country are being shuttered," she writes. "Cities like Philadelphia, Chicago, and Detroit are suffering through expansion, privatization, and school 'choice' with no interest in outcomes of children, their families, their teachers, and their schools. Are those kids any less deserving of books simply because of circumstances beyond their control? Why not go out of your way to gift books to underfunded and underprivileged communities that continue to be marginalized and maligned by policies put in place by Secretary of Education Betsy DeVos? Why not reflect on those "high standards of excellence" beyond only what the numbers suggest? Secretary DeVos would do well to scaffold and lift schools instead of punishing them with closures and slashed budgets."
Liz Phipps Soeiro goes on to criticize Melania Trump's selection of books, calling Dr. Seuss a "tired and worn ambassador for children's literature" and pointing out that many of Dr. Seuss's books are rife with racist imagery.
"Another fact that many people are unaware of is that Dr. Seuss's illustrations are steeped in racist propaganda, caricatures, and harmful stereotypes," she writes. "Open one of his books (If I Ran a Zoo or And to Think That I Saw It On Mulberry Street, for example) and you'll see the racist mockery in his art."
Phipps Soeiro cites scholar Philip Nel, who examines The Cat in the Hat's roots in blackface minstrelsy in his bookWas The Cat in The Hat Black?
Ever the librarian, Phipps Soeiro is not content to criticize the First Lady's choices without offering alternative reading selections. In a separate post titled "Dear Mrs. Trump Booklist," the librarian recommends 10 diverse children's books that she hopes offer the First Lady a window into the lives of the children impacted by her husband's administration. The books include Two White Rabbits, Mama's Nightingale and Somos Como Las Nubes/We Are Like the Clouds, all about children refugees and immigrants, Auntie Yang's Great Soybean Picnic, about a Chinese-American family who connect to their culture through food, and Red: A Crayon's Story, about the trauma that can be caused by labels, among others.
Stephanie Grisham, the Communication Director for the First Lady, called the refusal of the books "divisive." "Turning the gesture of sending young schoolchildren books into something divisive is unfortunate, but the first lady remains committed on her efforts on behalf of children everywhere," she said in a statement.
However, as noted by Phipps Soeiro in her letter, children in the United States have a variety of background experiences. If the First Lady intends to work on behalf of children "everywhere," perhaps she had best take the librarian's advice and take the time to understand their varied stories.
"You and your husband have a direct impact on these children's lives," Phipps Soeiro writes. "Please make time to learn about them and value them."