These Memes Of The Anonymous Trump Official's 'NYT' Op-Ed Will Have You In Stitches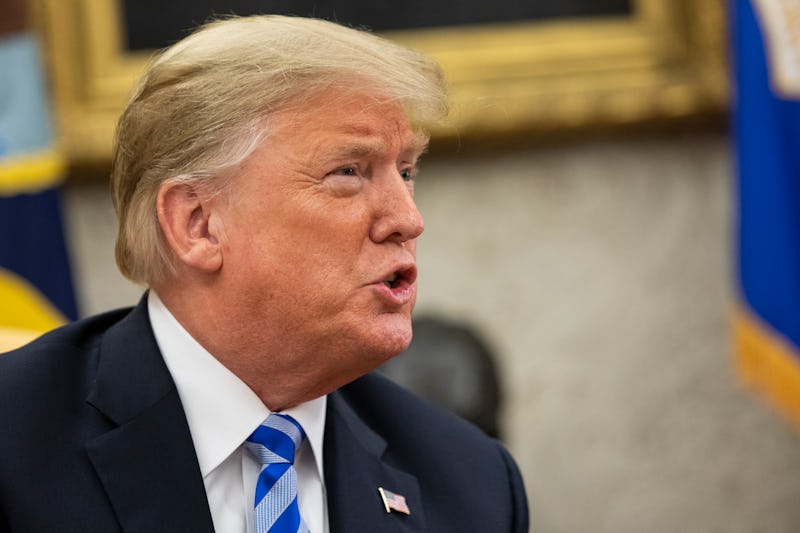 Pool/Getty Images News/Getty Images
On Wednesday, the New York Times published an op-ed written by an anonymous member of the Trump administration who claims to be working against the president from within. The author of the piece remains a mystery, though there are plenty of speculations on social media, and it drew a substantial amount of criticism. Meanwhile, the denizens of Twitter quickly churned out memes about the anonymous Trump official's Times op-ed, and in doing so, skewered basically everything about it.
"We want the administration to succeed and think that many of its policies have already made America safer and more prosperous," the author writes in the piece. "But we believe our first duty is to this country, and the president continues to act in a manner that is detrimental to the health of our republic. That is why many Trump appointees have vowed to do what we can to preserve our democratic institutions while thwarting Mr. Trump's more misguided impulses until he is out of office."
In a tweet promoting the article, the Times revealed that the author is male; some of the more popular theories as to who wrote it have centered on Vice President Mike Pence and White House Chief of Staff John Kelly. Trump dismissed the piece as "gutless," and White House Press Secretary Sarah Huckabee Sanders called the author a "coward" who should resign.
In the meantime, social media made quick work of the op-ed, and mocked it mercilessly in the way that only the Internet can.