Stormy Daniels' Lawyer Says He Is Representing A Woman Who Has New Info On Kavanaugh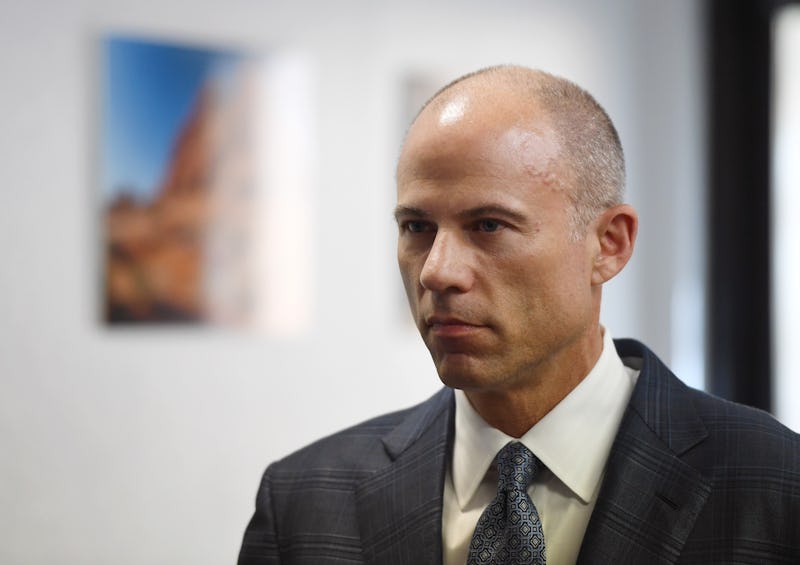 Ethan Miller/Getty Images News/Getty Images
After a new sexual misconduct allegation against SCOTUS nominee Brett Kavanaugh surfaced Sunday evening, Stormy Daniels' lawyer came forward with something else. According to his social media, Michael Avenatti is representing a woman with "credible information" on Kavanaugh and Mark Judge, Kavanaugh's friend from his formative school years. Kavanaugh has firmly denied the allegations against him. Bustle has reached out to the White House for comment on Avenatti's latest claims.
"I represent a woman with credible information regarding Judge Kavanaugh and Mark Judge," Avenatti tweeted out on Sunday night. "We will be demanding the opportunity to present testimony to the committee and will likewise be demanding that Judge and others be subpoenaed to testify. The nomination must be withdrawn."
Avenatti also made it clear in a subsequent tweet that his client is not Deborah Ramirez, a classmate from Kavanaugh's time at Yale and the second woman to come forward with a sexual misconduct claim, as reported by The New Yorker.
But this tweet isn't the first Avenatti has posted on the topic. According to New York Magazine, Avenatti also tweeted on Saturday, apparently alluding to the "credible information." The TV-savvy attorney tweeted that all "indications are that Dr. Ford is not alone" and, on Sunday morning, "What happens at Georgetown Prep does not stay at Georgetown Prep." Georgetown Prep is the private school that Kavanaugh attended during the time of Ford's alleged incident, but Avenatti was likely playing off something that Kavanaugh said in a speech in 2015.
In a statement to The New Yorker, refuting Ramirez's allegation, which surfaced Sunday evening, Kavanaugh wrote,
This alleged event from 35 years ago did not happen. The people who knew me then know that this did not happen, and have said so. This is a smear, plain and simple. I look forward to testifying on Thursday about the truth, and defending my good name—and the reputation for character and integrity I have spent a lifetime building—against these last-minute allegations.
Kavanaugh has denied Christine Blasey Ford's sexual misconduct allegation as well.
After his "credible information" tweet, Avenatti then revealed that he had been communicating with Mike Davis, the Senate Judiciary Committee's chief counsel for nominations, according to Axios. In the email exchanged between the two, Avenatti said his legal team was aware of "significant evidence" that allegedly shows Brett Kavanaugh, Mark Judge, and other students participating in "the targeting of women with alcohol and drugs in order to allow 'a train' of men" to take advantage of them sexually at parties in the early 1980s.
The email also included a list of questions that Avenatti believed Senate investigators should ask Kavanaugh, including whether he ever witnessed a line of men outside a bedroom where he knew a woman was being taken advantage of at any house parties. Though Kavanaugh has yet to respond to Avenatti's tweets, he has firmly denied each and every allegation thus far.
Avenatti's tweets come on the heels of both Ramirez's and Ford's accusations. If he does present someone who has legitimate information early this week, it just might be used in the scheduled Thursday hearing with Kavanaugh and Ford.