Avenatti's Tweet On Stormy Daniels' New Book Shows He's One Of Her Biggest Cheerleaders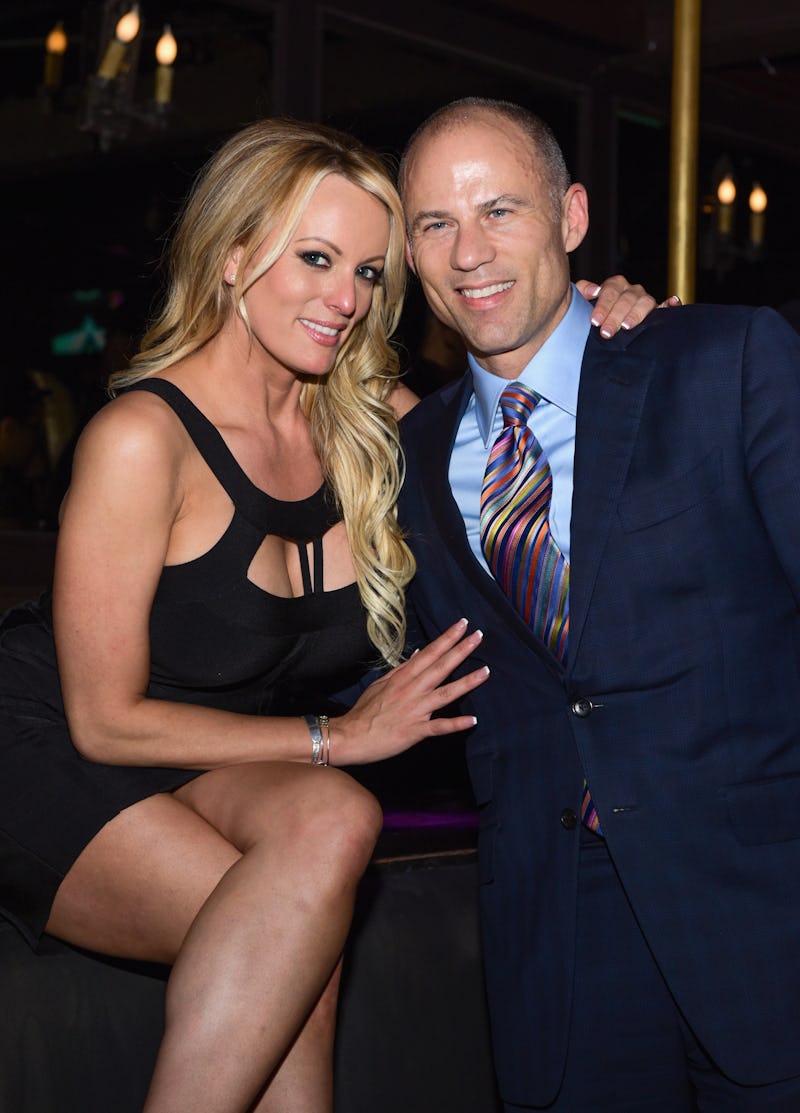 Tara Ziemba/Getty Images Entertainment/Getty Images
One of President Trump's most high-profile antagonists has a new tell-all book coming out, and her lawyer wants you to know how good it is. In a statement Wednesday, Michael Avenatti praised Stormy Daniels' new book Full Disclosure, and gushed extensively about his client's authenticity and integrity as a person.
"What makes Stormy Daniels so unique — and so prepared for the important role she has undertaken — is that she always owns who she is," Avenatti wrote in a lengthy statement on Twitter praising her character. "She is entirely confident in her own skin — every day. She doesn't try to pretend to be something she isn't. Not even when sometimes I wish she would (see her Twitter account). In a day and age where image is everyone and everyone is vying for that perfect Instagram pic or the ideal tweet, Stormy is...herself. That is very refreshing. And it is something to be cherished."
Daniels, of course, alleges that she had an affair with Trump over 10 years ago when he was married to Melania. Trump denies having had an affair with Daniels, and the two have become entangled in extensive litigation since the allegations became public.
"Her journey so far has been an amazing one," Avenatti says in his statement. "And we don't know yet where it ends. My hope for this book is that it will let you learn who Stormy Daniels really is. I am confident that when you do, you will agree that we are all very lucky to have her.
Daniels has also accused Trump's team of attempting to intimidate her, and says that Trump's former lawyer Michael Cohen paid her $130,000 to stay silent about the alleged affair weeks before the election. Trump has denied playing any role in intimidating Daniels, and initially said that he had no knowledge of either the $130,000 payment itself or where that money came from. Later, in a series of tweets, the president acknowledged that he actually did know about the payment, and that he himself funded it.
Since then, Cohen has pled guilty to felony campaign finance fraud on with regard to that payment, acknowledging in court that he made it with the intent of affecting the presidential election and, as such, it constituted an illegal contribution to Trump's presidential campaign.
Daniels has emerged as one of the most unexpected and high-profile critics of Trump — as has Avenatti himself. An accomplished lawyer in his own right before taking on the Daniels case, Avenatti has become a regular and frequent guest on cable news shows, where he opines on the Trump presidency both as it pertains to his client and in general.
More recently, Avenatti has suggested that he might run for president in 2020. Although he hasn't made any official announcements yet, he did use some candidate-style language in his statement about Daniels' book.
"I've had the good fortune to meet a lot of people along the way from different walks of life — janitors, construction workers, hard-working blue-collar workers, middle managers, executives, working moms, homemakers and CEOs," writes Avenatti. "From the people who were broke and down on their luck to billionaires who will never want for anything."
"But," Avenatti concluded, "I've never met anyone quite like Stormy Daniels."
Full Disclosure hits bookshelves October 2nd and is available for pre-order.