Michael Avenatti Scheduled A "Resistance" Event Of His Own During Trump's Texas Rally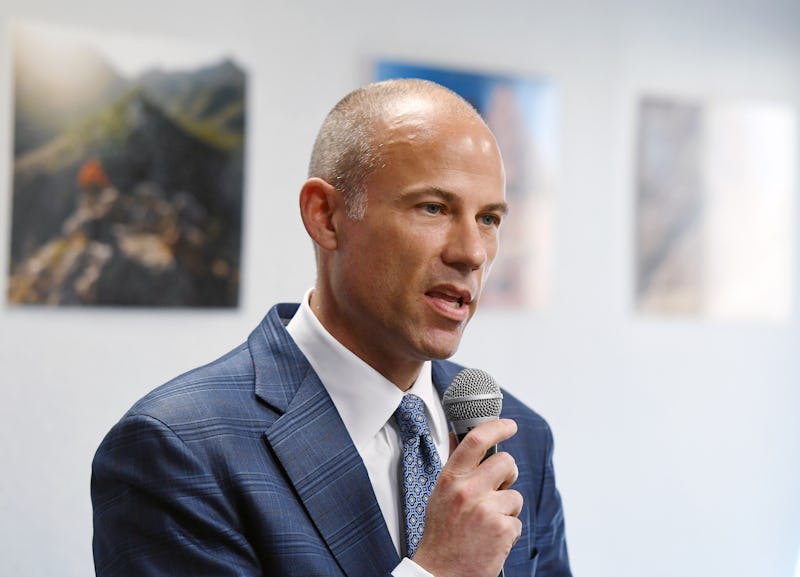 Ethan Miller/Getty Images News/Getty Images
Last week, President Trump took to Twitter to announce that he would be holding a re-election rally for one of Texas' senators, proclaiming that he would find the largest stadium in Texas in which to gather supporters. However, on Saturday, one of Trump's nemeses announced a competing rally scheduled to take place at the same time. Michael Avenatti will counter Trump's rally for Ted Cruz with a "resistance rally" of his own. In announcing the rally, the attorney indicated that he wants to "fight fire with fire."
Trump has endorsed Senator Cruz for re-election and seemingly desires to show his support by leading a rally for Cruz in October. As Trump wrote on Twitter:
I will be doing a major rally for Senator Ted Cruz in October. I'm picking the biggest stadium in Texas we can find. As you know, Ted has my complete and total Endorsement. His opponent [Beto O'Rourke] is a disaster for Texas - weak on Second Amendment, Crime, Borders, Military, and Vets!
Avenatti, a lawyer who is representing Stephanie Clifford (otherwise known as Stormy Daniels), the adult film star suing Trump, responded to Trump by announcing his own resistance rally, one that may seemingly serve to diminish the attention Trump's Cruz rally will receive. As Avenatti asserted on Twitter:
I am excited to announce that I will be leading a large resistance rally in Texas at the exact same time of Trump's (details tba). All groups are welcome to join. We must fight fire with fire and we must send a message that we will fight to make America America again ...
Avenatti's announcement is perhaps not completely surprising given his frequent public denouncements of Trump, particularly in his role as Daniels' lawyer. Indeed, Avenatti shot to national attention after taking on Daniels' case. Daniels alleged she had an affair with Trump in 2006 and that Trump's former attorney, Michael Cohen, paid her hush money to keep the affair quiet ahead of the 2016 presidential election. Daniels, with Avenatti's assistance, is suing to seek to void a non-disclosure agreement related to the alleged payment that has prohibited her from discussing the alleged affair.
According to Vox, Trump has denied the affair and denied knowledge of the payment. However, according to the New York Times, Cohen claims he arranged payments to two women ahead of the 2016 presidential election at the "direction of a candidate for federal office." Cohen pleaded guilty to violating campaign finance laws on Aug. 21. Trump has not been charged with any crimes. Trump commented on Cohen's plea deal on Twitter on Aug. 22, writing, "Michael Cohen plead guilty to two counts of campaign finance violations that are not a crime ..."
Avenatti has made a name for himself in representing Daniels and for publicly pushing back against the Trump administration. His newfound public prominence seemingly encouraged him to become more readily involved in politics, as he launched a political action committee (PAC) in August that will support Democratic candidates for office. Moreover, he also told the New York Times on Aug. 6 that he was strongly considering a foray into politics of his own — as a presidential candidate. Thus, the lawyer's planned "resistance rally" seemingly falls in line with his relatively newfound political aspirations.