Michael Cohen Wants The Stormy Daniels Hush Money Back, New Court Filing Says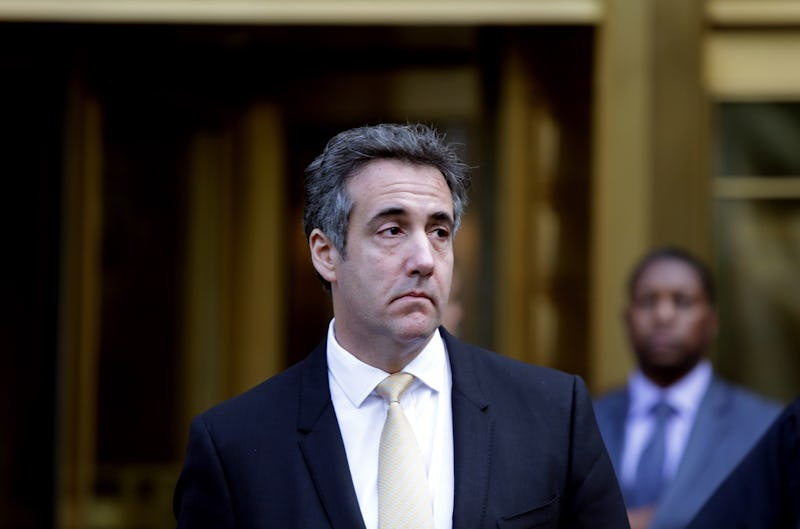 Yana Paskova/Getty Images News/Getty Images
Just one month before the 2016 presidential election, a shell company created by former Trump lawyer Michael Cohen paid adult film star Stormy Daniels $130,000 to keep quiet about her allegations that she had a relationship with then-presidential candidate Donald Trump. Now, however, the attorney wants to scrap the nondisclosure agreement they reached, and Cohen wants Daniels to return the "hush money" he once paid her. Bustle has reached out to Cohen's lawyer, Brent Blakely, for comment.
In January, The Wall Street Journal broke the news that Cohen had used pseudonyms and a private Delaware company to make a $130,000 payment to Daniels back in October 2016. On Friday, the company — Essential Consultants — filed a status report in a Los Angeles federal court to rescind that agreement. According to Vox, the agreement was originally designed to stop Daniels from speaking out about her alleged affair with Trump, but lately, it has factored into Cohen's own legal troubles.
If Daniels accepts the deal, she would no longer be held accountable to the nondisclosure agreement — but according to her lawyer, Michael Avenatti, it isn't a deal his client is particularly excited about. In response to a request for comment, Avenatti directed Bustle to the tweets he posted after Essential Consultants filed the status report, in which he accused Cohen of "playing games and trying to protect Donald Trump."
"He is now pulling a legal stunt to try and 'fix it' so that we can't depose Trump and present evidence to the American people about what happened," Avenatti tweeted. "He is not a hero nor a patriot. He deserves what he gets."
"Let me be clear," Avenatti added. "My client and I will never settle the cases absent full disclosure and accountability. We are committed to the truth. And we are committed to delivering it to the American people."
Avenatti also told The New York Times that Cohen's offer to rescind the deal was "dead on arrival," and said that he and his client would only accept the arrangement if both Cohen and Trump acknowledged the original nondisclosure agreement as illegal in its violation of campaign finance laws. Cohen has already pleaded guilty to making an excessive contribution to the Trump campaign, CNN reported, because the $130,000 was made on the campaign's behalf and exceeded the $2,700 federal limit for contributions from one person per election cycle.
In a statement to CNN, Blakely — Cohen's lawyer — argued that Daniels is required to return the $130,000 to Essential Consultants under California law, now that the company and Cohen have "effectively put an end to the lawsuits" filed against them by Daniels. Essential Consultants also dropped its planned $20 million lawsuit against Daniels for allegedly violating the nondisclosure agreement, the Associated Press reported.
Cohen's effort to scrap the agreement with Daniels may make it possible for Trump to avoid giving a deposition in a related lawsuit, according to The New York Times. Avenatti has sought Trump's deposition under oath multiple times, and last month pledged to give a deposition only if the president did the same. Moreover, Avenatti claimed to The Washington Post that any attempt to rescind the nondisclosure agreement would be unsuccessful if Trump himself did not "agree for the NDA to be void" — which he reportedly has not done.