Michelle Obama Says She Bonded With The Queen Over Painful Heels Which Is Extremely Casual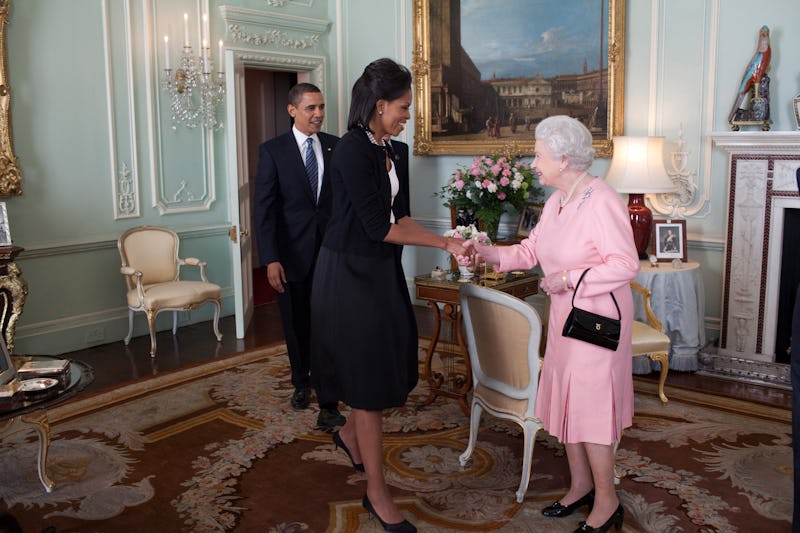 The White House/Getty Images News/Getty Images
Powerful women can bond over so much, like what's it's like to be in power in a world dominated by men or the pressures of politics (or monarchy). However, sometimes, it's the little things, and Michelle Obama and Queen Elizabeth's painful heels are what these two strong women bonded over. Honestly, it's relatable AF, and it turns out that this bond is what created a now iconic photograph of the pair.
When the former First Lady and her husband President Obama visited the United Kingdom in 2009, they, of course, met and did engagements with the current monarch Queen Elizabeth. It was during their meeting that Obama committed what many considered to be a major faux pas. The First Lady placed her arm on the monarch's shoulder (a total no no), but Queen Elizabeth didn't shrink away. Instead, she returned the gesture, wrapping her arm around Obama's waist. The result? An iconic picture of two iconic women.
Now, thanks to her memoir Becoming, the former first lady has revealed that it was the women's shoes that caused them to bond and share the subtle embrace. Sometimes, shoes hurt and you just need a friend to lean on. For Obama, that friend just happened to be a queen (though, an argument should be made that Obama is a queen herself in a different way).
According to a report from the BBC, Obama reveals in her memoir what exactly happened in that moment, and honestly, it's a perfect example of why people love the former first lady. She explains that when they first greeted one another the Queen commented on Obama's shoes explaining that they must be "unpleasant." According to Obama, they were, but so were Queen Elizabeth's. The monarch admitted that she too had sore feet thanks to her heels.
Being the warm person Obama seems to be, she placed her hand on the queen's shoulder after they bonded over shoes. She admits, however, that she had no idea it was such a faux pas to touch the queen.
Queen Elizabeth, however, didn't seem to mind what many considered to be an offense. Instead she reciprocated Obama's actions, and now, we can all just go ahead and call the biffles, right? Queens supporting queens and all, yes?
According to Reuters, though, there are actually rules galore dictating what to do and not to do around royals. While the former first lady was never in some sort of trouble, it would have been a break of royal protocol according to the news site. Another thing you can't do? Ask for a selfie. I'm sorry to say that Queen Elizabeth will probably not be popping up on someone's Instagram account any time soon.
If you're ever granted to opportunity to meet Queen Elizabeth, maybe don't reach out for a hug or a nice pat on the back. While that may be well and good with some, it's a definitely British oopsie — unless you're Michelle Obama, and let's be honest, there's only one Michelle Obama.