Michelle Obama Reportedly Helped A Chicago Couple Officially Tie The Knot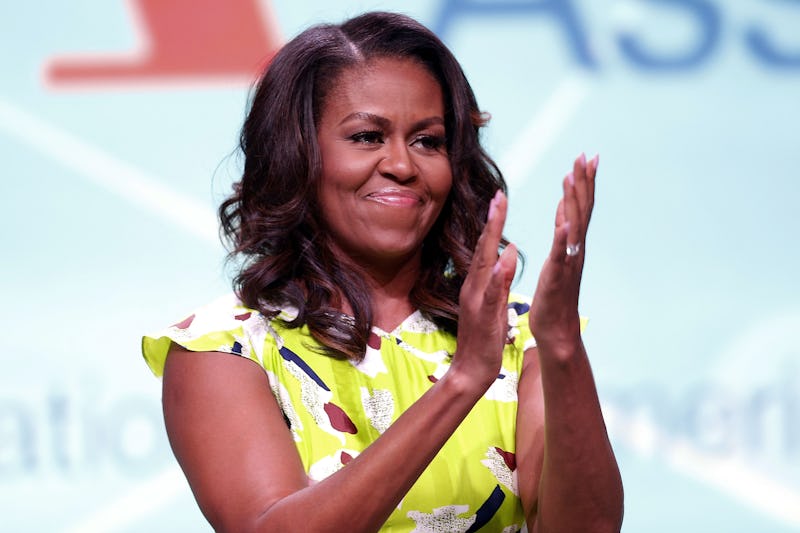 Jonathan Bachman/Getty Images News/Getty Images
Over the weekend, former first lady Michelle Obama reportedly helped officiate a Chicago couple's wedding, prompting at least one excited guest to share a video of the ceremony in a an Instagram story. It's not clear whether guests knew ahead of time that Michelle would be present at the wedding, let alone leading a vow exchange, but her presence definitely seemed to make an impression, according to the video's enthusiastic caption.
According to HuffPost, Obama didn't officiate the wedding on her own, though other outlets are claiming she did. Instead, the outlet says she "led the couple through their vows." Bustle has reached out to Obama's office to verify her participation.
In the clip, first posted by TMZ, Obama is seen wearing a long black dress, and standing under a wooden wedding canopy, framed with flowers and featuring a bright white backdrop. "Holy moly," the Instagram story is captioned. "The moment when Michelle Obama officiated at your cousin's wedding!" The woman who posted the video, USA Today reported, is a real estate salesperson named Tina Newman.
The wedding, which took place at Theater on the Lake in Chicago, was for Stephanie Rivkin and Joel Sircus, HuffPost noted. Rivkin's family reportedly has ties to both the Chicago city government and the Barack Obama presidency. Rivkin's father is Robert Rivkin, Chicago's deputy mayor, who also served as general counsel of the Department of Transportation, according to the Chicago Sun-Times. Rivkin's mother, Cindy Moelis, runs a charity organization that was founded by Penny Pritzker, President Obama's former commerce secretary. Moelis also previously ran the White House Fellows program, per the Sun-Times.
It's not immediately clear whether Michelle Obama is close to the happy couple, though the Sun-Times reports that she and Moelis used to work together in Chicago's City Hall. Either way, she definitely helped make a splash at the wedding, if Newman's video caption is any indication.
Obama is on deck to receive quite a bit of media attention in the coming months, as she gears up for a highly-anticipated book tour for her upcoming memoir, Becoming, which is slated for publication on Nov. 13. Tour dates are already selling out, according to The New York Times, which compared excitement about the book tour to a Beyoncé or U2 concert. While she has led a somewhat low-key life since her husband left office, the book tour is likely to mark a significant reentry into the public eye.
For his part, President Obama has also helped at least one happy couple tie the knot since he and his family have left the White House. Back in January, the former president officiated a wedding for two of his staffers, even going so far as to receive a temporary officiant license for the occasion, according to the Washingtonian. Much like the guests at this weekend's wedding, where Michelle Obama reportedly led the vow exchange, many at January's wedding were similarly surprised to find a member of the Obama family standing at the altar. Whether or not the Obamas will continue to help lead wedding ceremonies, between the two of them, they appear to be developing a reputation that could very well leave any family friend hopeful for their participation.