Michelle Obama Has An Urgent Message For WOC On Voting In The Midterms — VIDEO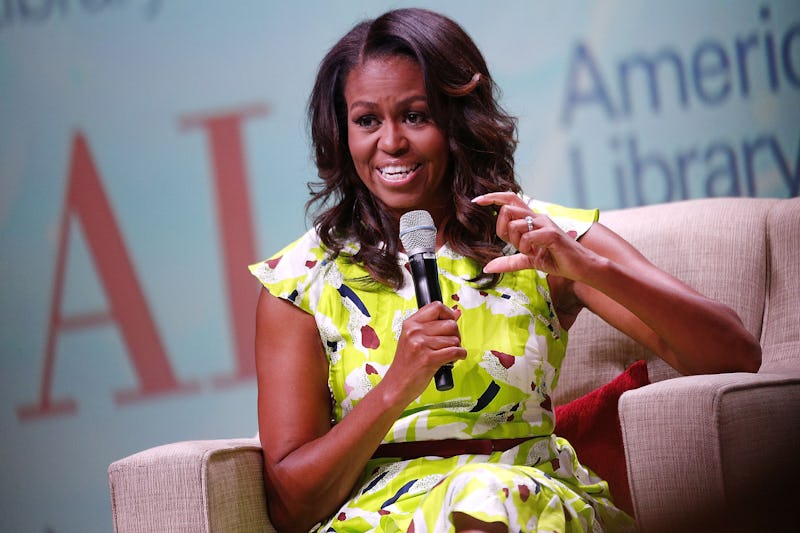 Jonathan Bachman/Getty Images News/Getty Images
For the former first lady, it's pretty simple: Michelle Obama wants women of color to vote. In a powerful one-minute video premiered at the Black Girls Rock award ceremony on Sunday, Obama urged women of color to get to the polls for the 2018 midterms.
"I want to talk to you about an issue I care deeply about, and that's the power and importance of casting our votes and making our voices heard," Obama says in the video supporting whenweallvote.org.
Obama also alludes to the 2016 election and the "consequences" of not voting. "We've all seen the difference we can make when we choose to cast our ballots," she says. "And we've seen the consequences when we don't bother to show up to the polls."
Voting is an American responsibility that women of color lead on, Obama says. "That's why I'm hoping to start a conversation all across the country about this most basic American responsibility. It's why I'm coming to you for help," she says.
And this is how we get to Obama's big plea: Women of color must vote.
"Because women of color know how to get things done for our families, for our communities, and for our country," Obama says. "When we use our voices, people listen. When we lead, people follow. And when we do it together, there's just no telling what we can accomplish."
Women of color are an important voting bloc for Democratic candidates. More specifically, black women have been a bedrock voting bloc for the Democratic Party for decades. In the 2016 election, 94 percent of black women voted for Hillary Clinton, according to CNN's exit polling, while only 69 percent of Latinas voted for Clinton. A study of Asian-American voters found that 83 percent of Asian-American women voted for Clinton, compared to 15 percent who voted for Donald Trump.
Black women haven't stopped showing up as a voting bloc. Take a look at the Alabama Senate in December 2017. An exit poll published by The Washington Post found that 98 percent of black women voted for Democratic Senate candidate Doug Jones in the contentious race against Roy Moore.
After Jones's victory, DNC Chair Tom Perez tweeted, "Let me be clear: We won in Alabama and Virginia because #BlackWomen led us to victory. Black women are the backbone of the Democratic Party, and we can't take that for granted. Period."
The effort to get women of color to the polls is just the latest outreach by Obama's voting initiative, When We All Vote. The group's first get-out-the-vote video for this election cycle was released in July. Obama promoted voter registration by enlisting some celebrity friends, including Tom Hanks, Lin-Manuel Miranda, Chris Paul, Janelle Monae, and Tim McGraw.
"Let's be real: It's going to be the young people of this generation that will change the world," Monae says in the video.
Obama isn't the only member of her family working on get-out-the-vote initiatives. Former President Barack Obama returned to the campaign trail with a speech in Illinois on Friday and speaking at a rally in California on Monday. It's clear both Obamas are gearing up to support Democrats as the midterms rapidly approach.