Michelle Williams Reveals She Had Suicidal Thoughts During Her Destiny's Child Days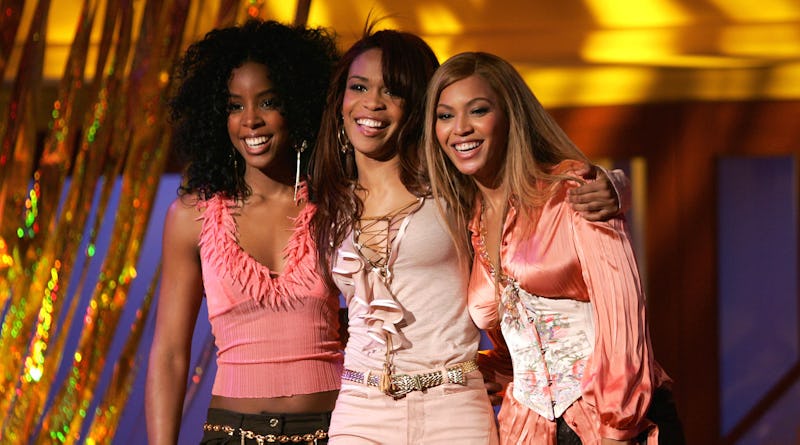 Frank Micelotta/Getty Images Entertainment/Getty Images
At the height of the group's fame, Destiny's Child was made up of Beyoncé, Kelly Rowland, and Michelle Williams. While they may have been the envy of every girl in the late 1990s and early 2000s, in a 2013 interview, Williams revealed that she was suffering from depression during that time. And as the guest host of The Talk on Oct. 18, Williams opened up even more, saying that she was suicidal when she was in Destiny's Child. Williams' candidness was in response to Demi Lovato's new YouTube documentary, Simply Complicated, in which the 25-year-old artist talks about her struggles with addiction and depression. Williams' statements show how much the mental health discussion has changed over the last 20 years.
"I think at the age of 25, had I had a name to what I was feeling at the time, I would have disclosed that, 'I've been suffering from depression,'" Williams said on The Talk. "I didn't know until I was in my 30s what was going on. I just thought it was growing pains. I just thought, 'I'm turning into a woman.' So I've been suffering since the age between 13 and 15. Like I said, at that age, I didn't know what to call it."
After Williams joined the group, after members LaTavia Roberson and LeToya Luckett left the group, Destiny's Child released the album Survivor with songs like "Independent Women, Part I", "Survivor," and "Bootylicious." Yet, even when the group was seemingly on top of the world, Williams was still depressed, which she noted was something Destiny's Child's manager — Beyoncé's father, Matthew Knowles — had a hard time comprehending.
"I'm in one of the top-selling female groups of all time, suffering with depression. And when I disclosed it to our manager at the time, bless his heart, he was like, 'Y'all just signed a multi-million dollar deal, you're about to go on tour, what do you have to be depressed about?' So I was like, 'Maybe I'm just tired.'"
But Williams made it clear that she didn't blame Knowles since he wasn't the only person in her life who couldn't understand her mental health struggles. And The Talk host Julie Chen noted how many people who have never experienced depression aren't able to fathom the toll it takes on a person. That's one of the reasons Williams said, "I want to normalize this mental health discussion." Because while an artist like Lovato has made it a point to be honest about her personal life to her fans, that wasn't the case in the early 2000s, as artists like Britney Spears and Williams prove.
Of course, it's up to each individual person to decide how much they want to make public, but Williams' comments are her attempt to help people feel like they are free to speak about mental health. "So many people are walking around acting like they've got it all together and they're suffering," she said on The Talk. And she didn't shy away from answering the question about how bad her depression got when Chen asked her.
"It got really, really bad... to the point of I was suicidal. I was to that place where it got so dark and heavy," Williams said. "I wanted out." The Talk host Sheryl Underwood, whose husband committed suicide, said she was glad that Williams was talking about this topic. Williams also clarified on Twitter that when she said, "I wanted out," about her suicidal thoughts, she didn't mean she wanted out of Destiny's Child — she was talking about life.
If Williams had been diagnosed with depression when she was in Destiny's Child, she may have not only been able to manage her own mental health sooner, but could have used her platform to be vocal about it and perhaps help other people, including her fans. But Williams is still performing and her fan base is still listening to her music and words, as her Twitter feed shows. Williams wrapped up the conversation about her own mental health on The Talk by applauding Lovato for speaking up. And thanks to singers like Lovato and Williams, the discussion around mental health is truly becoming less stigmatized as these women help show that depression is normal for so many people out there, including outrageously successful female artists.
If you or someone you know is experiencing suicidal thoughts, call 911, or call the National Suicide Prevention Hotline at 1-800-273-8255.