Mike Fleiss' Tweet About 'Bachelor: Winter Games' & Trump Will Make You Seriously Roll Your Eyes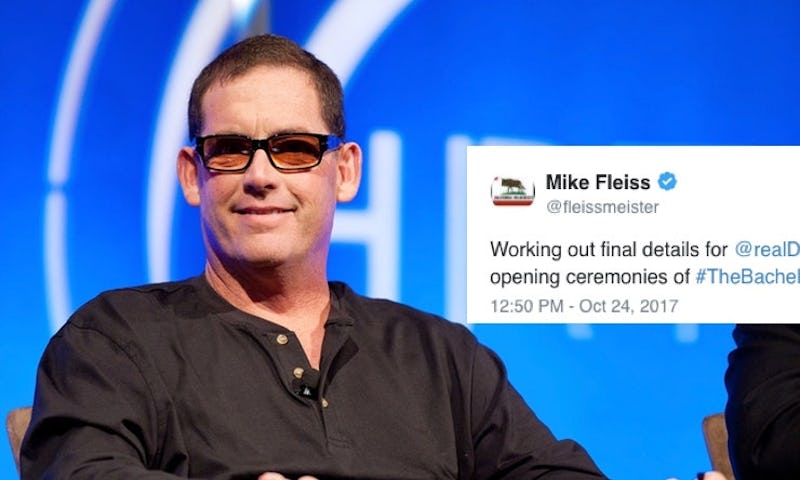 Amanda Edwards/Getty Images Entertainment/Getty Images; Mike Fleiss/Twitter
Per usual, Bachelor franchise creator Mike Fleiss hopped on Twitter on Tuesday, Oct. 24 to update fans on the latest franchise info, but no one quite expected what was to come. Mike Fleiss tweeted about Donald Trump possibly joining The Bachelor: Winter Games, making fans across the internet cringe — only to later disinvite the President altogether. He originally wrote,
Working out final details for @realDonaldTrump to attend opening ceremonies of #TheBachelor Winter Games!!!
Fleiss is the king of getting Bachelor franchise fans really excited about major show news to come, only to deliver the biggest of let-downs. Not to mention that this isn't the first time that Fleiss has publicly uninvited Trump to the ABC set. But while the tweet was likely just a joke, it's amusement fell flat with a lot of fans. Donald Trump has caused quite a stir with his divisive politics and rhetoric that's come across as racist and sexist, and it looks like a lot of Bachelor fans weren't too thrilled to have the 45th POTUS be part of their favorite television pastime.
Exactly how he planned to integrate Trump into the the wintery love competition was never announced, as Fleiss noted earlier in the day that the final details were still being ironed out. And who knows, the announcement of Trump's involvement could have just been another one of Fleiss' internet trolling schemes. Either way, his followers didn't seem to find the news the least bit entertaining or funny, and even threatened not to tune into the show. And whether a hoax or actually true, the tweet appeared to be getting a ton of backlash.
The Winter Games, which appears to be just like Bachelor In Paradise — minus the glamorous beaches, and with a little physical competition thrown in with a snowy backdrop. According to The Hollywood Reporter, the new spinoff will premiere in February 2018 — around the time Bachelor Season 22, starring Arie Luyendyk Jr., is expected to drop.
Between the announcement of Winter Games, coupled with confirmations of franchise favorites like Bachelorette Season 13's Peter Kraus joining its ranks, the top of 2018 was shaping up to be one for the books. Fleiss' Trump tease, however, threw a lot of fans off, and they couldn't help but voice their disdain.
The mere thought of Trump making what's supposed to be a fun appearance seemed to make a fan sick to their stomach.
Plenty of others had a tough time even wrapping their head around the announcement.
Because, seriously... what type of value could Trump add to the spinoff, anyway?
One fan was so turned off by Fleiss even mentioning including the controversial president in the show that they vowed to never even give Winter Games a chance.
Fleiss must've gotten the memo that Bachelor Nation didn't too much care to see a Trump cameo on the show, because the creator tweeted a few hours later that plans to get POTUS' participation have ceased.
Being the creator of a major TV movement is expected to keep someone extremely busy, but is Fleiss too busy to watch or read the news? If he were the least bit in tune with America's current state of politics, Fleiss would've known that adding him to the roster was a huge no-no — especially since Trump isn't exactly popular for the sake of doing anything good.
It's unclear what Fleiss' intent was when originally announcing that Trump could potentially be part of the franchise, but it's all smelling like one big publicity stunt. Everyone knows how much the president hates to be dissed on the internet, and Fleiss just seemingly pulled an ultimate bait and switch.
If the news surrounding the Winter Games didn't lure you in before, all of the heat that's potentially to come just may have you hooked. Because with Fleiss' latest move, who knows, Trump may even actually respond to being uninvited from the franchise.