Watch Miley Cyrus Honor The Las Vegas Shooting Victims With A Tear-Jerking Performance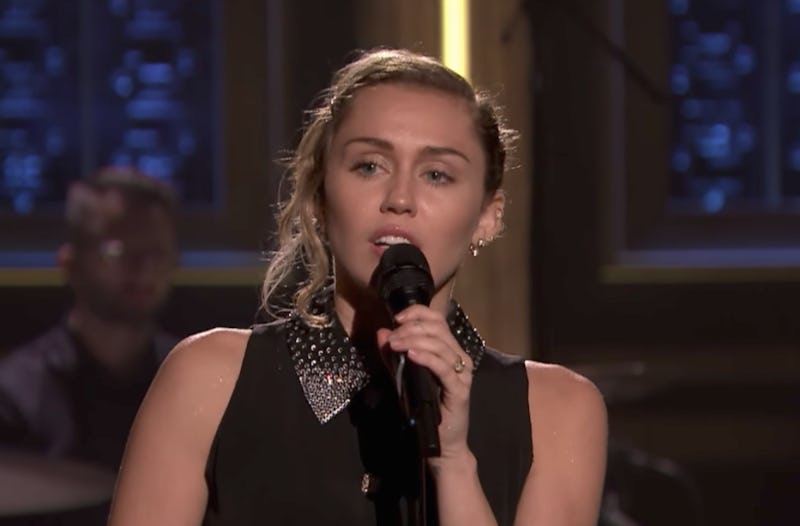 The Tonight Show Starring Jimmy Fallon
The country is still reeling from Sunday night's Las Vegas shooting, and now some celebrities are doing what they can to help with the healing process. On Monday night, Adam Sandler and Miley Cyrus honored the Las Vegas shooting victims by performing "No Freedom" on The Tonight Show Starring Jimmy Fallon, and it was a truly sweet way of paying tribute to the victims of the shooting less than 24 hours after it had taken place. Of course, that wasn't the only way that Cyrus paid tribute to the lives that were lost on the show.
The performance came after a day of nonstop news flooding in following the shooting. According to the New York Times, as of Tuesday morning, the shooter left at least 59 dead and over 500 more people injured after he opened fire from the 32nd floor of the Mandalay Bay Resort and Casino during Jason Aldean's performance at the Route 91 Harvest Festival. It's hard to know what the right thing to do or say during an unfathomable time like this, but Cyrus' musical tribute (and spreading a message of love through it) is a great place to start.
As she kicked off her weeklong residency at The Tonight Show to promote her new album, Younger Now, she took the stage with Sandler to perform the Dido song. It was a low-key, stripped down performance, much like the original. Sandler was visiting the show as well to talk about his latest Netflix project, The Meyerowitz Stories, but helped Cyrus out on guitar — even providing a few vocals himself.
When she sat down to talk to Fallon about the performance, she explained that she chose to perform the song because she wanted to remind people not to stop doing the things they love out of fear because of events like this one:
"What is music if we can't go see our favorite artists perform because we're scared of violence or we're scared of losing someone that we love, to go to a concert, or to go see a film. I think that right now we're supposed to be the land of the free but we can't have freedom if we're constantly living in fear. So I think never bow down to bullies — that's what my parents always said and stand up for what's right. And I think constantly share hope instead of encouraging any more fear."
Later that night, she shared a screenshot from their performance on Instagram and Twitter, thanking Sandler for helping her remember those who were lost in the shooting and to sing "lyrics that I believe are so important at this time."
Before Cyrus and Sandler took the stage, Fallon opened the show with a short monologue sharing his own comments on the shooting. He said:
"This morning we woke up to the news of another senseless shooting — this time in Las Vegas. In the face of tragedies and acts of terror, we need to remember that good still exists in this world. We're here to entertain you tonight and that's what we're going to do."
Later in the show, Cyrus returned to the stage to perform "The Climb," a single she released in 2009 in promotion with The Hannah Montana Movie. That may have been almost 10 years ago, but it didn't stop her from sharing a song that she felt people needed to hear during such a difficult time.
The Tonight Show isn't the only late night show to dedicate a portion of their program to discussing the shooting. On Monday night's edition of Jimmy Kimmel Live!, the comedian — who has been especially outspoken about politics and world events over the past year — made a plea for gun control while sharing how devastated he is for the victims and their families.
The shooting is unarguably a heartbreaking, horrifying incident, but it's still good to see that people are out there, fighting for a better world where these kind of things don't happen. And, in the meantime, taking a second to watch Cyrus perform a song from her Hannah Montana days might be the exact kind of escape some of us need right now.