Mollie Tibbetts' Dad Has A Message For People Using Her Death To Bash Immigrants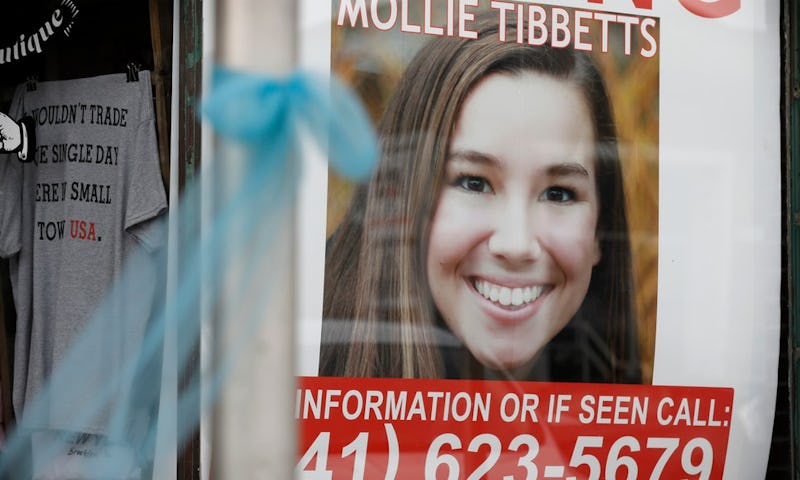 Charlie Neibergall/AP/Shutterstock
Even after investigators discovered that 20-year-old Mollie Tibbetts hadn't come home from her run because she had been murdered, the public hasn't left her family in peace to mourn their lost relative. And now, Mollie Tibbetts' dad wrote an op-ed criticizing the way his daughter's death is being misused for political gains. In an editorial published on Saturday, Tibbetts' father asked that Mollie's story not be used to advance "racist" views and policies.
"At the outset, politicians and pundits used Mollie's death to promote various political agendas," Rob Tibbetts wrote in the Des Moines Register on Saturday. "We appealed to them and they graciously stopped. For that, we are grateful."
The man alleged to have killed Tibbetts is an immigrant from Mexico, whose immigration status is a subject of discussion, USA Today reported. However, the federal government's claim that he was undocumented immediately led to to politicization of Tibbetts' death, even from the president. CNN reported that her relatives quickly began objecting to her's death being used as an argument against immigration, but neither of her parents had made this decisive of a statement on Mollie's behalf before Rob Tibbetts' op-ed.
"Sadly, others have ignored our request. They have instead chosen to callously distort and corrupt Mollie's tragic death to advance a cause she vehemently opposed," Tibbetts wrote. "But do not appropriate Mollie's soul in advancing views she believed were profoundly racist."
He went on to quote Donald Trump Jr., who repeatedly talked about Mollie's death on Twitter, even once misspelling her name in the process, as Newsweek noted.
"The act grievously extends the crime that stole Mollie from our family and is, to quote Donald Trump Jr., 'heartless' and 'despicable,'" Rob Tibbetts wrote.
Throughout his piece, Tibbetts repeated sentiments that he and other family members of Mollie's have already expressed in various ways. For example, during his eulogy at Mollie's funeral, Tibbetts had previously stated that "the Hispanic community are Iowans. They have the same values as Iowans ... As far as I'm concerned, they're Iowans with better food."
In his Saturday op-ed, Tibbetts described another close connection he has to the Hispanic community.
"My stepdaughter, whom Mollie loved so dearly, is Latina. Her sons — Mollie's cherished nephews and my grandchildren — are Latino," Tibbetts wrote. "That means I am Hispanic. I am African. I am Asian. I am European. My blood runs from every corner of the Earth because I am American."
While his last request in the op-ed was that his family to be left in peace to mourn Mollie's death, it was also a rousing call to "turn against racism in all its ugly manifestations both subtle and overt." He said the nation's collective effort find Mollie after she disappeared was an example of the unity he sought to encourage in her memory.
"For most of the summer, the search for Mollie brought this nation together like no other pursuit," he wrote. "There was a common national will that did transcend opinion, race, gender and geography. Let's not lose sight of that miracle. Let's not lose sight of Mollie."