Monica Lewinsky Just Showed Everyone What To Do When Someone Crosses A Line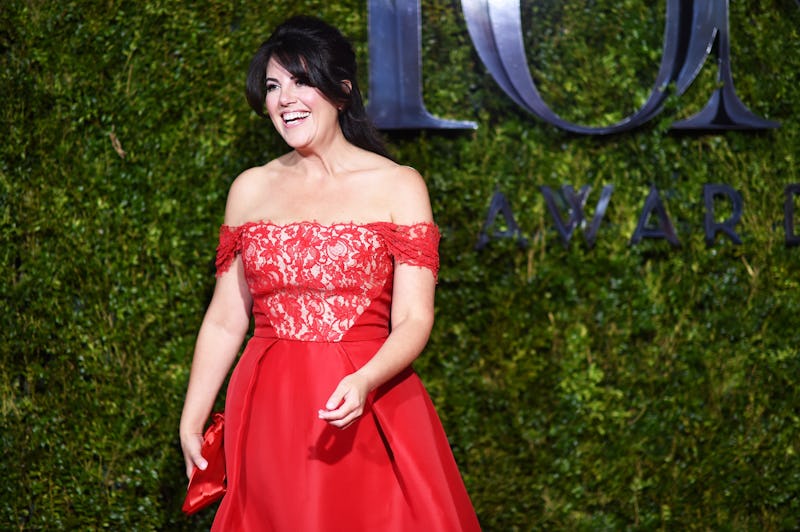 Mike Coppola/Getty Images Entertainment/Getty Images
Monica Lewinsky entered the public sphere because of her experience as an intern in President Bill Clinton's White House, but she's not letting that experience define her anymore — and on Monday, she made it clear that she's not letting anyone else define her that way either. Lewinsky walked out of a live interview in Jerusalem after the interviewer asked her a question about Clinton, which Lewinsky called "off limits."
Lewinsky was giving an on-stage interview with Israel's Channel 2 News when news anchor Yonit Levi asked her a question about whether she still expected an apology from the former president.
"Sorry, I can't do this," Lewinsky said before briskly walking off the stage, according to Israeli journalist Tal Schneider, who was at the event.
When Lewinsky released a statement on Twitter about what happened, it added a very different side to the story. Lewinsky was there to give a talk about "the perils and positives of the Internet," she said, and what she expected out of the interview was a short conversation on the subject of her speech.
"There were clear parameters about what we would be discussing and what we would not," Lewinsky wrote in her statement.
"In fact, the exact question the interviewer asked first, she had put to me when we met the day prior," Lewinsky continued. "I said that was off limits. When she asked me it on stage, with blatant disregard for our agreement, it became clear to me that I had been misled."
The question seemed to be referring back to an interview Clinton gave on NBC's Today, in which he said that he didn't owe Lewinsky an apology.
"I have never talked to her," Clinton said during the interview. "But I did say publicly on more than one occasion that I was sorry. That's very different. The apology was public."
After this statement caused an uproar, Clinton later clarified his statement at an event on his book tour, saying that he felt that he had apologized then, even if it wasn't a personal apology.
"I meant it then and I mean it today. I live with it all the time," he said at the event.
And at her interview in Jerusalem on Monday, Lewinsky didn't just make it clear that she's done talking about the subject of Clinton's apology and whether or not she still needs one; she also turned the incident into something that all women can relate to.
"I left because it is more important than ever for women to stand up for themselves and not allow others to control their narrative," she wrote, before apologizing to the audience for the fact that "this talk had to end this way."
Channel 2 News responded to Lewinsky in a statement, according to the Jerusalem Post, which thanked Lewinsky for the speech and the interview and added that "we respect her sensitivity and wish her luck."
The statement to the Jerusalem Post also effectively contained a rebuttal to Lewinsky's Twitter statement, as it claimed that the news organization had honored Lewinsky's requests and that "the question that was asked was legitimate, worthy and respectful, and in no way went beyond Ms. Lewinsky's requests."