Kavanaugh Helped Lead The Investigation That Turned Monica Lewinsky's Life Upside Down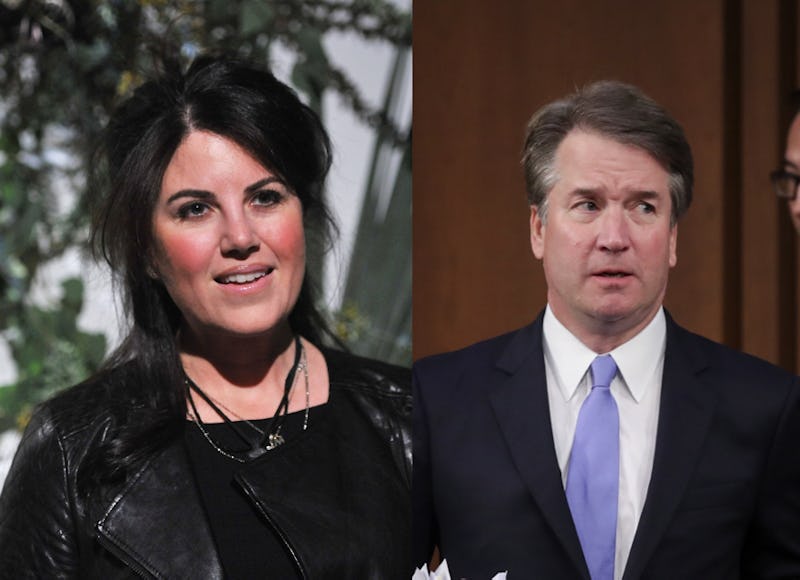 Fernando Leon/Getty Images Entertainment; /Drew Angerer/Getty Images News/Getty Images
It's become especially clear in the last few months that Monica Lewinsky's connection to Brett Kavanaugh is more complex than you might think. Last week, a sexual misconduct allegation against Kavanaugh launched a smear campaign against his accuser, Christine Blasey Ford, by those trying to discredit her story ahead of a confirmation vote. Kavanaugh categorically denies the allegations. But as it turns out, 20 years ago, the judge played a major role in an investigation that similarly put Lewinsky's life on display.
In 1998, Kavanaugh was working as an associate counsel for the independent counsel, Ken Starr, on a broad investigation of President Bill Clinton. In a memo written in August of that year, Kavanaugh abandoned any notion of "going easy" on the president in regard to his relationship with Lewinsky. According to Kavanaugh, Clinton "disgraced his Office, the legal system, and the American people by having sex with a 22-year-old intern and turning her life into shambles." He continued, saying it was the job of the Starr team to "make [Clinton's] pattern of revolting behavior clear — piece by painful piece."
The memo was only released this August, and revealed a list of explicit questions Kavanaugh wanted to ask Clinton, including "If Monica Lewinsky says you inserted a cigar into her vagina while you were in the Oval Office area, would she be lying?"
During the investigation, the Starr team placed immense pressure on her to flip on Clinton, threatening her with charges of obstruction of justice, witness tampering, and more. The investigation thrust her into the public eye, and made her name synonymous with the scandal. According to The Washington Post op-ed writer Richard Cohen, "'shambles' is a mild description of what they made of her life."
For years after, Lewinsky was bullied by the public and the media. She was labeled "a little tart" by the Wall Street Journal, and deemed a "young tramp looking for thrills" in a Fox News poll. And though the name-calling seems to have been toned down 20 years later, Kavanaugh's accuser is today facing abuse and harassment for coming forward.
Ford reportedly initially hesitated to go public with her allegations, fearing the backlash, according to The Post. The response from conservative media and Republican politicians in the last week seems to have created exactly the toxic situation Ford was trying to avoid. The president has called the allegations "very unfair" to Kavanaugh, and said it was "very hard for me to imagine that anything happened."
Others have called into question her credibility, and whether she has political motivations. "There's no question in my mind she was coached by special interest groups," Sen. Orrin Hatch told the Deseret News in an interview. "Her story's too contrived. It's so slick it doesn't compute."
But in a statement on Wednesday, Ford's lawyer Lisa Banks made it clear that coming forward has turned Ford's life upside down — something no one wants. "She is currently unable to go home, and is receiving ongoing threats to her and her family's safety," Banks wrote.
Lewinsky, who has since become an anti-bullying activist and speaker, reached out on Twitter to offer her support to Ford. "I am so sorry this woman was outed without consent," she wrote. "I'm sorry for what she endured as a teenager. And thank her for her bravery stepping forward."