If You Thought Tom Petty's Music Made You Emotional, Wait Till You Read These Tweets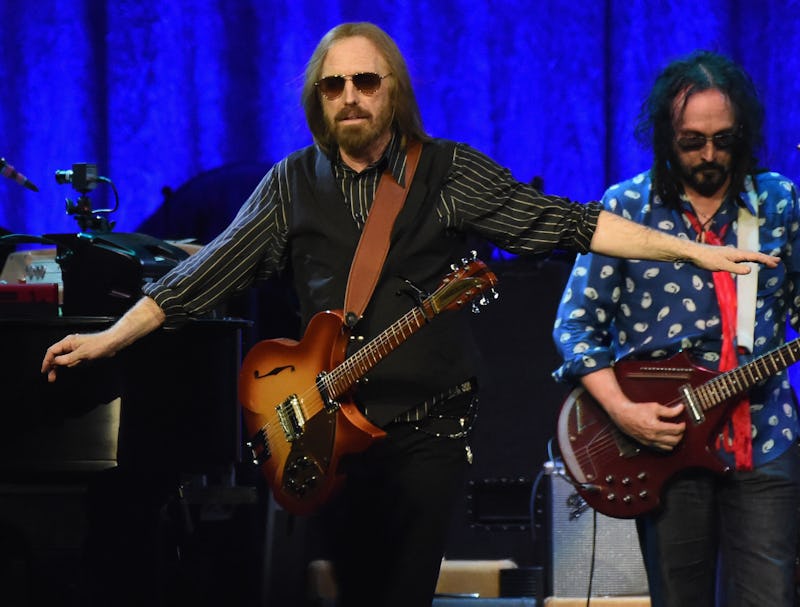 Rick Diamond/Getty Images Entertainment/Getty Images
Tom Petty died at the age of 66 on October 2 after suffering cardiac arrest. Suffice it to say, it's a sad time for millions of his fans, as well as the music industry. It goes without saying that Petty made an impression with fellow musicians both on and off stage. The music icon performed for almost 50 years and was inspired to go into music after seeing The Beatles perform on The Ed Sullivan Show back in 1964, according to CBS News.
"The minute I saw The Beatles on The Ed Sullivan Show — and it's true of thousands of guys — there was the way out," Petty said, reported CBS News. "There was the way to do it. You get your friends and you're a self-contained unit. And you make the music. And it looked like so much fun. It was something I identified with. I had never been hugely into sports. ... I had been a big fan of Elvis. But I really saw in The Beatles that here's something I could do. I knew I could do it."
Petty's determination paid off — to date, he's had a countless number of hits and has sold more than 80 million records. In addition, Petty had just completed his 40th anniversary tour and had told Rolling Stone that it would probably be the last big tour.
"I'm thinking it may be the last trip around the country," Petty said. "It's very likely we'll keep playing, but will we take on 50 shows in one tour? I don't think so. I'd be lying if I didn't say I was thinking this might be the last big one." It's awful that this became true. On Twitter, many fellow musicians shared their tributes about Petty, a man they deeply admired, and rightfully so.
1. Paul McCartney
2. Ringo Starr
3. Stevie Van Zandt
4. Paul Stanley
5. Carole King
6. Randy Jackson
7. Billy Idol
8. Rick Springfield
9. Gene Simmons
10. Brian Wilson
11. Melissa Etheridge
12. Spencer Dunnings
13. Rob Thomas
14. Ryan Adams
15. Peter Frampton
16. Sheryl Crow
17. Travis Barker
18. Ezra Koenig
19. Cyndi Lauper
20. Adam Levine
21. Christina Perri
22. Kid Rock
23. St. Vincent
24. Bon Jovi
25. Chuck D
26. Jack Antonoff
27. Lorde
28. John Mayer
As John Mayer said above, Petty inspired him with "you belong somewhere you feel free." Rest In Peace, Tom Petty — your legacy and music will definitely live on.