Here's Why Naomi Osaka Apologized After Defeating Serena Williams At The US Open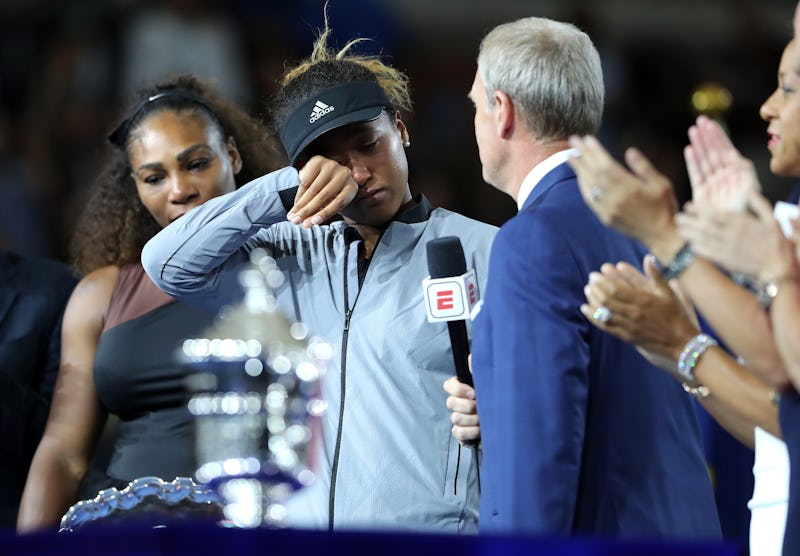 Elsa/Getty Images Sport/Getty Images
Winning her first U.S. Open title wasn't necessarily the joyous and exhilarating moment it could have been for 20-year-old Naomi Osaka. After defeating 23-time Grand Slam champion Serena Williams in a contentious match largely overshadowed by Williams' clash with an umpire, Osaka apologized before accepting her trophy in tears. In an interview on NBC's TODAY Show, Osaka explained her tearful apology at the U.S. Open, saying she felt everyone was unhappy.
"I just felt like everyone was sort of unhappy up there and I knew the ending wasn't how people wanted it to be," Osaka said Monday in an interview on the TODAY Show. "I know that in my dreams, I won in a very tough, competitive match so, I don't know, I just felt very emotional and I felt like I had to apologize."
In an awards ceremony at the U.S. Open on Saturday, Osaka, who had defeated Williams 6-2, 6-4 to earn her first Grand Slam title, apologized to the crowd before accepting her trophy. "I know that everyone was cheering for her and I'm sorry it had to end like this," a tearful Osaka said. "I just want to say thank you for watching the match."
At the awards ceremony, Williams had deferred from the presenter's questions to ask the crowd to stop booing and instead give Osaka the credit she deserved. "She played well and this is her first Grand Slam," Williams said. "Congratulations, Naomi! No more booing."
Speaking Monday on TODAY, Osaka said she hadn't been sure at the time if the audience at the U.S. Open was booing her or just expressing their frustration at how the match had ended. "I felt a little bit sad because I wasn't really sure if they were booing at me or if it wasn't the outcome that they wanted," she said.
Overall, the experience was an emotional one, Osaka told TODAY, adding that she could sympathize with fans who'd been rooting for Williams, one of her longtime idols, to win. "I've been a fan of Serena my whole life," she said. "And I knew how badly the crowd wanted her to win so, I was just really emotional up there."
Osaka and Williams' match ended Saturday in frustration for both players and spectators after Williams clashed with an umpire on the court. According to The New York Times, Williams was penalized with a code violation after chair umpire Carlos Ramos alleged her coach was sending her signals from the stands early in the second set. Later, Ramos issued Williams another code violation and awarded Osaka a penalty point, which gave her a 5-3 lead, after Williams broke her racket on the court.
When Williams confronted Ramos, denying his accusation of cheating, demanding he give her an apology, and calling him a "thief" for taking a point from her, he issued her a third code violation and awarded a game penalty to Osaka.
Williams then accused Ramos of officiating with a sexist double standard. "I've seen other men call other umpires several things," The Guardian reported Williams said during a post-match press conference. "For me to say 'thief'' and for him to take a game, it made me feel like it was a sexist remark."
In a statement to Bustle, the International Tennis Federation, which governs and regulates the sport worldwide, said chair umpires don't comment on the matches they oversee.
Osaka told TODAY she hadn't really been aware of what was happening between Williams and Ramos because she'd had her back turned to them. "I didn't really know what was going on," she said. "Then before I knew it, he was saying there was a game penalty, so I was a little bit confused throughout the whole thing."
But the 20-year-old champion said she plans to review tapes of the match to see what went on. "For sure I want to watch everything and I want to know what happened because this was sort of one of the biggest things that happened to me," she told TODAY.