Naomi Osaka Has A Perfect Message For Serena Williams Going Into The US Open Final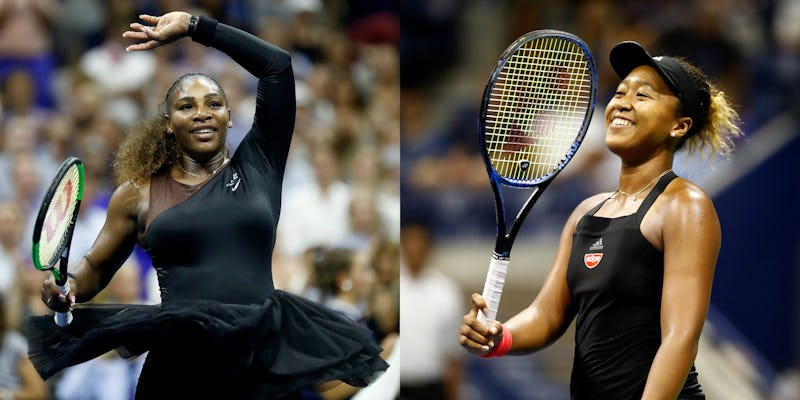 Courtesy of Julian Finney/Getty Images Sport/Getty Images
On Thursday night, Naomi Osaka won a U.S. Open semifinal match, advancing the 20-year-old to her very first grand slam final. Now Osaka will get to face off against Serena Williams — one of Osaka's heroes —who's played in 31 finals, according to Deadspin. And Osaka's message for Williams going into the match was one for the books.
During a post-game interview, an announcer asked Osaka how she defeated her opponent, Madison Keys, in the semifinal.
With a shy smile, Osaka said: This is going to sound really bad, but I was just thinking: I really want to play Serena." The crowd cheered, and they went wild another time when a journalist asked Osaka: "Perhaps — given how much it was in your mind and how much you said you wanted it — a message to Serena?"
"I love you," Osaka said, before laughing light-heartedly and covering her face with her hands. According to The New York Times, Osaka later talked about how she'd always dreamed of playing Williams in a Grand Slam final, showing a hint of competitiveness when she noted: "I don't dream to lose."
This won't be the first time Osaka has played Williams. Five months ago, Osaka beat Williams during their only match during Miami, The Times reported. This match took place after Williams was out of the game for over a year because of maternity leave. It was Williams' second tournament since giving birth to her daughter, Alexis Olympia Ohanian, and experiencing postnatal complications that required multiple surgeries.
"I lost to Naomi last time we played, but I definitely wasn't at my best," she said later, according to The Times.
Meanwhile, Osaka has been a long-time Williams fan. In a report about the Miami match between the two tennis power houses, The Times reported that Osaka said: "Sometimes when I'm in a really important position, when I'm serving, I'm like, 'What would Serena do?'"
She said she'd watched the player on TV for years and was always cheering for the athlete. The Times pointed out that Osaka was born on Oct. 16, 1997, which is just seven months after Williams — sixteen years Osaka's senior — started her first season on the Women's Tennis Association tour.
"She's the main reason why I started playing tennis," Osaka said at the time of their first match, according to The Times. "and I have seen her on TV so many times and I have always been cheering for her."
Meanwhile, Williams has something to prove coming back from maternity leave. She spoke recently about what it felt like to play after such a long time on maternity leave, according to The Times:
I got a little emotional out there because last year I was literally fighting for my life in the hospital,. I think I was on my fourth surgery by now. What is today? I was on my third surgery. I had one more to go still... This is the beginning. I'm not there yet. I'm on the climb still.
Meaning, the budding rivalry between Williams and Osaka could get awkward for the both of them. Osaka is a clear Williams fan, but Williams is here to win and may not be swayed by Osaka's adoring statements about Williams. Safe to say, this match will be one to watch.