Neil Patrick Harris' Family Is Still Better At Halloween Than You & This Year's Costume Is Proof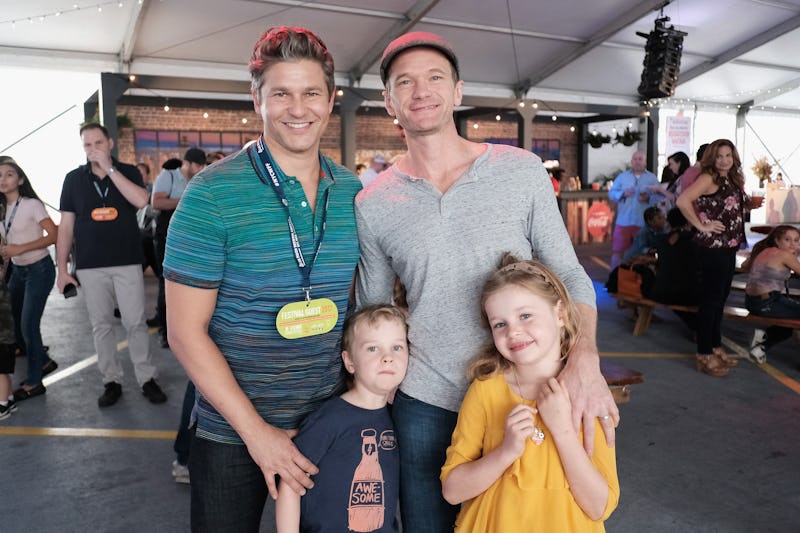 Jason Kempin/Getty Images Entertainment/Getty Images
Some celebrities really go all-out for Halloween, and this family is definitely no exception. Neil Patrick Harris and David Burtka's family Halloween costume is amazing, adorable, and creative. Basically, it's everything. The two actors, along with their twins Harper and Gideon, dressed up for the holiday in carnival-themed outfits. Harris looked like a deranged ringmaster amongst his family of circus performers. Burtka dressed as a haunting clown that puts the likes of It's Pennywise to shame, and their kids were as cute ever in bearded lady and strongman costumes.
What's really awesome about this theme is that it allows Harris to once again step into the role of the ringmaster. The actor previously embodied a wacky magician, who took over the circus on American Horror Story: Freak Show. So, he's got plenty of practice scaring up folks in this kind of attire.
Burtka and Harris both posted photos of their family's costumes on Instagram, much to the delight of fans. One fan commented, "You guys OWN Halloween!!" Another fan wrote, "I look forward to your family's costumes every year. Always genius!"
And they're totally right! The Burtka-Harris family always brings their A-game when it comes to dressing up in fun costumes — and not just during Halloween, either.
Harris captioned his Instagram post with, "Hurry, hurry! Step right up an behold the Burtka-Harris Halloween Carnival of Curiosities! #happyhalloween". And as the Twitter user above jokingly said, the pic is "the only reason anybody cares about Halloween."
It's safe to say that the family's costumes are one of the best parts of the Halloween season. In case you had any doubts about their mastery of dressing up, all you have to do is to check out some of their other amazing costumes from years past.
A Superheroic Halloween
For Halloween in 2014, the Burtka-Harris fam went in costumes fit for Gotham City. The couple's twins went as Batman and Batgirl while Harris and Burtka went as some of the heroes' classic foes, the Riddler and the Joker, respectively. Like all of the family's costumes, all of these are so well done that you'd think they stepped right off the set of one of the many Batman films.
Holmes And Watson In The Flesh
It's not just on Halloween that this family dresses up in fun outfits. Burtka and Harris attended their friends' Becky Baeling and Kris Kythgoe's murder mystery wedding in some expert inspector outfits, according to Harris' Instagram post. In case Robert Downey Jr. and Jude Law aren't up for another Sherlock Holmes movie installment, it looks like Harris and Burtka can certainly step in for them.
A Mermaid And A Captain
The Burtka-Harris crew may have gone as characters from Star Wars in their official family pic for Halloween in 2015, but Harper and Gideon had other ideas for their "Halloween concert." The two got the creative genes from their talented fathers and went with some inspired looks. Harper went as the "Queen of Mermaids" and Gideon went as "Captain Color Pants." Their costumes bring new meaning to the word adorable.
Getting "Spooktacular"
For Halloween in 2013, the family went classic for their costumes. You can never go wrong with some timeless looks for Halloween. The Burtka-Harris family consisted of Frankenstein, a werewolf, bride of Frankenstein, and Dracula. And, of course, they totally nailed their looks. Harris' expertly done Frankenstein makeup look especially looks dead-on.
One can always count on Harris and Burtka's cute family to sport some of the best Halloween (and non-Halloween) looks out there. And this year, they definitely didn't disappoint.