Hey Haters, There's One Huge Reason You Actually Need To Watch That 'Stranger Things' Aftershow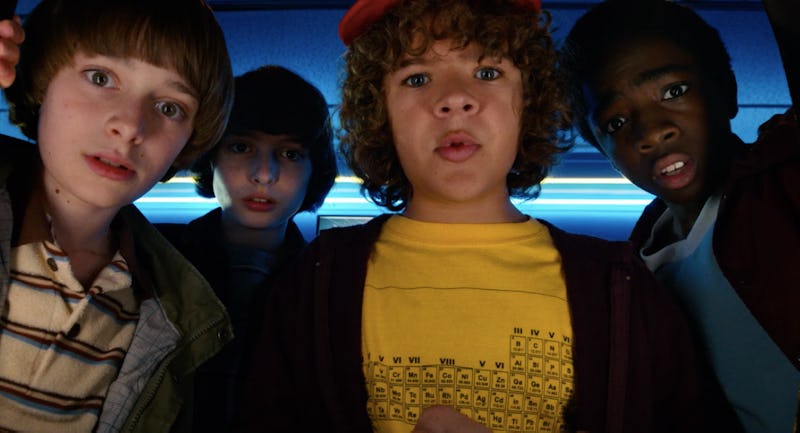 Netflix
Your favorite streaming service is about to jump into the recap game. Netflix's live aftershow Beyond Stranger Things, which is the streaming giant's first foray into live TV reviewing, will premiere on Oct. 27. Like Stranger Things Season 2 and many Netflix originals before it, all seven episodes will reportedly be available at once. Does Beyond Stranger Things strike you as unnecessary? Yes. Fun? Probably. But will it be watchable? Definitely. Here's why.
Modeled on shows like AMC's "Talking Bad," "Talking Dead," and HBO's "Talking Thrones," the Stranger Things aftershow will be a live recap of each episode, hosted by Jim Rash. But, you know, better than that. According to The Hollywood Reporter, the aftershow will "explore the inspiration for the series, tell behind-the-scenes stories, and analyze every aspect of the second season, including answering all burning questions" that fans may have about the Stranger Things universe.
While the precise format of the show remains tightly under wraps, Netflix has released one significant piece of information to the audience: a warning. The company advises audiences abstain from Beyond Stranger Things until they've completed the entire series. And if Netflix recommends that viewers wait until after a Stranger Things Season 2 marathon to watch Beyond Stranger Things, then it's likely not a recap show in the traditional sense. Instead of rehashing what just happened with a roundtable of like-minded fans, it sounds like a deeper analysis of the series.
Beyond Stranger Things intends to heavily incorporate it fans into the show as well. "Each episode will open with a series of quick graphics," THR reports, "Inspired by what fans were creating online, [but] with the distinctive text of the series." Meanwhile, the list of Beyond Stranger Things' guest stars has been announced. For a seven-episode series, it's lengthy. Fans can expect creators Ross and Matt Duffer and executive producer and director Shawn Levy to appear, along with dozens of Stranger Things cast members. Those set to cameo in Beyond Stranger Things include Millie Bobby Brown, Sean Astin, Natalia Dyer, Brett Gelman, David Harbour, Charlie Heaton, Joe Keery, Gaten Matarazzo, Caleb McLaughlin, Paul Reiser, Noah Schnapp, and Finn Wolfhard — though that's by no means an exhaustive list.
The series is firmly committed to involving fans of the original, and Netflix has insisted the talk show will offer more than its cable television predecessors. But the most intriguing aspect of Beyond Stranger Things is that it's not a companion series. Since fans are cautioned against watching it until they've caught up on the show, what does that mean for Beyond Stranger Things? How spoiler-y is it? What's more, what's the motivation to watch an entire review series on its own?
The short answer is: It might genuinely be educational. And the absolute least, it's going to be fun. Whereas earlier iterations of the live review show format leaned heavily on its hosts' charisma, Beyond Stranger Things appears to be for the fans. No one's saying that TV executives have thrown loosely formatted shows at Nerdist's Chris Hardwick for no reason. Certainly, no one is saying that airing a live review of an episode of TV a fan just watched seems a little crazy. No one is saying that. But if they were, putting Jim Rash in charge of a series that takes the focus away from the host and places it onto immersing fans in the series' construction instead might seem like a better way to go.
Jim Rash is not a household name, unless you're from a long line of nerds. The actor and comedian is best known for roles like Dean Craig Pelton in Community and Fenton on That '70s Show. Fans may also recognize him as the super-villain sidekick from Sky High. Oh, and he won an Oscar for writing The Descendants — not the Disney one, but he one with George Clooney. Rash isn't just intelligent; he's truly, absurdly, ridiculously funny. And while, yes, another straight white guy hosting a sci-fi review show seems kind of tired, it does seem as if Beyond Stranger Things hopes to transcend that. And that's what makes it worth watching.