There's A Chance Nick Viall Is Part Of The Reason Peter's Not The Bachelor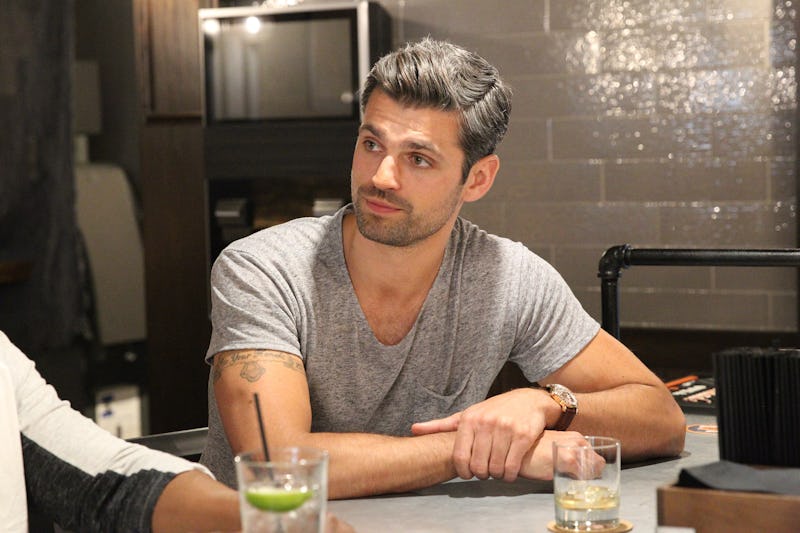 ABC/George Burns
Bachelor viewers took the news that Peter Kraus isn't the Bachelor harder than they took Peter's breakup with Rachel Lindsay on The Bachelorette Season 13. Even though the decision has been made, people are curious about the season that could have been and apparently one of those people is Nick Viall. In an interview with Us Weekly, Peter revealed that he received advice from Nick about the reality TV franchise.
This makes sense as Nick is also a Wisconsin native and a Bachelorette runner-up who has dated Rachel, so they probably had a lot to discuss. And that would be a very interesting discussion to listen in on. Peter spoke to Us Weekly about the possibility of being the Bachelor and he revealed that Nick "happened to call me and say, 'Hey, I know you're going through a hard time.'"
It's unclear if the "hard time" Peter was referring to is a final two breakup on the Bachelorette or the decision making process behind becoming — or not becoming — the Bachelor. After all, it is very possible that Nick was almost the Bachelor once (or even twice) before he landed the gig.
Peter shared,
"I was like, 'What do you think of this? Do you appreciate the experience?' He was appreciative and happy for it. Gave some really great words of advice that I'll keep between he and I. It was good. It was a good conversation with him."
Unfortunately, Peter did not reveal the advice that Nick gave him, but Peter explained that not being the Bachelor was a mutual decision between himself and production. He said, "There was never a cold turkey like, 'This is not happening.' I was not ready for this and they agreed."
As for Nick, maybe he was giving Peter advice on being the Bachelor star long after being on The Bachelorette, because it doesn't seem like Peter has ruled out the possibility of joining a season down the road. He told Us Weekly, "If it were to come up again. I would definitely consider it." This is good news for the fans and for any future Bachelor contestants. It could really just be a matter of good things come to those who wait.
At the very least, Peter will be blessing the fandom with his presence on The Bachelor Winter Games. Bachelor franchise creator and executive producer Mike Fleiss shared the news via tweet on October 4:
Although viewers are grateful to get more of Peter's face on TV during The Bachelor Winter Games, it's just not the same as having a whole season of The Bachelor that revolves around him. Nevertheless, another parallel that Peter and Nick (hopefully) have in common is appearing on another Bachelor franchise show the season before getting named as the Bachelor. Nick was on Bachelor in Paradise Season 3 before becoming the Bachelor during the following season.
The Us Weekly interview wasn't the first time that has Peter reflected on being a part of the Bachelor franchise. He's made it very clear that he's on good terms with the reality show. On Sept. 7, he posted a throwback photo from his Bachelorette journey with a very lengthy caption:
After discussing his time with Rachel, Peter wrote,
"ABC, you saw something in me, but something held me back. You treated me with such love and kindness and showed me glimpses of a life I never once dreamed that I could have. I will be forever humbled and grateful and will always look back at these last 6 months with an ear to ear smile, knowing that this has truly been a very special life indeed."
It's unclear if Peter was referring to not proposing to Rachel on The Bachelorette or being approached to star on The Bachelor when he said "something held me back." In the same post, the silver fox shared,
"When you let uncertainty or fear guide your decisions, you risk missing out on what could potentially be the greatest opportunity of a life time. So live dangerously, live without the fear of the unknown, and continue to live and love with a heart that is truly open to anything."
Did "uncertainty or fear" get in the way of ending up with Rachel on The Bachelorette or when he was contemplating being the Bachelor? This is a common confusion when it comes to Peter quotes.
If Nick has been a part of Bachelor shows four times, then there's no point in counting out Peter for one day taking the lead, too. He has the support of his fervent fan base, plus the advice of the show's most seasoned cast member. If anyone has a shot at returning to reality TV in a staring role, it's Peter.