Nick Viall May Be A Bigger 'Clueless' Fan Than You, According To His T-Shirt Choice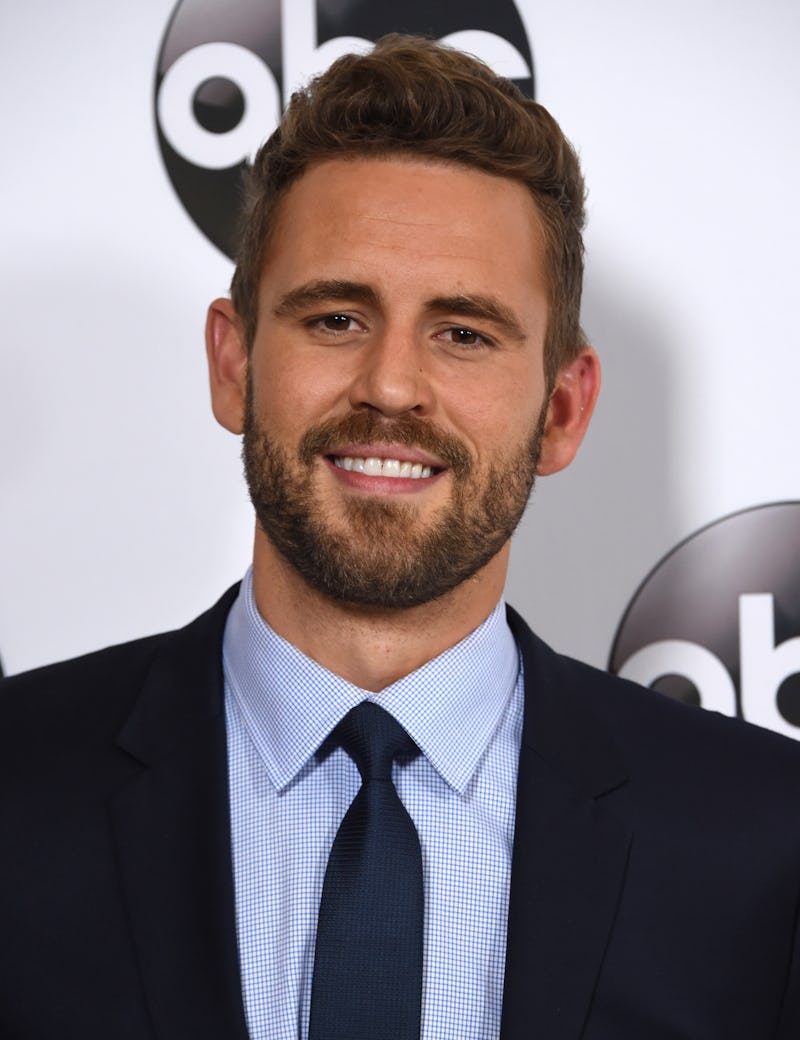 CHRIS DELMAS/AFP/Getty Images
Judging from his most recent choice of attire, it appears that Nick Viall may be a bigger Clueless fan than all of us. In the Bachelor alum's latest Instagram photo, he's posing in a t-shirt with the entire cast of the iconic '90s teen comedy on the front. Seemingly aware that he may receive a bit of flack for donning the throwback tee, Viall captioned the dressing room selfie with a well-known catchphrase from the film, "Whatever ... I like the movie #clueless," he wrote.
It's totally understandable why he would take such a liking to the movie, as he most likely found the coming-of-age drama somewhat relatable to his youth. Although it's probably safe to say that growing up in Viall's hometown of Waukesha, Wisconsin had to be a far cry from the film's depiction of life in Beverly Hills.
Make no mistakes about it though, Viall is a total "Baldwin" (Clueless slang for an attractive male) in the snapshot. Perhaps it was the movie itself that helped to give the former Bach some of his undeniable on-screen swag. Born in 1980, Viall was approximately 15 years old (the exact same age as Clueless protagonist Cher Horowitz) when the movie hit theaters in 1995, so it seems that he's probably been a fan for more than two decades at this point — and you definitely can't blame him for holding tight to those memories.
Clueless was, no doubt, a huge phenomenon for many adolescents who grew up in the '90s era — and even after. It had all the hallmarks of a cult teen classic, being deeply rooted in drama, aesthetics, fashion, and friendships — it even came equipped with its very own vernacular which helped captivate the young audience even more. Phrases such as "As if!" (slang for "yeah, right!"), "Whatever," "Baldwin" (attractive man), and its sister term "Betty" (an attractive woman) became ubiquitous among teens of that time. Basically, Clueless managed to capture the essence of an entire decade in just under 100 minutes, and it was purely magical.
The success of the film — which featured Alicia Silverstone as the wealthy and spoiled Cher, Stacey Dash as Cher's rich BFF Dionne Davenport, Brittany Murphy as Tai Frasier, Paul Rudd as Cher's former step-brother Josh Lucas, and Donald Faison as Dionne's longtime bae, Murray Duvall — later evolved into a spin-off television show of the same name which aired from 1996 to 1999. With Rachel Blanchard taking over the TV role of Cher, the series ended up as part of ABC's coveted TGIF lineup before making it's way to the now defunct UPN network. Although it only lasted three seasons in total, viewers seemed to still be wiggin' out for the Beverly Hills bunch.
As fans continue to swoon over Viall's recent pic, it is worth pointing out that the Wisconsin native does appear to be in the fitting room with the shirt. So like, how big of a fan is he? Did he actually buy the shirt or did he try it on just for fun? Fans may never know the real answer, but either way, they likely appreciate him sharing his dressing room chronicles.
With '90s revivals at an all-time high, Viall's post could possibly spark some interest in bringing the movie (or even the TV show) back to life. It goes without saying that fans (and members of Bachelor Nation) would definitely be interested in seeing a Clueless reboot at some point in the future. Until then, you're pretty much out of luck because Netflix removed the movie from its streaming service earlier this year. Ugh!