Snooki Just Welcomed Her Third Child & The 'Jersey Shore' Star Couldn't Be More Excited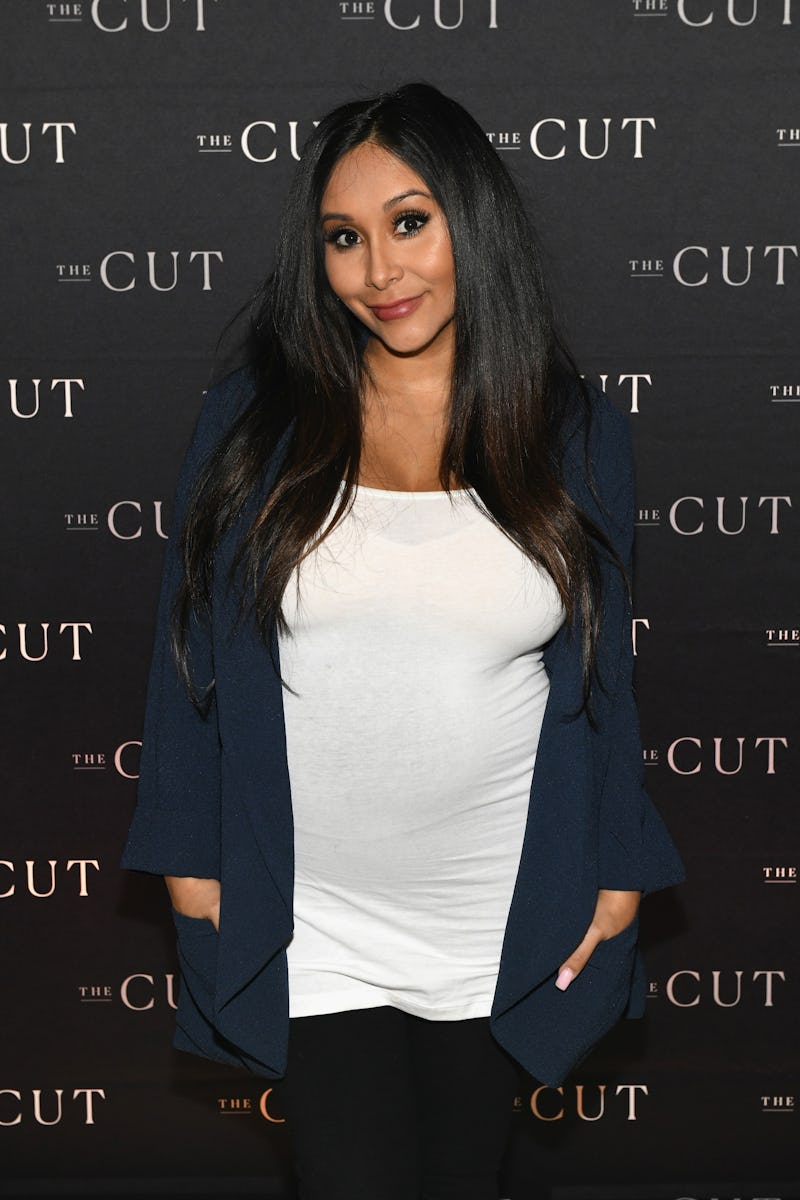 Craig Barritt/Getty Images Entertainment/Getty Images
Prepare to start fist-pumping, because this Jersey Shore family just got a little bit bigger. On Thursday, May 30, Nicole "Snooki" Polizzi welcomed her third child with husband Jionni LaValle. The reality star revealed the news via People, and based on the statement she gave the magazine, she couldn't be more excited about this new addition.
Snooki told People:
"So thrilled to welcome baby Angelo into our little family! He is so sweet and a spitting image of Lorenzo as a baby. Jionni and I can't wait to see how being outnumbered turns out!"
And in case you want exact stats, the publication reported baby Angelo arrived at 2:30 a.m. on Thursday and weighed 7 lbs., 8 oz.
As fans likely already know, Snooki and Jionni are also parents to 4-year-old Giovanna (who looks exactly like her famous mom) and Lorenzo, who's 6. And if you want to see how much the new baby looks like his big bro, Snooki shared an exclusive image over on her Instagram page. (Admittedly, Angelo looks like your average — albeit adorable — newborn, but of course, his mom would be able to notice the resemblance between the kids. So let's take her word for it on this one.)
Just a day before Angelo's arrival, Snooki shared a mirror selfie, cradling her baby bump. She wore a blue dress and fittingly captioned the pic, "Blue for baby Angelo 💙 #MAWMA." Throughout her whole pregnancy, the Jersey Shore alum has used social media to let fans follow along on her journey.
In fact, it was actually on Instagram that Snooki first revealed her third child's name back in April, as reported by E! News. At the time, she shared another signature mirror selfie — this time with little Giovanna sweetly giving her bump a kiss. Snooki casually hashtagged her newest son's name in the caption: "BIG MAWMA 🤰🏽 #almosttime #ANGELO 👊🏽."
Earlier this month, Snooki also had a baby sprinkle to celebrate her third child's arrival. The party featured a blue, sports-themed cake, and she wrote a heartfelt caption about how much the day meant to her. Snooki said on Instagram:
"Had such an amazing sprinkle! My family did amazing spoiling baby Angelo! Thanks to my mawma @stephanie_b22 for baking this delicious cake for me! I'm a lucky girl ❤️🔥 #BabyAngelo"
Even fellow Jersey Shore star Deena Cortese commented on Snooki's sprinkle photo, sharing her support. She wrote, "Love you mama!!!💙💙💙 Such a great day !"
Baby Angelo isn't just joining a family with two siblings — he's also gaining a whole bunch of unofficial aunts, uncles, and cousins, since Snooki is super close with her MTV castmates and their families. In the past, she's posted photos of Giovanna hanging out with Jennifer "JWoww" Farley's daughter Meilani (who looks just like JWoww, BTW). And of course, Snooki has also posed with Deena and her baby.
Long story short, the Jersey Shore legacy is continuing with this new generation. And they'll probably be fist-pumping like their parents in no time, including little Angelo.