Nikki Haley Said Trump's Tweets Send The Wrong Message To Alleged Assault Survivors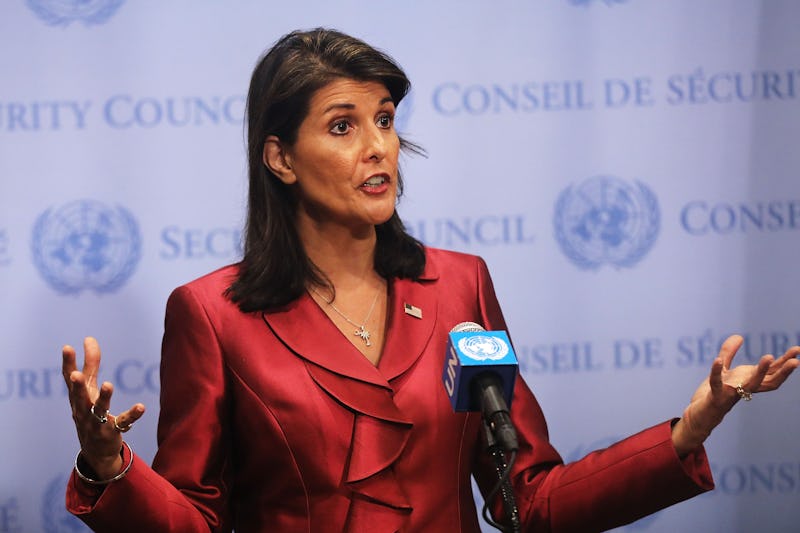 Spencer Platt/Getty Images News/Getty Images
Another member of the Trump administration came out in favor of Judge Brett Kavanaugh's accuser being heard — even after the president himself started to lash out at her. UN Ambassador Nikki Haley says Christine Blasey Ford "deserves to be heard" — but so does Kavanaugh. That's what Haley said on CNN's State of the Union on Sunday, adding that it's not appropriate to "second guess" accusers.
Ford accused Kavanaugh of attempting to rape her when they were both high school students in the 1980s, a charge he denies. Bustle has reached out to Kavanaugh for comment.
Host Jake Tapper asked Haley about Trump's tweets last week, which said that "charges would have been immediately filed" by Ford if Kavanaugh's alleged assault was "as bad as she says." Then, Tapper asked Haley if she was comfortable with the message that the president's tweets sent to young girls.
"The message that I'm comfortable with is that accusers go through a lot of trauma. And some handle it one way and some handle it another way. Regardless, it's not something we want to do to blame the accuser or try and second guess the accuser," Haley said. "I think we don't know the situation she was going through 35 years ago. We don't know the circumstances. I mean she's going to get the opportunity to say that, but you know, what I've said often is that she deserves respect, she deserves to be heard."
Haley also said several times throughout the interview that Kavanaugh also deserves to be heard. "Every accuser always deserves the right to be heard, but at the same time, I think the accused deserves to be heard," Haley said of Kavanaugh. "I think that's going to happen, which is great."
Late Saturday The New York Times reported that lawyers for Ford and the Senate Judiciary Committee had come to a preliminary agreement that would see Ford testifying on Thursday, although many of the details remained up in the air. Republicans, including the committee chair, Sen. Charles Grassley of Iowa, had pushed for her to testify sooner.
Haley mentioned the role of the Senate in her interview. "The Senate has a huge responsibility here," she told Tapper. "They have to make sure it's fair. They have to make sure it's responsible. And they have to take the politics out. And for the good of both families, I think they have to do this swiftly, and quickly."
The other Ford-related news that came out over the weekend was that a representative for Leland Keyser, who Ford said was at the party in question, emailed the committee on Saturday to say that she did not recall what happened. "Ms. Keyser does not know Mr. Kavanaugh and she has no recollection of ever being at a party or gathering where he was present, with, or without, Dr. Ford," her representative wrote the committee. Keyser told The Washington Post, however, that she does believe Ford's accusation.
Haley said she thought the hearing from both sides will shine light on what happened.
"We don't know what the truth is 35 years ago," Haley said. "But we'll find out, and I think that's the best thing we can do, is just hear from both sides and then take it from there."
The UN ambassador is preparing for the UN General Assembly in New York later this week.