Here's Exactly When Nordstrom Will Open On Black Friday This Year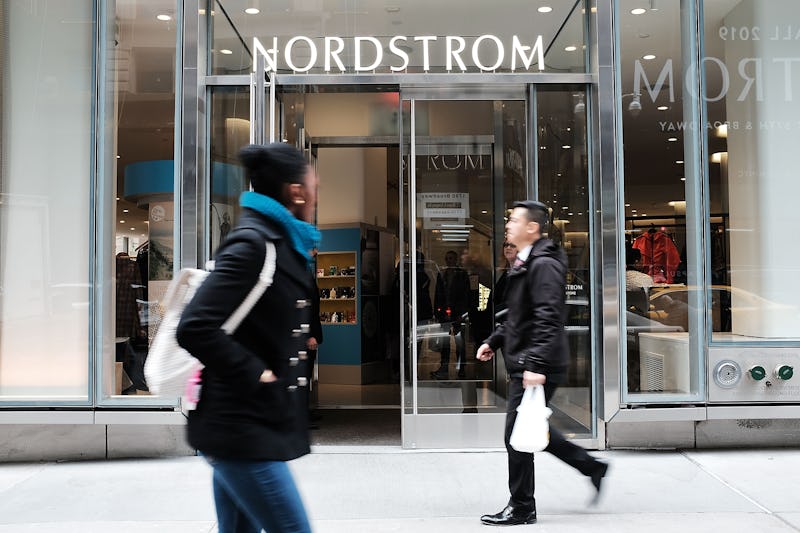 Spencer Platt/Getty Images News/Getty Images
Now that it's November, it's time to start thinking about your Black Friday strategies. Take out the notebooks, the road maps, and the sticky notes, because the battle plan needs to be drafted — especially when it comes to big department stores like Nordstrom. Nordstrom's 2018 Black Friday hours still haven't been announced, but looking at what the store did in the past gives us a good guess on what to expect this year.
There is a lot to hit during the biggest shopping day of the year, especially since the deals are always so epic. During the day you get to stuff your face with pumpkin pie and biscuits and gravy, and then during the night you get to burn off that sluggishness by vaulting over counters to get that one Marc Jacobs bag for half off — because that's what Black Friday is all about.
Ok, maybe it's not often that people riot like that inside the floors of Nordstrom, but marking your calendar to hit the department store on your way to other shops is a solid plan.
In the past (specifically in 2016 and 2017,) the store has offered between 20-25 percent off select sales items for the big event, but don't be crestfallen that it's not the entire store with a blanket discount. A lot of items are going to be included in the price slash, and when you have luxury brands involved, 20 percent off can add up to a lot of money saved.
This year the store is offering a much bigger discount, letting you buy more for less. According to a representative, Nordstrom is offering up to 60 percent off select sale items in-store Wednesday, Nov. 21 through Monday, Nov. 26.
Online has discounts as well, where Nordstrom.com will offer up to 60 percent off select sale items beginning 10:00 p.m. PST Tuesday, Nov. 20 through Monday Nov.26 at 11:59 p.m. PST
As you can see, the Nordstrom Black Friday promotion doesn't last just one day, but gives you a few afternoons to shop. While we know the actual sales during in-store Black Friday events, the hours are still a bit of a mystery. Individual store hours will be posted to nordstrom.com about a week before Thanksgiving, but they are for sure closed on Thanksgiving Day.
While that's a lot of days and opportunities to shop, keep in mind that the best deals usually happen in the early hours of Black Friday, and then you get smaller discounts leading up to Cyber Monday.
Last year Nordstrom opened its doors in-store at 8 AM, so you can have a full nights sleep after Thanksgiving, letting the stuffing and parade of pies settle. Their online Black Friday deals began at 12:01 a.m. PST the same day, letting you get your Gucci loafers and MAC makeup from the comfort of your own couch.
Last year, Nordstrom also threw a curve-ball by having a massive sale pre-Black Friday, where they had designer items up to 40 percent off at their "Early Savings" event, kicking off the shopping weekend before the holidays even began.
While there is no guarantee the same hours and deals will rollover into 2018, there is a good chance you can expect something similar this year — so make sure you mark your calendar!