Here's Why Obama Was "Booted" From Disneyland As A Rebellious Teen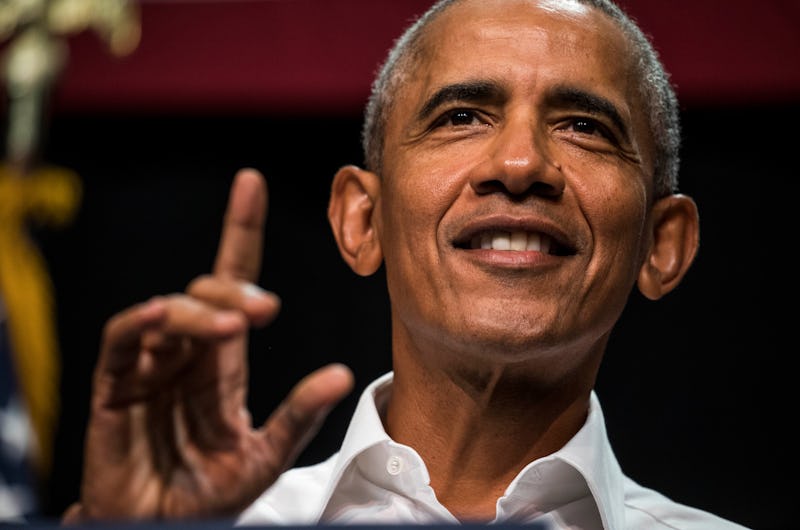 Barbara Davidson/Getty Images News/Getty Images
While campaigning in California on Saturday, former President Barack Obama shared some mischief from Disneyland during his youth and the consequences thereof — much to Twitter's surprise. At the park for a Cool & the Gang concert decades ago, the last commander in chief was caught smoking cigarettes and was "booted" from the park. Yup, Obama was kicked out of Disneyland as a teen.
That's the story that he told while on stage with seven Democrats running for Congress in an appearance just outside of the California theme park in Anaheim.
"So we came down, me and a bunch of friends. After the concert, because we were teenagers we — you could still sort of hang out in the park — and we went into the gondolas," Obama told the crowd at the start of the speech.
"And I'm ashamed to say this, so close your ears, young people. A few of us were smoking," Obama, who only quit the habit in 2011, told the crowd, pretending to hold a cigarette as the crowd cheered. "No, no, these were cigarettes, people.
"They escorted us out of Disneyland," Obama continued. "This is a true story, everybody. I was booted from the Magic Kingdom."
Obama suggested he was a "rebellious" teenager. "Terrible thing," Obama said of cigarettes. "They do, they kill you. I stopped."
That story had prominent play on social media, with even the Chairman and CEO of Disney, Bob Iger, taking notice. "@BarackObama just opened his speech in Anaheim with a story from his college years about getting kicked out of Disneyland for smoking cigarettes on a ride," Iger tweeted on Saturday.
But no hard feelings. "He can always come back, as long as he doesn't smoke!" Iger also wrote.
Interestingly, that's the impression that Obama got even back in the day. "These two large Disneyland police officers" stopped Obama and his friends.
"They say, 'Sir, can you come with us?' And they escorted us out of Disneyland," Obama told the crowd. "You know what I remember about it was, at the end, they said, 'You're going to have to leave sir for breaking the rules of the Magic Kingdom but you're welcome to come back anytime.'"
Disneyland might just be the happiest place on earth. Iger must have also enjoyed the details Obama threw in — he wasn't there to ride the Matterhorn or Pirates of the Caribbean, for example.
Not all of Obama's speech was happy flashbacks. Obama also talked about the politics of the moment and alluded to the President Trump without saying his name. "It's always tempting for politicians for their own gain and for people in power to try to see if they can divide people, scapegoat folks, turn them on each other, because when that happens you get gridlock and government doesn't work and people get cynical and decide to not participate," Obama said later in the speech.
"That, unfortunately, has been a spiral we've been on for the last couple of years," Obama told the crowd. "If we don't step up, things can get worse."
The one obvious take away from the speech, though, was not about politics or even amusement parks. It was music advice. "Those of you who were not born yet when Cool & the Gang was popular, you should go check it out," Obama advised the crowd, noting that he was "dating [him]self" just a bit.