This Picture of Obama With Facial Hair Is Borderline NSFW, According To Thirsty Twitter Users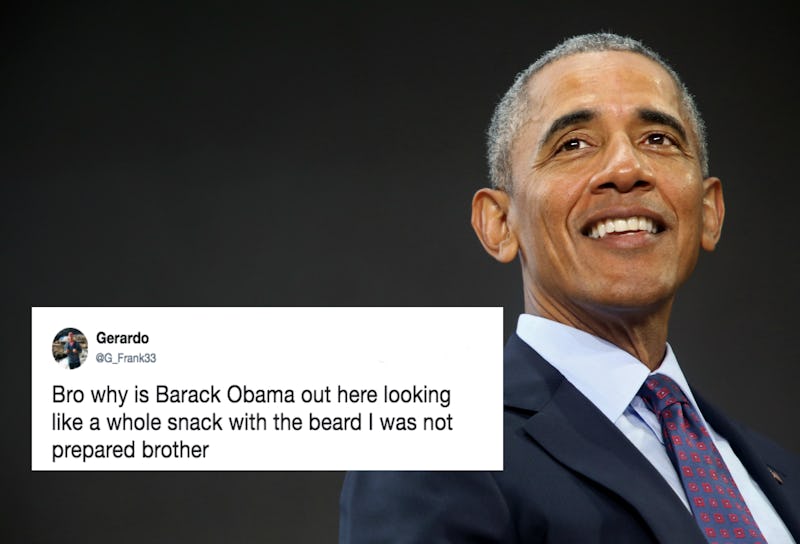 Yana Paskova/Getty Images News/Getty Images
It doesn't take much for Barack Obama to break the internet. Whether the former POTUS is busting a move or carrying out his friendship with Joe Biden, viral videos and memes are all too common whenever the politician is involved. So, it only makes sense that Obama's facial hair photo has the internet rallying again, as strange as that may sound.
Ever since Obama moved out of the White House, he's been laying low. Other than the occasional snap of a happy, tie-free Obama and the Mr. and Mrs. casually on vacation, Obama has been keeping a relatively low profile. After a trying eight years in the Oval office, no one can really blame him.
But a photo making its rounds across the web, featuring Obama rocking what the Twitterverse has been calling a "retirement beard," has the 44 president majorly back in the spotlight — and for good reason.
If you've ever wondered what it would be like if Obama joined the #BeardGang, the internet is here to fuel your imagination. Even if the photo isn't the real deal, Twitter users are letting it be known that facial hair on the former prez is one hell of a thirst trap.
Thanks to The Shade Room, a media outlet with a knack for photoshopping fake beards onto clean-cut celebs, Twitter users became fixated on the former president. Asking followers via their website and social media "Who y'all letting join beard gang?!" the entertainment site posted a string of flicks with Photoshop jobs that were far too realistic.
"Y'all know we are crazy here at The Shade Room...and our imaginations are LIT!!!," the outlet captioned their Instagram post. "#Roommates, we've all seen what a fresh cut and a full beard can do to a man. They can go from 0 to zadddddyyy real quick!".
The likes of A$AP Rocky, Pharrell Williams, and Jay-Z were chosen for makeovers. As commenters debated which photoshopped beards were drool-worthy or a fail, the results caused mixed reactions. But one thing was for certain: the Obama photo really got the Twitterverse in its feelings.
Consider this a warning. A bearded Obama is definitely NSFW, so keep ogling the retired president at your own risk.
The photo has many so mesmerized that a beardless Obama simply isn't acceptable anymore.
Naturally, Twitter users had to question whether the dreamy photo was legit.
Of course, it was birthed from a stellar Photoshop job. But that didn't stop fans of the photo from believing it was a dream come true.
It wouldn't truly be Twitter, if there weren't mixed reactions, so not everyone was a fan.
But the majority of Twitter users were on board with the "new" Obama.
Even if his politics once had the county divided, this salt and pepper beard seemed to be the one thing uniting the people.
After all, the heart wants what the heart wants.
Love for #BeardGang Obama ran so deep for Twitter that many were even willing to sign a petition to get him to grow facial hair IRL.
It looks like Obama's facial hair was what the internet wanted and needed. But the odds of Obama actually growing a beard to quench Twitter's thirst seem scarce. He has only appeared before the public with a clean-shaven appearance, so its largely unknown if he can grow a full beard.
If he does ever decide to let facial hair surface, Michelle Obama might want to hold on tight to her hubby. Twitter is seriously going to loose it if Obama becomes an official member of the beard gang.